We've designed this guide to introduce you to various post purchase automations and highlight strategies for collecting user-generated content (UGC), prompting repeat purchases, and utilizing post-purchase automations to assist with managing help desk volume. This article is also designed to help you understand automation performance.
Overview
---
Messages from post purchase automations inform subscribers of the status of their order and can be used to set expectations around shipping delays, which in turn, helps your brand's support team manage ticket volume.
While post purchase automations are generally informative, you can also leverage them to request user-generated content to repackage for social media or other promotions. Post-purchase is also an optimal time to remind subscribers of loyalty points and request reviews.
Post Purchase Triggers
---
In this table, you will find post purchase trigger definitions, use cases for each trigger, and automation templates that use their respective triggers. For an in-depth table of automation filters and trigger filters, see here. 
| | | | |
| --- | --- | --- | --- |
| Trigger | Definition | Use Cases | Templates |
| Order Created | Customer has created an order | Order Confirmations, Loyalty Offers, Win-Backs, Upsell or Cross-Sell automations.  | |
| Order Delivered | Order marked as delivered via shipping carrier | Request UGC, Review, or Loyalty Points reminder. | Shipping Notifications - Order Delivered |
| Order Fulfilled | Order sent to the shipping carrier for final delivery | Shipping Notification/Update automations |   |
| Order in Transit | Order marked en route by shipping carrier | Shipping Notification/Update automations | Shipping Notifications - Order Shipped |
Types of Post Purchase Automations
---
User-generated content (UGC) is similar to reviews in that they serve as testimonials from customers and, in turn, can build trust with potential customers who haven't purchased from your brand yet.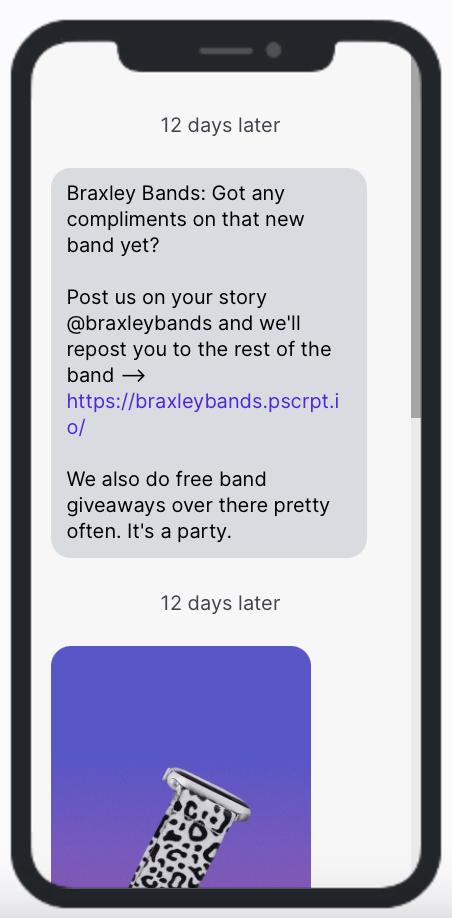 In the example above, Braxley Bands subscribers are incentivized to share a social media story of their band for a repost to the rest of their brand followers. This content can be repurposed for paid ads, social media posts, or organic content.
Postscript integrates with several review platforms including Junip, Okendo, Yotpo, and Growave. These integrations allow you to easily request reviews from your subscribers following a purchase.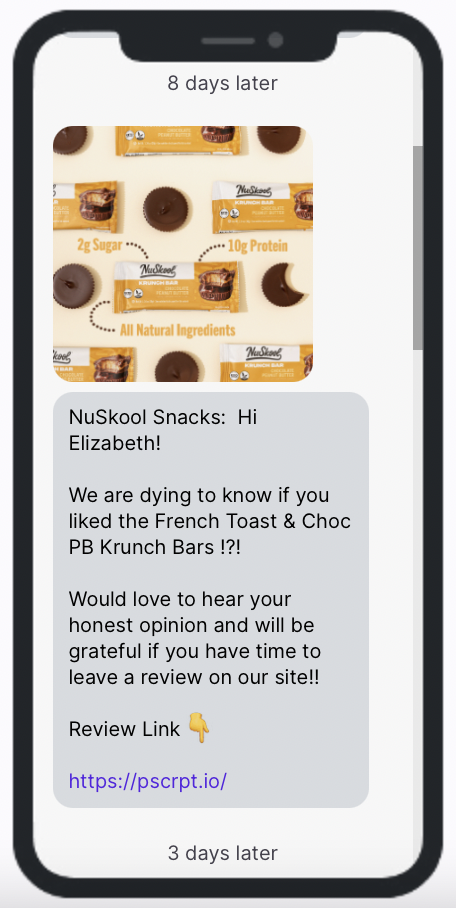 You may also consider incentivizing subscribers to leave reviews by offering loyalty points, a discount code in exchange, an entry into a giveaway, etc.
Post purchase is an optimal time to notify subscribers that they've acquired additional loyalty points and/or remind them of existing points.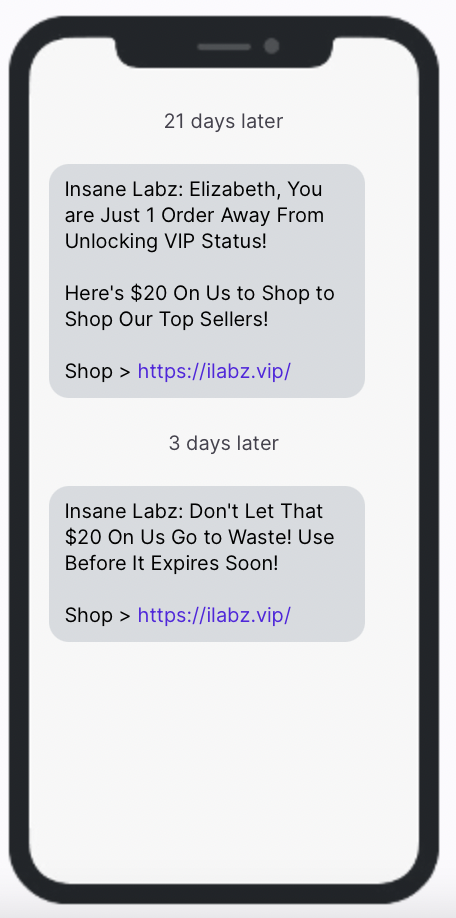 If your brand does not have an official loyalty points program, you can also use your post purchase automation to nudge customers toward taking the action necessary, completing an additional order, to access VIP status. 
During the holidays, shipping delays can be commonplace so over-communicate with your subscribers after they place an order. By clearly communicating when a product will leave a warehouse and when it will arrive at the customer's doorstep, you can ensure to keep your customers happy post-purchase.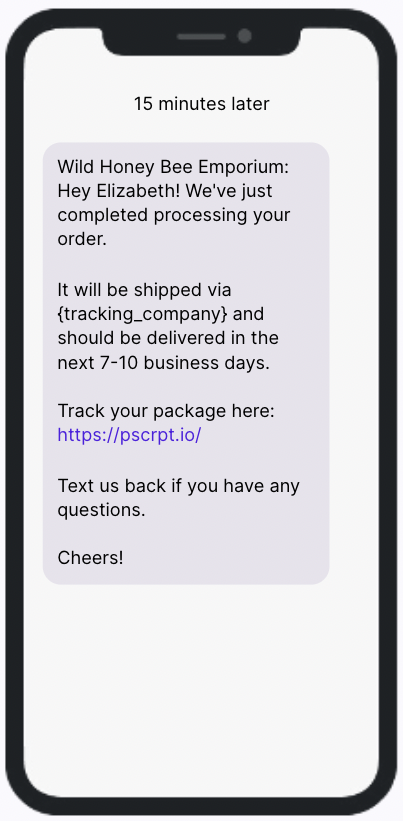 Use post purchase automations to send regular SMS updates when a product is processed, packaged, and shipped, as well as when they can expect to receive it. These frequent and well-timed communications give buyers confidence in brands, even in the case of shipping delays.
Understanding Post Purchase Automation Metrics
---
Metrics, or data, help you understand whether the messages you send are achieving the goals you've set. You can view the performance of your post purchaser flows on your Flows Dashboard page or on a specific automation flow page. Simply select an activated flow to view overall performance metrics and metrics by a specific message.
   Note: If you edit and save a live flow, the analytics on all individual actions (i.e. specific messages) will be reset, but the overall performance analytics will remain the same.
Additional Resources
---
Get Support
---
Have questions? Please feel free to reach out to our wonderful Support team at support@postscript.io or via live chat. You can also submit a support request here!
Need ongoing channel strategy guidance? Please fill out this form and we'll connect you to one of our certified partners.