Tip: Select any of the images or GIFs in this article for a closer look.
Contact cards are a great way to introduce your dedicated short code or dedicated toll-free phone number to your subscribers.
At this time, you can only send contact cards to US and Canadian subscribers. Each contact card will cost the same as an MMS message.
Why You Should Create a Contact Card
---
Easily include your contact card in keywords, automations, and campaigns.
Create instant recognition in your subscribers' inbox with your logo and brand name.
Include a branded note or message that saves with the contact information when added to a subscribers' phone.
Create a Contact Card
---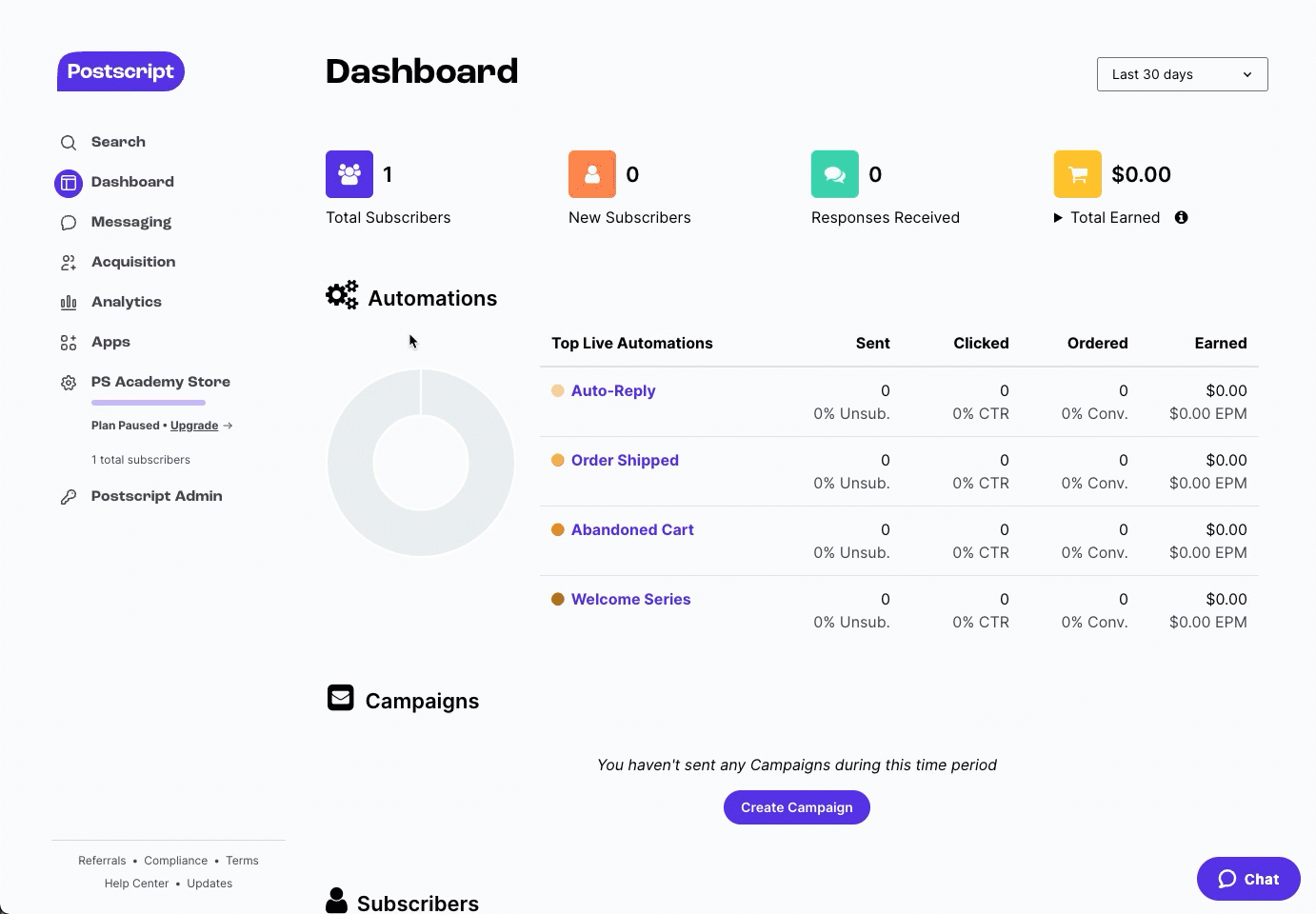 Select your Shop Name in the side menu of your Postscript dashboard, then select Contact Card. 
If this is your first time creating a contact card, then select the blue Create Contact Card button. If you have already created a card, you can proceed with editing details.

Logo. For most devices, your logo will display as your identifying image. We recommend you use square pictures that are less than 220kb in size.
Contact Name. Enter the name you wish to show in your subscribers' inbox when you text them. This should be your shop name.
Shop URL. Postscript automatically adds your Shopify URL to this field, but you can change it to your website if you wish.
Contact Email. Enter the email address you'd like subscribers to contact for their support questions.
Address Details. These fields are optional. An address might not be necessary for an online-only shop, but if you have a brick-and-mortar, you can enter that address here!
Notes. On Android and iOS phones, you can save a contact with notes. Adding notes to this section will add notes to the contact subscribers save for your shop. It's a great opportunity to include a branded message.
How Contact Cards Appear
---
When a subscriber receives your contact card message, they can tap the contact card, which opens the contact app on their phone. From there, they simply need to tap Save to add your shop details to their contacts.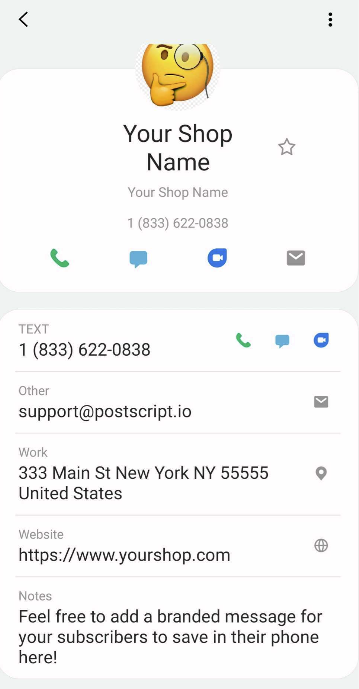 Get Support
---
Have questions? Please feel free to reach out to our wonderful Support team at support@postscript.io or via live chat. You can also submit a support request here!
Need ongoing channel strategy guidance? Please fill out this form and we'll connect you to one of our certified partners.