Tip: Select any of the images or GIFs in this article for a closer look.
Campaign flows are the perfect way to send single-message or multi-message campaigns to a specific customer segment or your entire subscriber base. With Flow Builder, you can easily visualize and build your flow, add delays between messages, and schedule a start date for sending. 
Why You Should Create Campaign Flows
---
Engage subscribers over a longer period of time with creative flows.
Use campaign flows to build hype around a product launch or send subscribers curated content like holiday recipes, makeup tutorials, and more.
Campaign flows make it easier to build a series of related messages and keep them organized in one place.
Send flows right away or schedule them to kick off at a later date and time.
Create a Basic Campaign Flow
---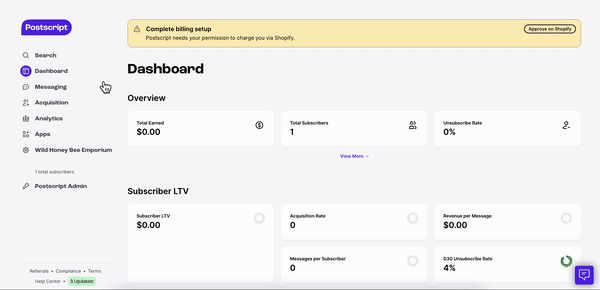 Select Messaging in the side menu of your Postscript dashboard.
Select Create Campaign in the top-right corner of the page, then choose Create Campaign Flow.
Choose either Create a new campaign or Use a campaign template if you'd like to use a pre-built flow.
Select which customer segment you wish to send the campaign to using the Include drop-down.
If you wish to exclude a specific customer segment from the campaign, you can select that segment using the Exclude drop-down.
You also have the option to exclude customers messaged in the last 16 hours (e.g., automation message, campaign, or keyword reply).

This setting allows you to safeguard your customers from receiving multiple text messages in a certain period of time. Too many messages might lead to a subscriber opting out of messages.

You may also wish to add a cancellation trigger. For example, if you wish for subscribers who place an order to be removed from this campaign flow, you may choose Order Created as your cancellation trigger.
Select Save.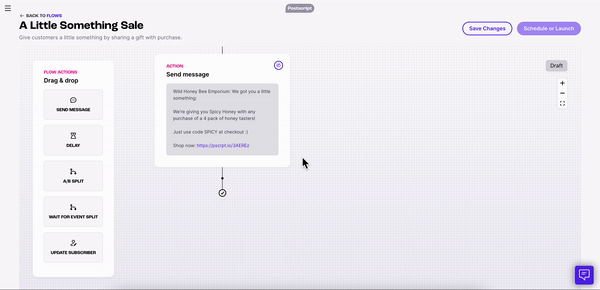 You can Rename Your Flow and Enter a Description in the top-left corner of your flow.
You can add an action to your flow. Simply drag these actions to the Drag Step Here bubble in the flow you're building. Learn about each action here. 
Once you are satisfied with your flow, you can select Save Flow in the top-right corner of the page.
If you're ready to send your flow, select Schedule or Launch in the top-right corner of the page. You have two options when sending a flow:

Activate immediately: This option will immediately begin the one-time flow.
Activate at a scheduled time and date: Choose when you'd like the flow to begin.
Note:
Postscript adheres to TCPA-defined quiet hours for flows. Flow messages scheduled to send outside these quiet hours will send during the next waking hours window. Learn more about quiet hours
here
.
Want to copy a flow?
Select the three-dot icon to the far right of an activated of drafted campaign flow and select
copy flow
from the options listed.
Send a Test Message
---
You can send a test message for any of the messages included in your flow.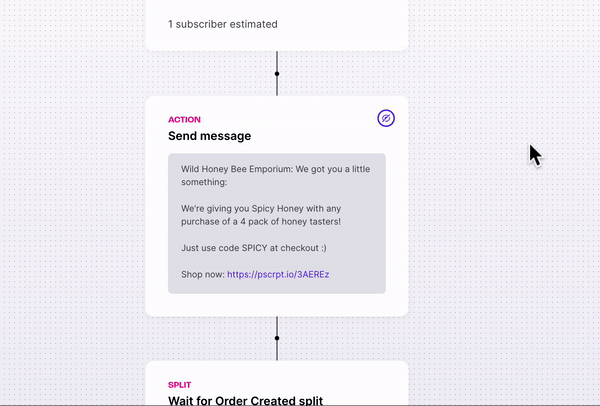 Select the Message you wish to test.
Select Send Preview to the right of the message.
In the Send a preview popup, enter the phone number where you want the test message to send.
Select Send Preview.
Stop a Campaign Flow
---
You can stop a campaign flow once it has been activated. Postscript will stop the campaign as soon as possible, however, there may be messages that still go out afterward due to how the system works. You can also not re-activate a campaign flow once it has been stopped.

Select Messaging in the side menu of your Postscript dashboard, then select Flow Builder.
Select the name of the campaign you wish to stop.
Select End campaign in the top-right corner of the page, then confirm by selecting Stop campaign.
Related Articles
---
Get Support
---
Have questions? Please feel free to reach out to our wonderful Support team at support@postscript.io or via live chat. You can also submit a support request here!
Need ongoing channel strategy guidance? Please fill out this form and we'll connect you to one of our certified partners.