Tip: Select any of the images or GIFs in this article for a closer look.
   Is your shop on usage billing? If you downloaded Postscript on or after 3/1/2022, then your shop is on usage billing. This article is for you.
At Postscript, we strive to be as transparent as possible with shops about how our pricing works. After thorough research and conversations with partners and customers, we determined a usage-based plan offers shops the flexibility needed to adapt to their industry throughout the year. With a usage-based approach to pricing, shops only pay for what they use and what they send.
In this article, we explore the various plans available with Postscript and what is included with each.
What Plans Does Postscript Offer?
---
Postscript offers shops the choice of four plans. Each plan gives shops access to a specific set of features and functionality within the Postscript platform, as well as the ability to send SMS and MMS messages to their subscribers.
Free. Designed for brands just getting started with SMS.
Growth. Great for brands building out their SMS program.
Professional. Perfect for established brands who are scaling up SMS as a top revenue-generating channel.
Enterprise. Perfect for established brands with a long-term commitment to SMS success.
Choosing a Plan
---
You can view, manage, and change your plan on the Plans page in the Billing section of Postscript.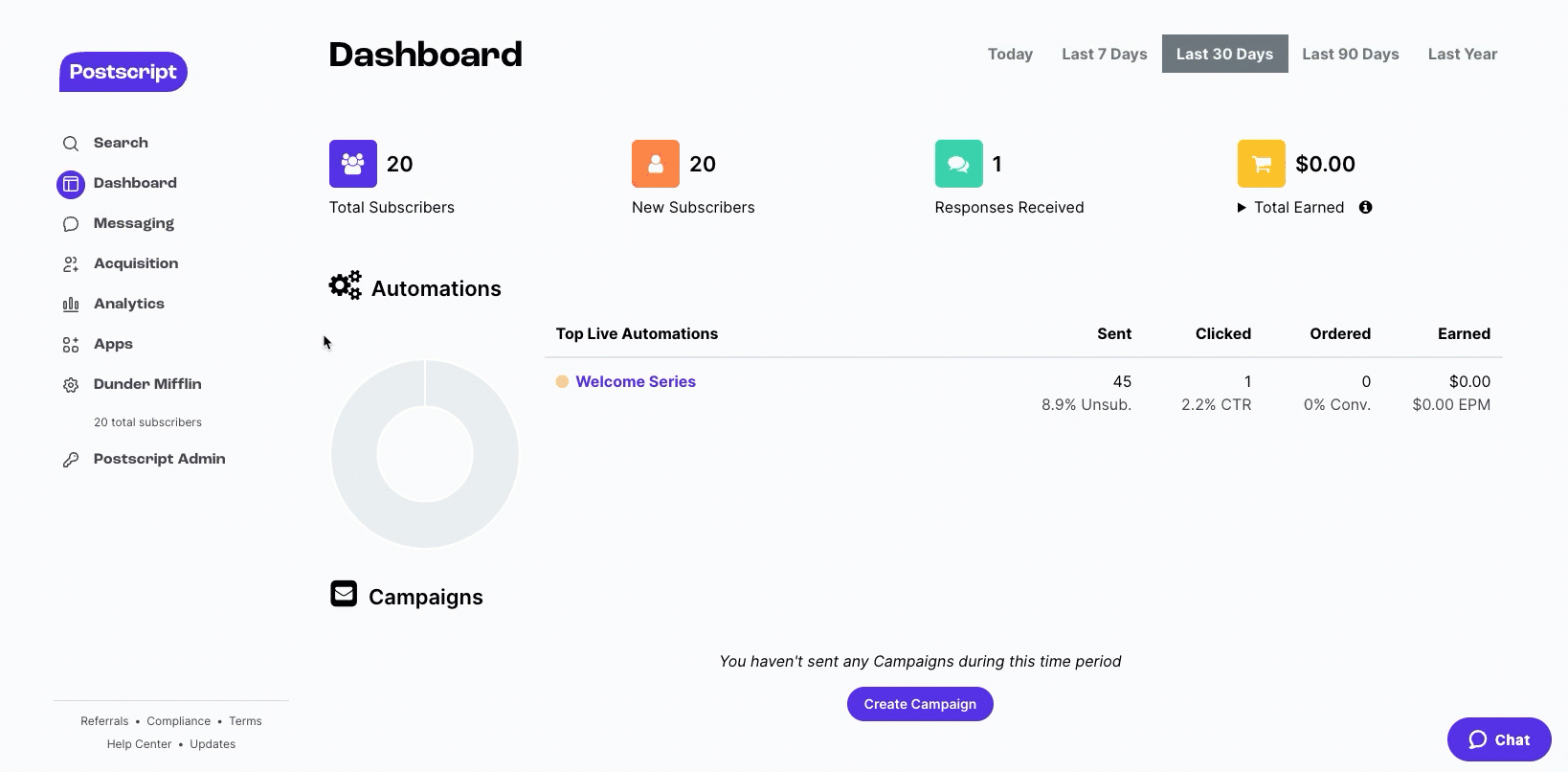 Select your shop name in the side menu of the Postscript dashboard, then select Billing.
Select Plans in the top-right corner of your page.
View plans available with Postscript. You can choose a different plan by selecting Select Plan beneath the plan name.
Upgrading a Plan
---
You can upgrade to a higher-tiered plan from your Plans page within Postscript. Simply select the purple Select Plan button beneath your desired plan.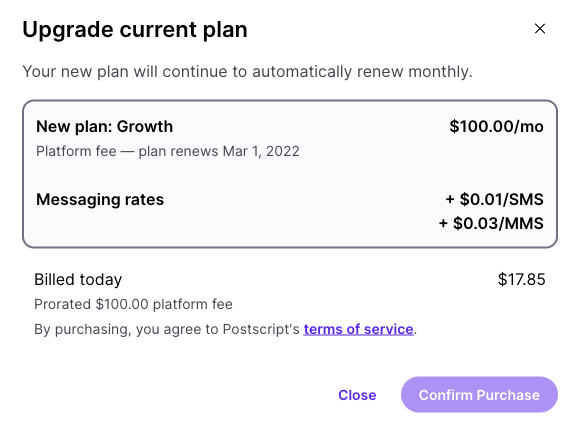 Postscript will ask you to confirm a few things before you upgrade:
Confirm that the selected plan is the one to which you wish to upgrade.
Confirm prorated platform fee that you will be billed upon upgrading. Postscript displays the amount.
Interested in upgrading to Postscript's Enterprise plan?
Reach out to
Postscript Sales
to get started.
Got Questions? We've Got Answers
---
How do I downgrade my plan?


You can downgrade your plan at any time by selecting the purple Select Plan button beneath your desired plan. The change will go into effect at the beginning of the next month and you will have access to your current platform features until that time.
Get Support
---
Have questions? Please feel free to reach out to our wonderful Support team at support@postscript.io or via live chat. You can also submit a support request here!
Need ongoing channel strategy guidance? Please fill out this form and we'll connect you to one of our certified partners.