Tip: Select any of the images or GIFs in this article for a closer look.
Automations allow you to create multi-stage communications triggered by a certain event (e.g., subscribing to texts, abandoning a cart, etc.). Automations run automatically in the background and are a great way to keep customers engaged.
Why You Should Use Automations
---
Automations run in the background. No create-and-send or future scheduling is necessary. 
Automations are highly customizable and you can create automations for several things: welcome series, abandoned carts, customer winbacks, shipping notifications, and more.
Automation templates make it easy to spin up a new automation series. Simply edit your message, set your cadence, and you're ready to go. 
Create an Automation
---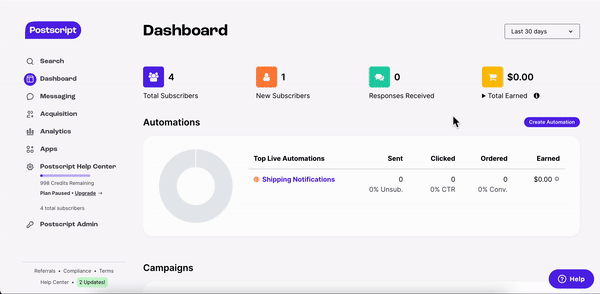 Select Messaging in the side menu of your Postscript dashboard, then select Automations.
Select Create Automation on the top-right corner of the page. 
Enter Automation Details
---
Postscript offers several automation templates, including abandoned carts, welcome series, shipping notifications, and integration-specific automations. If you wish to create an automation from scratch, select Custom Automation.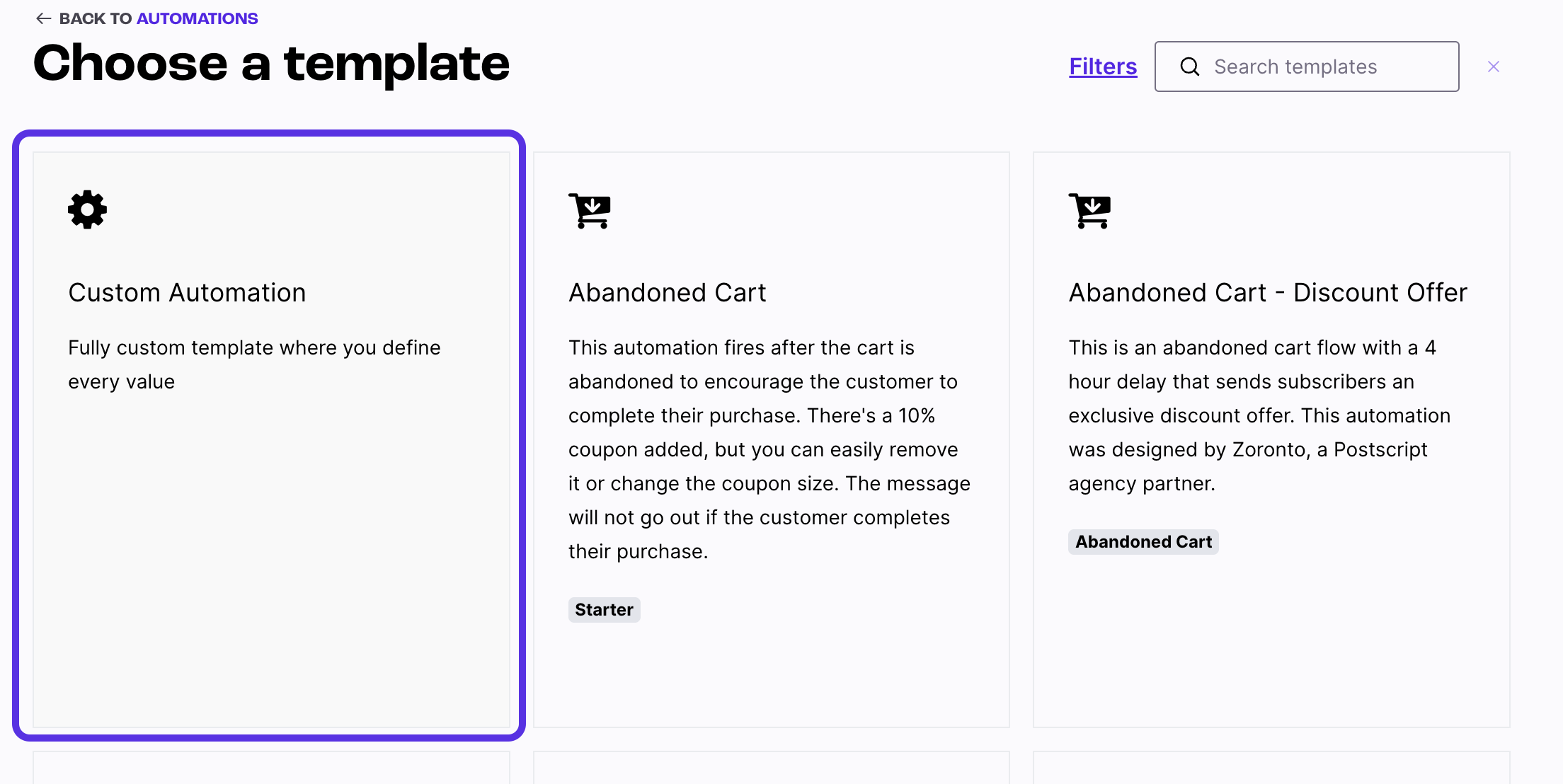 On the first automation details page, you can define what action will trigger this specific automation, what action will cancel the automation message(s), and which Postscript subscribers should receive this automation series.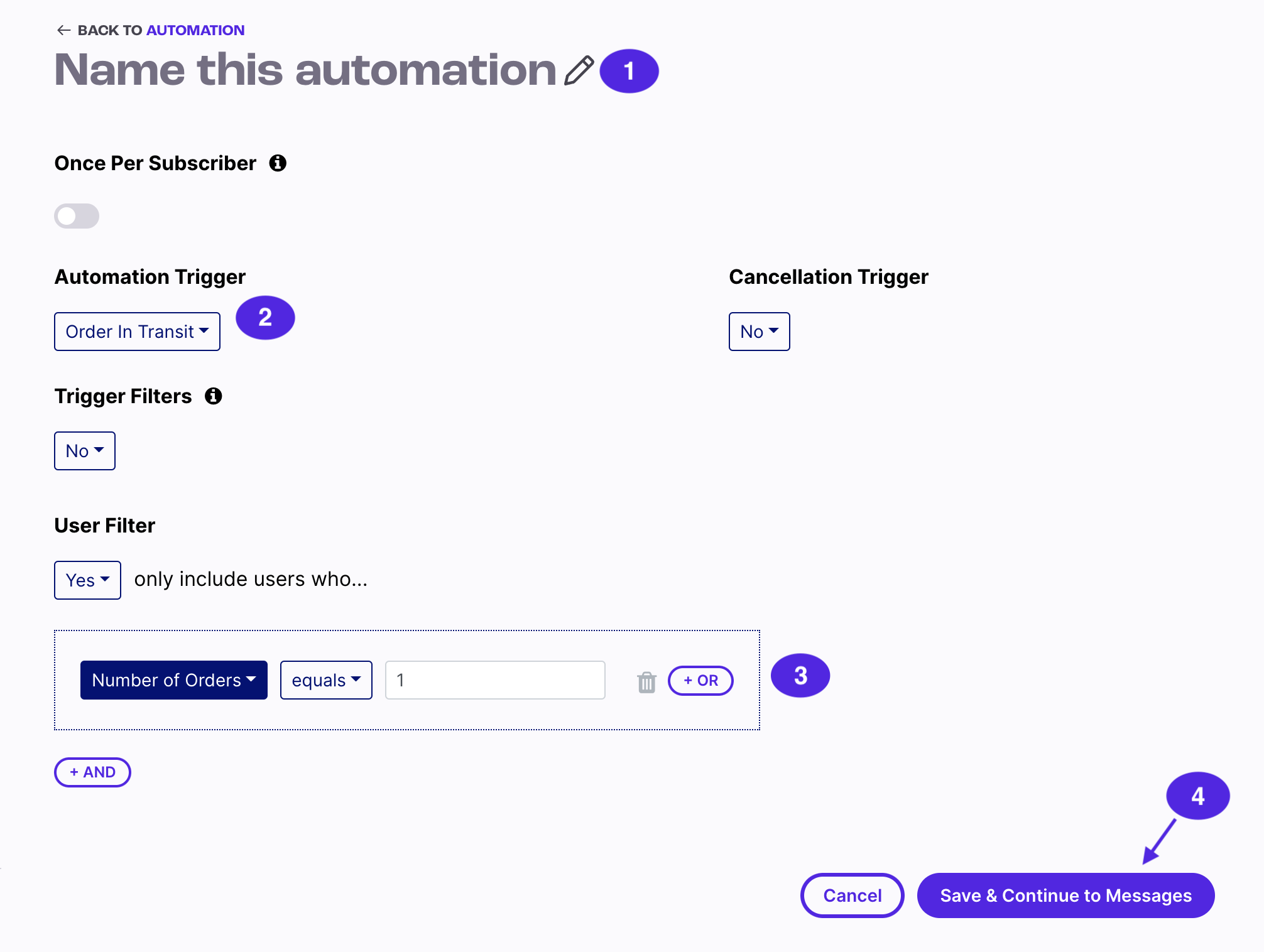 Name your automation. Choose a name that will allow you to identify and track the automation in the future. 
Define the automation trigger. This trigger tells Postscript what action will cause the automation series to start sending. For the above example, Postscript will start this automation series when an order ships.
Add filters. Filters allow you to fine-tune which customers receive an automation. For the above example, we've created a user filter that will only send this automation to customers with one order.
Save. Select Save & Continue to Messages in the bottom-right corner.
After you define the automation's behavior, you can craft the automation message.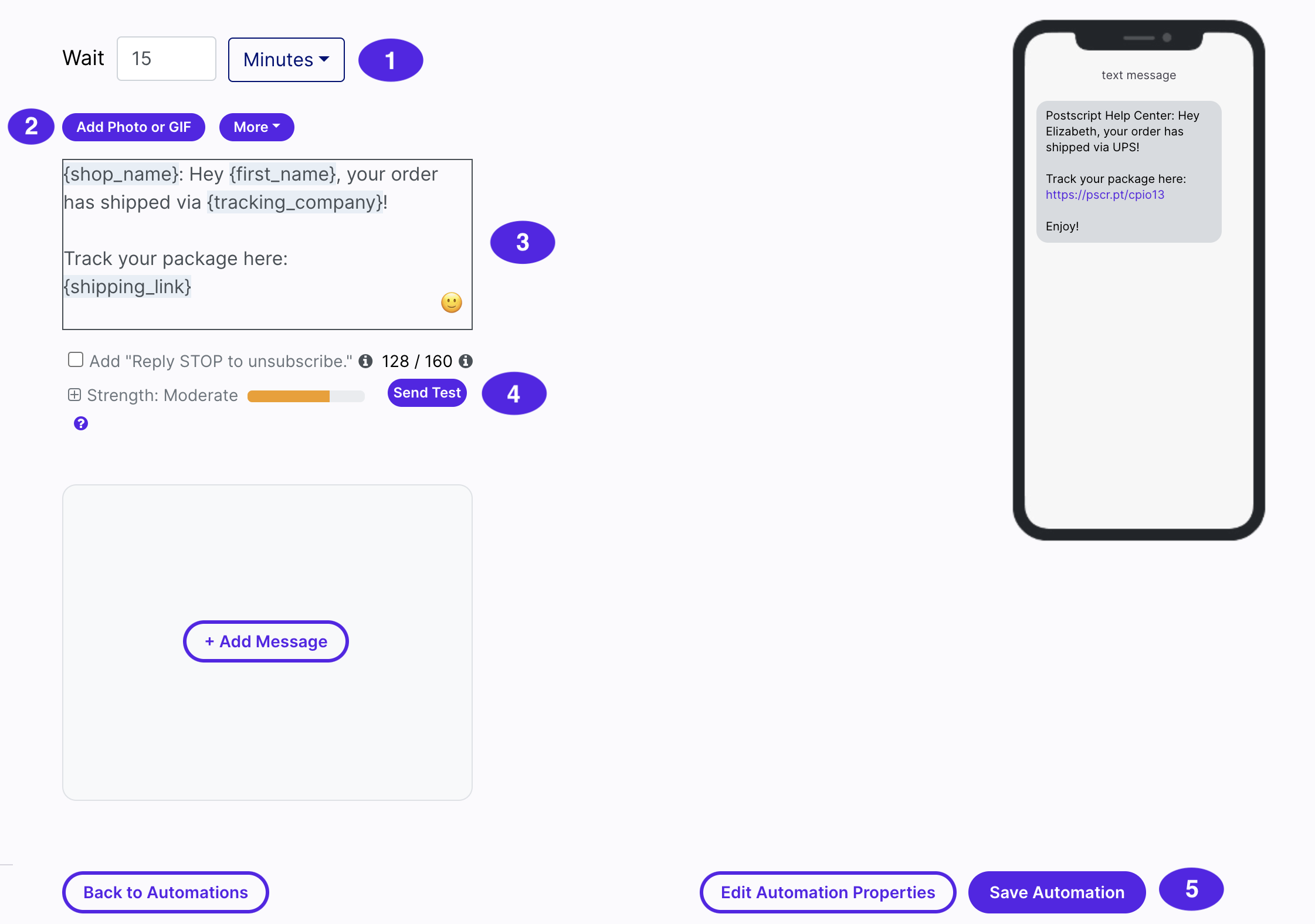 Timing. Let Postscript know when you want the automation message to send. Here, our message will send 5 minutes after we've marked the order as fulfilled.
Image or GIF. Add an image or GIF to increase engagement and click-through rates. (Note: Adding an image or GIF makes the message an MMS message.)
Message. Get creative with your message text! Personalize it to reflect your brand and customer. We recommend adding in an emoji or two, if appropriate!
Test. Send yourself a test text to see how the message looks on your phone! You can also preview your message in real-time on the right side of the page. (Note: Sending a test message will count as usage just like sending a message to a customer would.)
Save. Select Save Automation in the bottom-right corner of the page.
Note:
Following recent changes to carrier guidelines, abandoned cart automations must meet the following criteria: (1) be limited to only one message, and (2) send the message within 48 hours of the trigger event. Postscript will not allow you to create more than one message in an abandoned cart automation. Learn more about abandoned cart guidelines
here
.
Once you create an automation, you need to enable it. You can do that from the main Automations page. Locate your new automation in the list, then select the Enabled toggle on the automation line.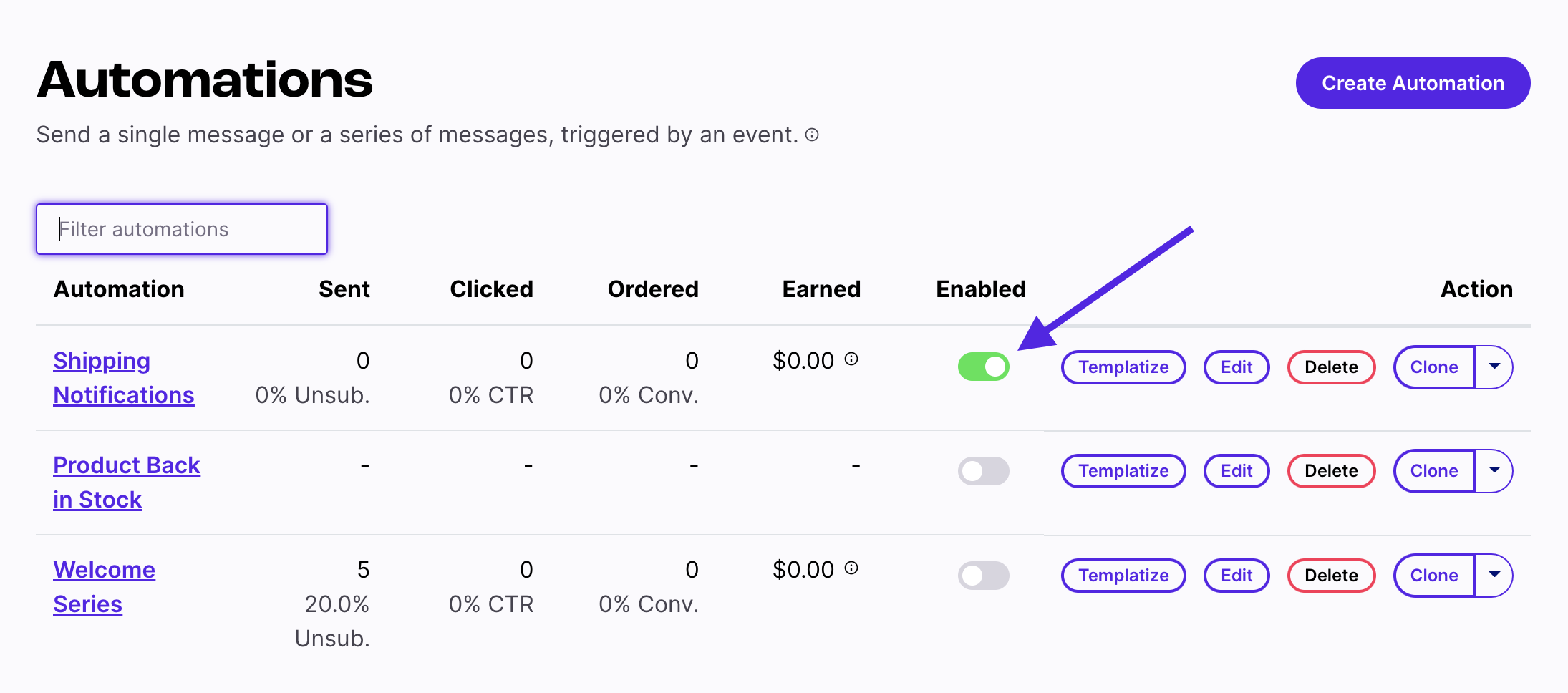 Get Support
---
Have questions? Please feel free to reach out to our wonderful Support team at support@postscript.io or via live chat. You can also submit a support request here!
Need ongoing channel strategy guidance? Please fill out this form and we'll connect you to one of our certified partners.