Tip: Select any of the images or GIFs in this article for a closer look.
With Postscript, shops can customize a subdomain for their short link (i.e., myshop.pscrpt.io) via their Account Settings page.
Customize Your Short Link Subdomain
---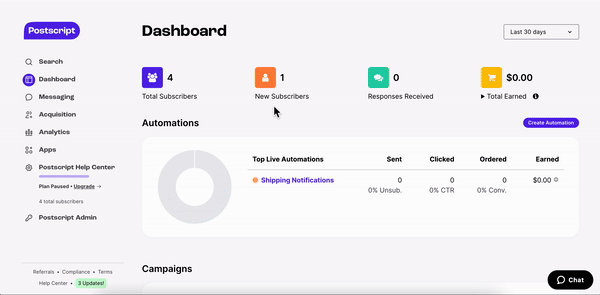 Select your Shop Name in the side menu of your Postscript dashboard, then select Settings
Enter your desired subdomain in the Update Short Link Subdomain field.
Select Update Short Link to save your changes.
Got Questions? We've Got Answers
---
Can I change the link shortening domain to anything? Shops will only be able to add or edit a subdomain for pscrpt.io. Uniqueness will also be enforced so that no two shops can share the same link shortening. Lastly, when creating your subdomain, be sure to abide by SHAFT criteria to avoid filtering from carriers.
My subdomain is tiny.ps and I've printed a tiny.ps short link on marketing materials or used a tiny.ps short link outside of messaging. Will I have to update these links now? No, tiny.ps will continue to redirect appropriately. While tiny.ps is still supported, we discourage the use of this short link domain because at some point in the near future, we will decommission its use.
My subdomain is tiny.ps and I'd like to change it to myshop.pscrpt.io. How can I make this change? You can request this change by contacting our support team at support@postscript.io or chat with us by clicking the black chat bubble in the bottom right corner of the app.
Get Support
---
Have questions? Please feel free to reach out to our wonderful Support team at support@postscript.io or via live chat. You can also submit a support request here!
Need ongoing channel strategy guidance? Please fill out this form and we'll connect you to one of our certified partners.