Tip: Select any of the images in this article for a closer look.
Note: This feature may be most valuable to power users with brands that cover multiple engagement channels and for those individuals familiar with Google Analytics.
Postscript allows you to define your own global UTM parameters for campaigns and automations, as well as create your own custom UTM parameters.
About Global UTM Parameters
---
UTM parameters are snippets of code attached to the end of a URL that allow you to measure the effectiveness of digital marketing campaigns and pinpoint specific sources of traffic to your website. 
Specifying parameters, such as utm_campaign and utm_medium, enables you to generate very specific data points in Google Analytics. For example, by defining a custom parameter of utm_medium is SMS, you can view the amount of traffic generated by your SMS marketing efforts.
Access Your Global UTM Parameters
---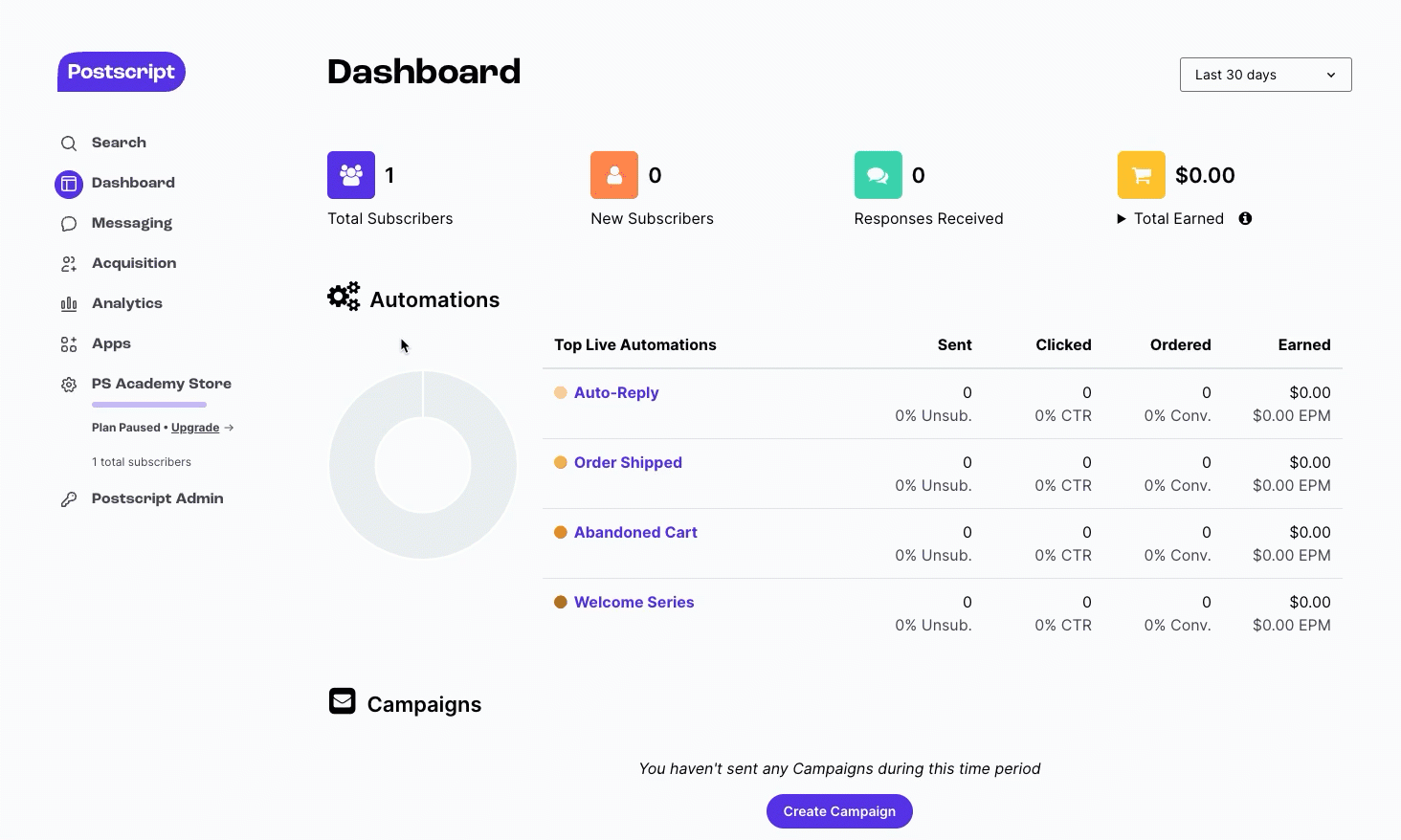 Select your Shop Name in the side menu of your Postscript dashboard, then select Tracking.
Locate the Adjust Global UTM Parameters and make your desired changes.

Select your UTM parameter option. You can choose to define a static value for parameters like utm_source and utm_campaign, or you can choose dynamic values which will change to reflect either a campaign segment, campaign name, or automation name.

Static vs. Dynamic

Static: utm_source set as postscript means all traffic generated from an SMS link will be attributed to Postscript in Google Analytics
Dynamic: utm_source set as Campaign Name (as selected from the source drop-down) means traffic will be attributed to specific Postscript campaigns, automations, or flows, by name, in Google Analytics.

Add custom parameters (optional). You have the option to define additional UTM parameters if you are familiar with them.

For example, you can set utm_medium as SMS. This allows you to break out traffic generated from your SMS campaigns from traffic generated through social and email marketing efforts.

Save.
UTM Parameter Examples
---
Below are a few examples of UTM parameters and how those parameters appear in a URL.
Say you configure utm_source to Campaign Segment and utm_campaign to Campaign Name, and a custom parameter utm_medium as SMS. Your setup would look like this:

And a resulting URL link would look like this:

Get Support
---
Have questions? Please feel free to reach out to our wonderful Support team at support@postscript.io or via live chat. You can also submit a support request here!
Need ongoing channel strategy guidance? Please fill out this form and we'll connect you to one of our certified partners.
Are you BFCM ready? Gear up for the 2022 holiday season with our Ultimate BFCM Planner for SMS Marketers! Get your copy here.