Automations are some of the most contextual messages that you can send because they are subscriber triggered. Creating hyper-targeted automations or using your automations during BFCM to collect zero-party data can help set your brand up for success throughout the holiday season.
In this article, we discuss top automations to activate during the holiday season.
Cart Recovery Automations
---
Cart Recovery automations are excellent ways to recapture the attention of high-intent site visitors. Tailoring your automations to the types of shoppers as well as to the stage in the customer journey can prove to be highly effective in converting those visitors into purchasers. Below, we walk through two types of cart recovery automations - Abandoned Cart and Browse Abandonment automations.
High-Value Abandoned Cart
Lotus & Luna experienced a 90%+ conversion rate on their abandoned cart automation targeting orders over $75. High-Value Abandoned Cart Automations are crucial automations to implement during Cyber Weekend and beyond. Below, we cover how to create your own high-value abandoned cart automation.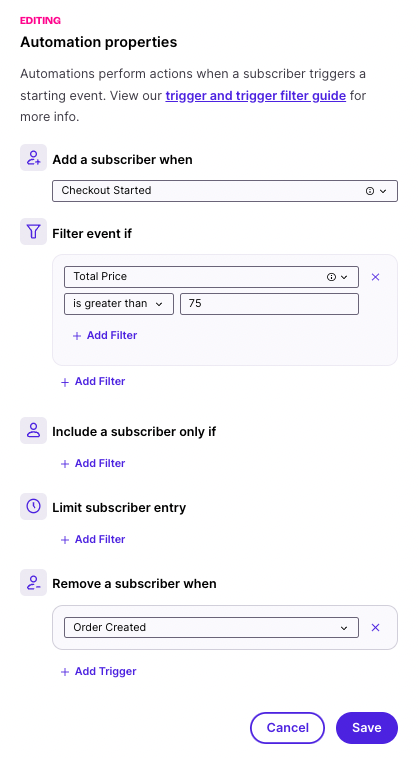 Select Messaging in the side menu of your Postscript dashboard, then select Automations.
Select Create Automations in the top-right corner of the page, then select Create Automation Flow.
Choose if you'd like to create a new automation or use an automation template. 
Give your automation a Name. If you're creating specific abandoned cart automation for different categories (e.g., cart value $75), you might want to include that in the name.
Select Checkout Started from the Automation Trigger drop-down.
Under Filter event if, choose Total Price or Subtotal Price and enter your desired dollar amount.

Total Price captures the total amount after tax, shipping, and handling.
Subtotal Price captures the total amount before tax, shipping, and handling.

Under Remove a subscriber when, select Order Created.

Why? Once a subscriber creates an order, you want them removed from the abandoned cart flow. Say a subscriber comes back to their cart an hour after they abandon it and complete their order. If you had your automation schedule to send at 2 hours, then this subscriber would not receive the message because they already created an order.

Select Save in the bottom-right corner of the editor.
Browse Abandonment
Browse Abandonment automations re-engage potential customers remind them of their initial interest and link them back to your shop.
You can use your Browse Abandonment automation to deliver important information about a particular product to help nudge them closer to that sale (some example copy of this include, "This product is almost out of stock", "We're offering free shipping on this product today only", or "This product has x,y,z benefits", etc.).
Alternatively, you can create a virtual personalized shopping experience by inviting subscribers to interact with your shop and offering to answer any questions they may have about the browsed product. Below, we walk through how to create a Browse Abandonment automation.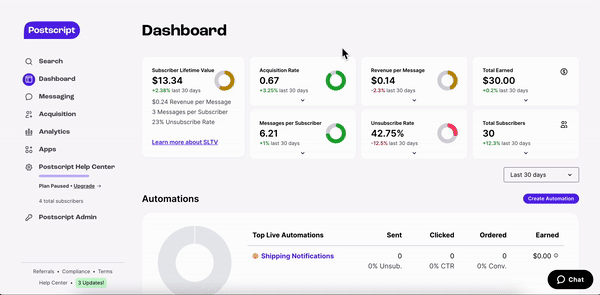 Select Messaging

 

in the side menu of your

 

Postscript dashboard, then select Flow Builder.
Select Create Flow

 

in the top-right corner of the page.
Select

 

Use a template

 

or select

 

Create a new flow.
Choose Automation as your flow type. Then click Create Flow.
Name the automation. Choose a name that will allow you to easily identify and track your Browse Abandonment flow in the future.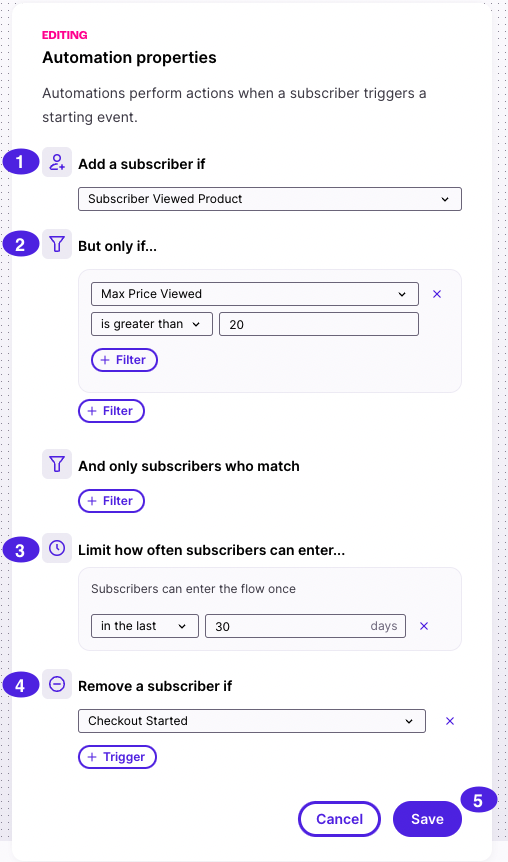 Define the automation trigger.

A

trigger

is an action that will begin the automation flow.

In the example above, the flow will send to a subscriber who viewed a product.

Add trigger filters.

Trigger filters can help you fine-tune when an automation is triggered.

The example above will only send to a subscriber who viewed a product that costs over $20.

Add a subscriber frequency filter.

The subscriber frequency filter allows you to choose how often a subscriber can enter a given automation flow for a certain period of time. While we have guardrails in place that will only allow a subscriber to enter a Browse Abandonment flow once every 72 hours, you can increase that timeframe. 

The example above will only allow subscribers to enter this flow every 30 days.

Add a cancellation trigger.

The cancellation trigger tells Postscript when to remove a subscriber from an automation flow.

In the example above, a subscriber will be removed from receiving this automation if they begin checkout after viewing a product.

Save.

Select Save in the bottom right corner of the properties editor. 
Want to keep it simple? No worries! Adding trigger filters, subscriber filters, a subscriber frequency filter, or a cancellation trigger are all optional ways to customize your automation flow.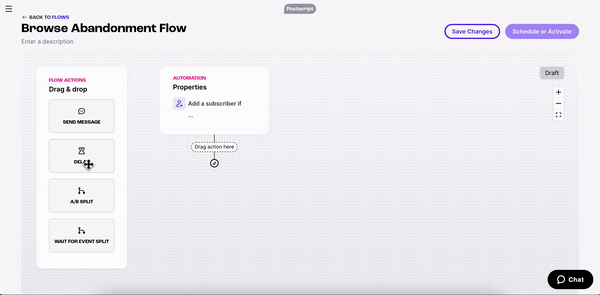 Add actions to your flow.

You can begin building your flow by dragging and dropping a

Send Message

action, a

Delay (remember: this delay needs to be within 48 hours of the browse abandonment),

 or an

A/B Split.
When adding a Send Message action to your automation flow, you may consider using some of our message enhancements located in the bottom right corner of the Message Editor to spruce things up.

Add emojis by clicking the square smiley face icon.

Add merge tags like subscriber first name, your shop link, or your shop name by clicking the overlapping tags icon.

Add a

Postscript-generated coupon

by clicking the percentage icon.

Add a

Shopify-generated coupon

and discount link by clicking the hyperlink icon.

Note: Links and tags are trigger-specific. Not all link or tag options will be visible for all trigger types. For example, an abandoned cart link can only be added if the automation flow trigger is

Checkout Started.

If you're ready to send your flow, select

Schedule or Activate

in the top-right corner of the page. You have two options when sending a flow:




Activate immediately:

This option will immediately begin the flow

allowing subscribers to enter the automation based on the selected properties.

Activate at a scheduled time and date:

Choose when you'd like the flow to begin allowing subscribers to enter.
Compliance Note:
All cart recovery automations text messages can only be sent to individuals who have compliantly opted in to your store's SMS program before abandoning their cart. Learn more about growing your subscriber list
here
.
Post Purchase Automations
---
During the holidays, shipping delays can be commonplace so over-communicate with your subscribers after they place an order. By clearly communicating when a product will leave a warehouse and when it will arrive at the customer's doorstep, you can ensure to keep your customers happy post-purchase.
Shipping Notifications
We recommend sending shipping notifications once the order is created, the order leaves the warehouse, and when the order is delivered.
By overcommunicating with subscribers, you can be proactive in managing your customer response inbox and reducing the number of shipping inquiries your team receives.
Select the hyperlinks below to automatically add these shipping notification templates to your automation flows.
Order Created. 

This automation flow fires 30 minutes after someone purchases and thanks them for their order and offers 10% off their next order if placed within 24 hours.

Order Shipped. 

Send customers a notification when their order has shipped.

Order Delivered. 

Send customers a notification when their shipment has been delivered.
Other Post Purchase Automations
Aside from updating subscribers on their shipments, post purchase automations can also be used to collect user-generated content, request reviews, and remind subscribers about their loyalty points. Below, we look at examples of each.
User-generated content (UGC) is similar to reviews in that they serve as testimonials from customers and, in turn, can build trust with potential customers who haven't purchased from your brand yet.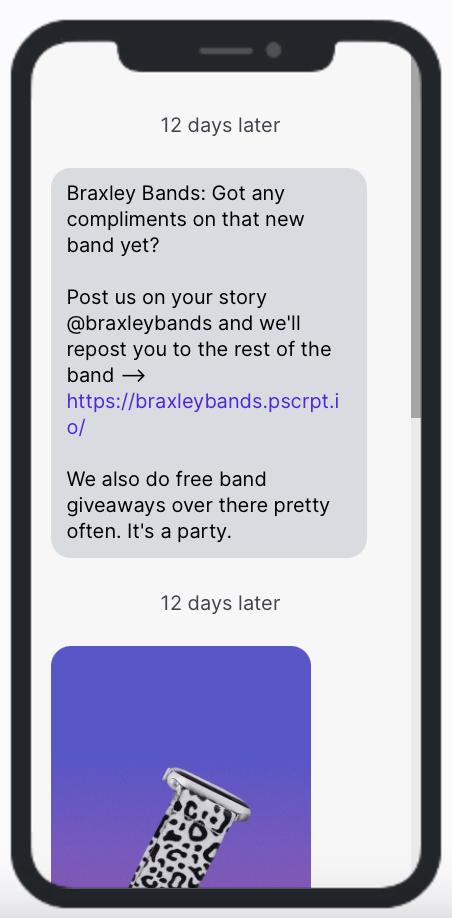 In the example above, Braxley Bands subscribers are incentivized to share a social media story of their band for a repost to the rest of their brand followers. This content can be repurposed for paid ads, social media posts, or organic content.
Postscript integrates with several review platforms including Junip, Okendo, Yotpo, and Growave. These integrations allow you to easily request reviews from your subscribers following a purchase.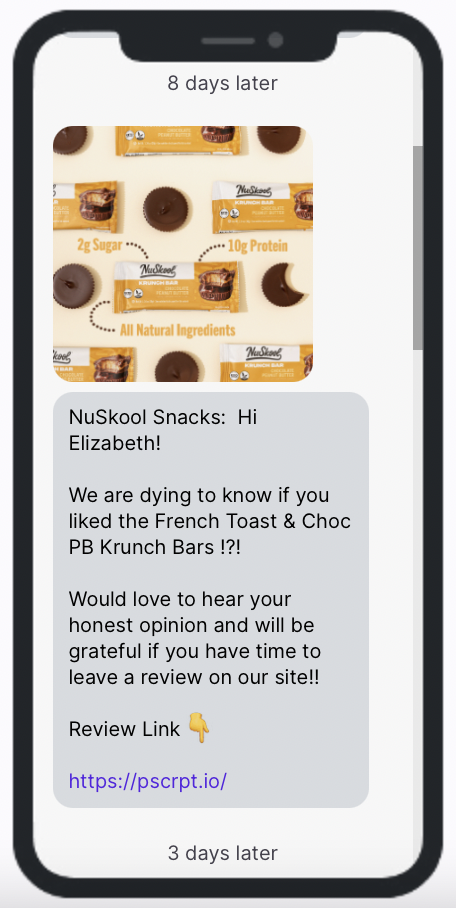 You may also consider incentivizing subscribers to leave reviews by offering loyalty points, a discount code in exchange, an entry into a giveaway, etc.
Post purchase is an optimal time to notify subscribers that they've acquired additional loyalty points and/or remind them of existing points.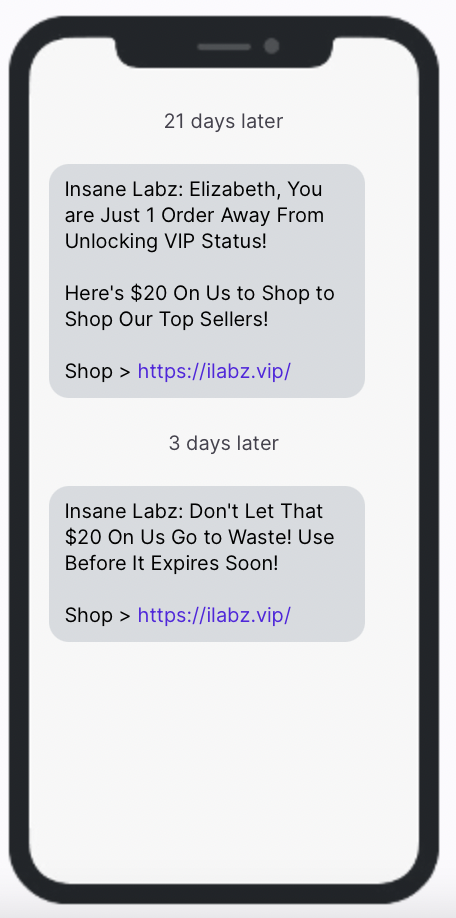 If your brand does not have an official loyalty points program, you can also use your post purchase automation to nudge customers toward taking the action necessary, completing an additional order, to access VIP status. 
Welcome Series
---
Collect Subscriber Information
You can use your welcome series automation to collect subscriber information. When you initially introduce your subscriber to your brand, consider offering a personalized product recommendation based on what the susbcribers is interested in. From there, you can collect zero-party data on that subscribers so you can send more personalized and targeted campaigns as the holiday season progresses.
In the video below, we walk through how to create a welcome series that captures subscriber preferences. Then, we walk through how to create a campaign that follows up with subscribers based on their preferences.
Contact Card
Sending your subscribers a contact card as a part of your welcome series message can reduce the potential of filtering. With iOS 16 updates, consumers can easily report messages from unknown senders as spam. Encouraging your subscribers to save your brand's contact card decreases the chances you're considered an unknown sender which improves your overall deliverability.
To learn more about the importance of contact cards, how to build your own, and insert it in your welcome series message, see here. 
Get Support
---
Have questions? Please feel free to reach out to our wonderful Support team at support@postscript.io or via live chat. You can also submit a support request here!
Need ongoing channel strategy guidance? Please fill out this form and we'll connect you to one of our certified partners.
Are you BFCM ready? Gear up for the 2022 holiday season with our Ultimate BFCM Planner for SMS Marketers! Get your copy here.