Tip: Select any of the images or GIFs in this article for a closer look.
Automation flows are the perfect way to create and send multi-stage communications triggered by a certain event (e.g., subscribing to texts, abandoning a cart, etc.). Automation Flows differ from legacy automations in that you can take advantage of Automation Flow-specific features like Wait for Event Branching.
With automation flow templates, you can easily create fresh messages and ideas for engaging subscribers throughout their buying journey. Simply choose your Template Type, select the template you wish to use, and you're ready to go. 
Why You Should Consider Templates
---
Save time. By utilizing templates, you can get time added back to your busy day AND still deliver high-quality content.
Get inspired. Use this feature to get your creative wheels spinning, then easily create variations of an automation series.
Explore new strategies. By offering various types of templates, this feature can help you explore new approaches to your automation strategy.
How to Use Automation Flow Templates
---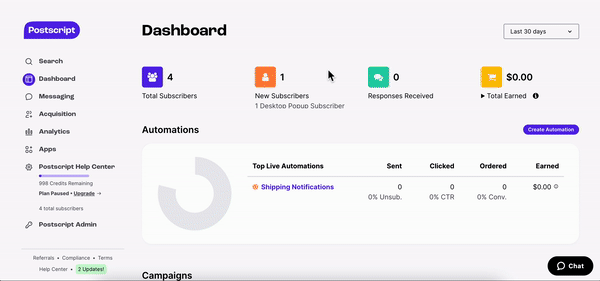 Select Messaging in the side menu of your Postscript dashboard, then select Flow Builder.
Select Create Flow in the top-right corner of the page.
Select Use a template, then Continue in the bottom right.
Select the Template Type dropdown, then choose Automation. Templates will automatically populate below the dropdown.
Select the template you wish to use, then select Create flow in the bottom left corner of the Choose a template modal.
Be sure to name your automation flow and adjust automation properties as desired.
If you need to step away and resume working on your automation flow at a later time, click Save Flow in the upper right corner. If you are ready to schedule or launch your automation, click Schedule or Launch in the upper right corner.
Get Support
---
Have questions? Please feel free to reach out to our wonderful Support team at support@postscript.io or via live chat. You can also submit a support request here!
Need ongoing channel strategy guidance? Please fill out this form and we'll connect you to one of our certified partners.