Tip: Select any of the images or GIFs in this article for a closer look.
The beauty of SMS lies in the two-way nature of the channel. Just like you can send messages to your subscribers, you can also receive messages from your subscribers. Postscript makes responding to subscribers easy by centralizing these messages on your Responses page.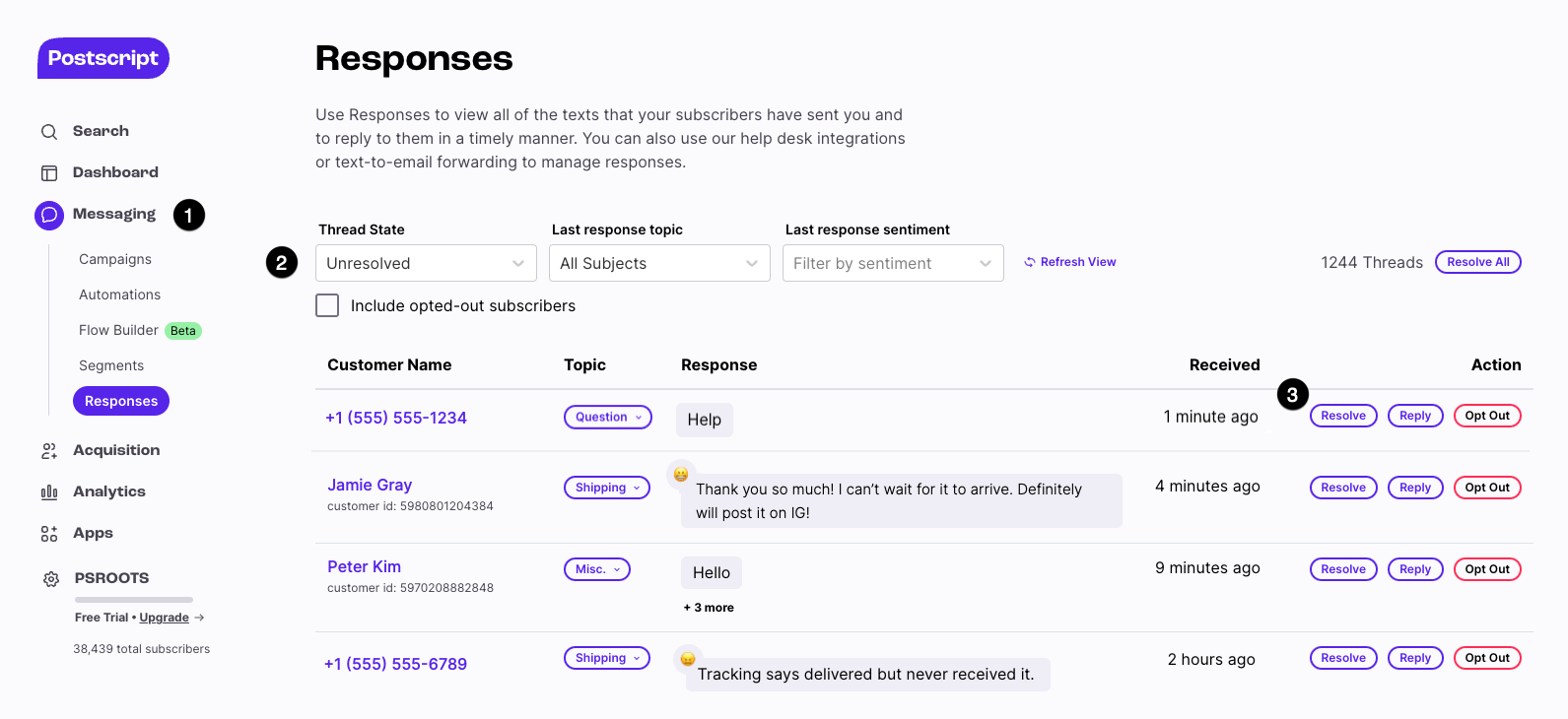 How Interacting with Subscribers Benefits You
---
Build rapport and trust with your subscribers by reading and responding to their concerns and questions.
Improve how carriers view your toll-free number. Carriers are less likely to flag it as spam or filter messages you send. 
Interacting with Subscribers Using Postscript
---
When it comes to interacting with your subscribers, Postscript gives you a few options. We'll touch on each below and link you to other resources for more in-depth information.
Our Response page brings together all inbound subscriber responses. You can access your Responses by selecting Messaging in the side menu of your Postscript dashboard, then selecting Responses.
Here you can:
Filter responses by issue (e.g., shipping, returns, payment, product, etc.)
Filter responses by sentiment (e.g., frustrated subscribers, happy subscribers, etc.
Drill into individual subscriber profiles where you can view unique details and Shopify customer history, if available.
Learn more about our Response page here.
Postscript integrates with several Customer Support solutions. If you use any of the below solutions, you can connect it to Postscript and have responses flow through to your support team. This helps you centralize subscriber questions and concerns in your preferred solution.
Learn how to forward subscriber responses to your support email here.
Get Support
---
Have questions? Please feel free to reach out to our wonderful Support team at support@postscript.io or via live chat. You can also submit a support request here!
Need ongoing channel strategy guidance? Please fill out this form and we'll connect you to one of our certified partners.