Flow Builder allows your brand to scale personalized one-to-one conversations with your subscribers while collecting zero-party data in your campaigns and automations. 
When building an interactive campaign or automation, Flow Builder can register a variety of flexible responses from your subscribers that still automate replies based on the conditions you set when you craft the flow.
As you receive subscriber responses following an interactive campaign or automation, you may wish to manage these messages differently than other subscriber responses through your help desk. In this article, we outline features in Zendesk and Gorgias that allow you to manage subscriber responses from Flow Builder.
Tips for Facilitating Response Management
---
Be selective about the responses you're prompting your subscribers to reply with. For example, avoid using words/phrases/punctuations as subscriber reply options such as, "help, when, where, what, how, why, ?, cancel" or other words indicating a subscriber may need to speak directly with a brand representative.
Understand how subscribers interact with your brand today. Check out your responses tab to get an idea of how subscribers are currently interacting with flow builder messages. This can help you get a better idea of how to filter responses in your help desk.
Managing Responses in Zendesk
---
With Zendesk Support, you can create triggers that allow your brand to update the status of a ticket based on predetermined conditions.
Because triggers are checked every time a ticket is created or updated, you can set conditions for new, incoming tickets to check for flow builder responses, then close the ticket if the conditions are met.
Learn more about triggers and how they work here.
Managing Responses in Gorgias
---
Gorgias allows you to create Rules for incoming tickets. Rules allow you to perform actions on tickets such as auto-closing tickets that contain a message body matching your flow builder response options.
Let's take a look at the Holiday Gift Guide example below. We've asked our subscribers to respond with who they're shopping for (shown on the left) and have created a rule in Gorgias to auto-close tickets that contain these flow builder responses (shown on the right).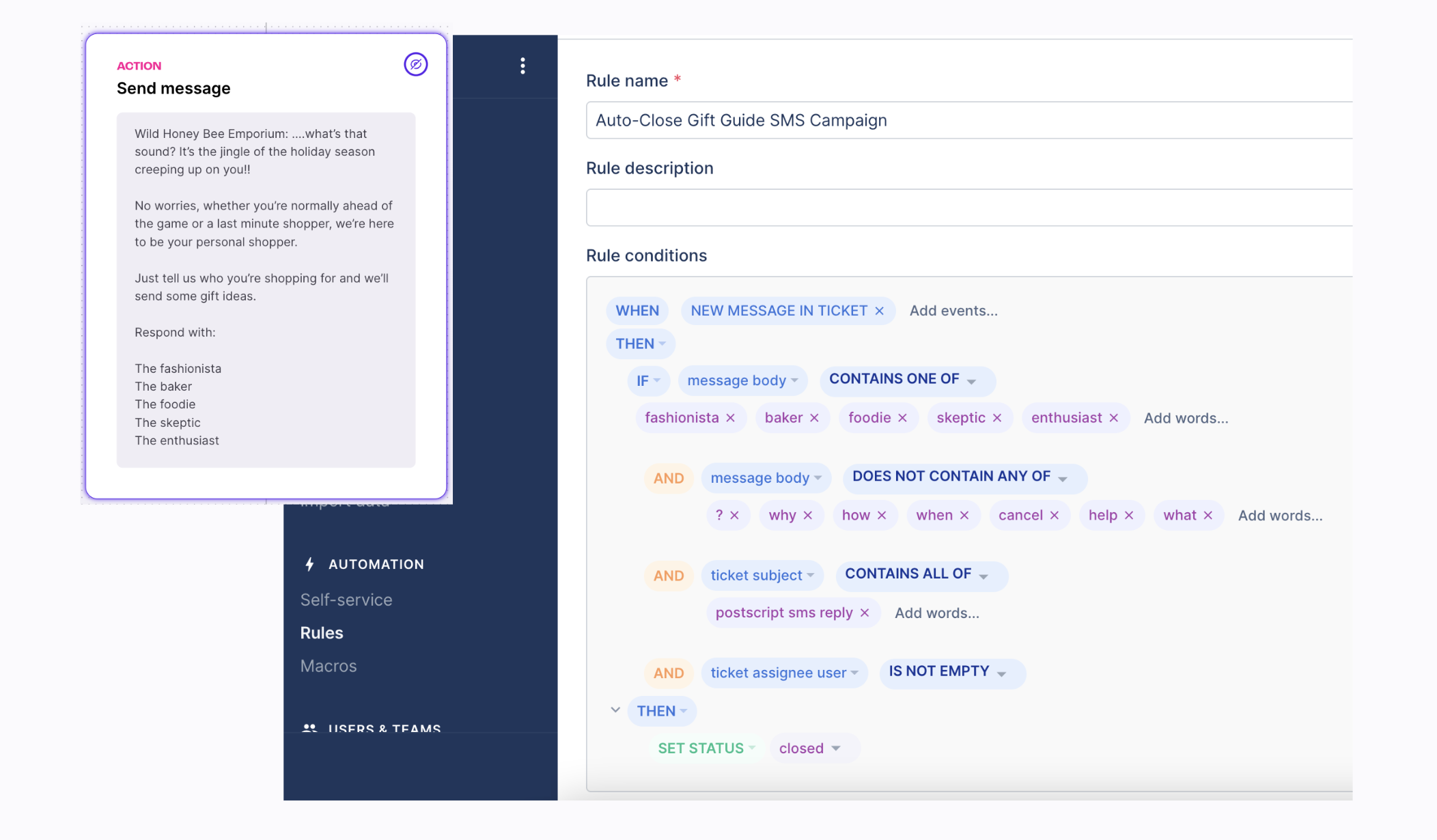 We used the criteria AND message body DOES NOT CONTAIN ANY OF... to ensure if a subscriber asks a question while also using one of the flow responses, it will still create a ticket.
The ticket subject criteria should be updated based on the subject line of the messages from Postscript SMS. If you're unsure of what the subject is on tickets that funnel in from Postscript, check your inbox.
Please note that this is an example and you are encouraged to customize these conditions according to your brand and subscriber base. Learn more about Gorgias Rules here.
Get Support
---
Have questions? Please feel free to reach out to our wonderful Support team at support@postscript.io or via live chat. You can also submit a support request here!
Need ongoing channel strategy guidance? Please fill out this form and we'll connect you to one of our certified partners.