A/B testing is a marketing experiment wherein shops can split their audience to test variations of creatives, incentives, or copy to determine which experience performs best.
In this article, we discuss how to conduct an A/B test in campaign flows!
How A/B Testing Benefits You
---
Have more control over how the split is distributed between several different messages, delays, and more.
Test out messages with a small percentage of the intended subscribers and still view performance metrics once the campaign sends.
Validate which characteristics of the winning branch increase conversions, then implement those characteristics to effectively grow your revenue.
Conduct an A/B Test in Campaign Flows
---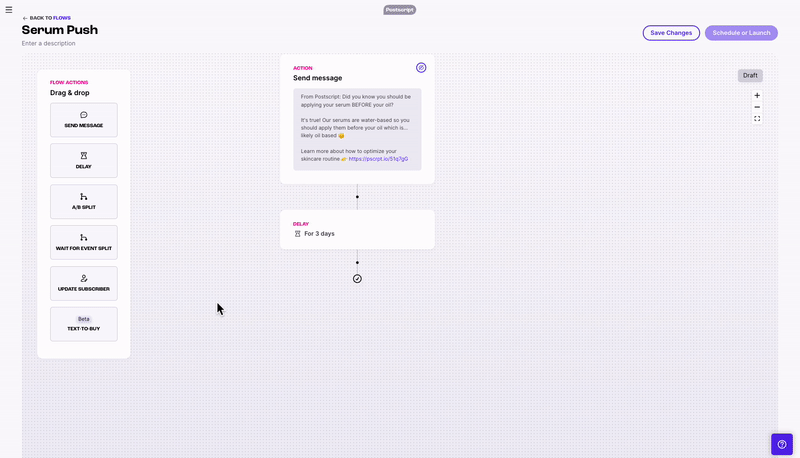 Select

 

Messaging

 

on the left-side navigation panel of your

 

Postscript Dashboard.
Navigate to the Campaign Flows tab and select an existing campaign flow. 
If you have not yet created a campaign flow, select Create Campaign

 

in the upper right corner. Choose Create Campaign Flow. Select either

 

Use a campaign template

 

or

 

Create a new campaign, then select Continue

 

in the bottom right of the module. 
Set your campaign properties by selecting a segment to include. Optional: you can also select a segment to exclude and add a cancellation trigger. Learn more about how to set up your campaign flow

 

here.
Under

 

Flow Actions, select and drag A/B Split

 

action into your flow. You can choose to customize your A/B test by setting the distribution of each branch and adding additional branches.
Drag and drop additional actions below your A/B Split action to test delays, message copy, or event branching.
Additional Resources
---
Get Support
---
Have questions? Please feel free to reach out to our wonderful Support team at support@postscript.io or via live chat. You can also submit a support request here!
Need ongoing channel strategy guidance? Please fill out this form and we'll connect you to one of our certified partners.