Note: A/B testing for popups is currently in beta for Postscript stores on the Professional or Enterprise plans
A/B testing is a marketing experiment wherein shops can split their audience to test variations of popup creatives, incentives, or messages to determine which popup experience performs best.
Why You Should A/B Test Your Popups
---
Optimize your popup conversions by finding the best combination of popup creatives, timing, images, message copy, and incentives for your brand all through A/B testing.
Get a better understanding of which popup experience captures the attention of your site visitors so you can effectively create content that resonates and ultimately increases engagement.
Validate which characteristics of the winning popup increase subscriber list growth, then implement those characteristics to effectively grow your subscriber list.
What You Need to Know
---
You will need to create the variant popups you'd like to test before following the instructions in this tutorial.
When creating your variant popups, consider giving each popup a name that will allow you to easily identify each variant when you set up the A/B test.
You must have at least two popup variants for testing and the distributions for all variants must total 100%.
Create an A/B Test Popup
---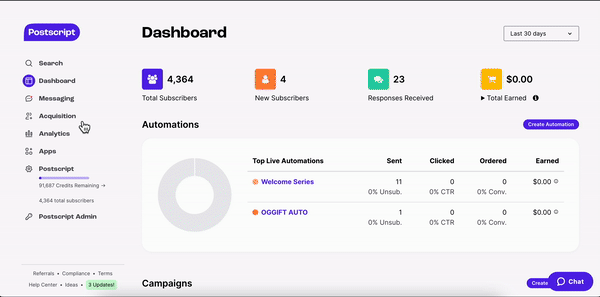 Select Acquisition in the side menu of your Postscript dashboard, then select Popups.
Select Create in the upper right corner, then select Split Test.
Choose which platform, mobile or desktop, you would like to test your popups on. Then select Create Test.
Name the A/B test. Choose a name that will allow you to easily identify and track this test in the future.
Under Choose Popups, select the variants you'd like to test. Remember, you must choose at least two variants.
If you'd like to select more than two popups, select the + Add Variant button below Variant 2.
Set the distributions for each variant by entering a percentage into the Distribution field next to each select variant. Remember, the distribution of all variants must equal 100%.
Under Pages, select the dropdown under Include pages and Exclude pages to include or exclude pages of your site that you'd like the popups to display on. Note: Updating these included and excluded pages on this step will update the original popups as well. on.
Under Ending the test, select Run until the test is stopped manually. You can end this test at any time.
Once you've selected the popups you'd like to test and added the website pages you'd like to include and exclude the popups on, you can start your test by selecting Start Test in the upper right corner.
FAQs
---
How can I determine a winning popup? In order for you to determine a winner for your A/B testing, check the analytics for each popup on the Popups page under Split Tests.
Can I run my tests on separate site pages? No, tests must be run on the same page(s) of your site.
Get Support
---
Have questions? Please feel free to reach out to our wonderful Support team at support@postscript.io or via live chat. You can also submit a support request here!
Need ongoing channel strategy guidance? Please fill out this form and we'll connect you to one of our certified partners.