Tip: Select any of the images in this article for a closer look.
Postscript integrates with Klaviyo, allowing you to share information between the two solutions.
About Klaviyo
---
Klaviyo is an automated marketing campaign solution that focuses on email, social advertising, and analytics. By linking your Klaviyo account with Postscript, you can collect SMS subscribers through Klaviyo forms, popups, and email lists.
Why You Should Enable This Integration
---
Set Up Your Klaviyo Integration
---
To get started with setting up your Klaviyo integration, select Integrations in the side menu.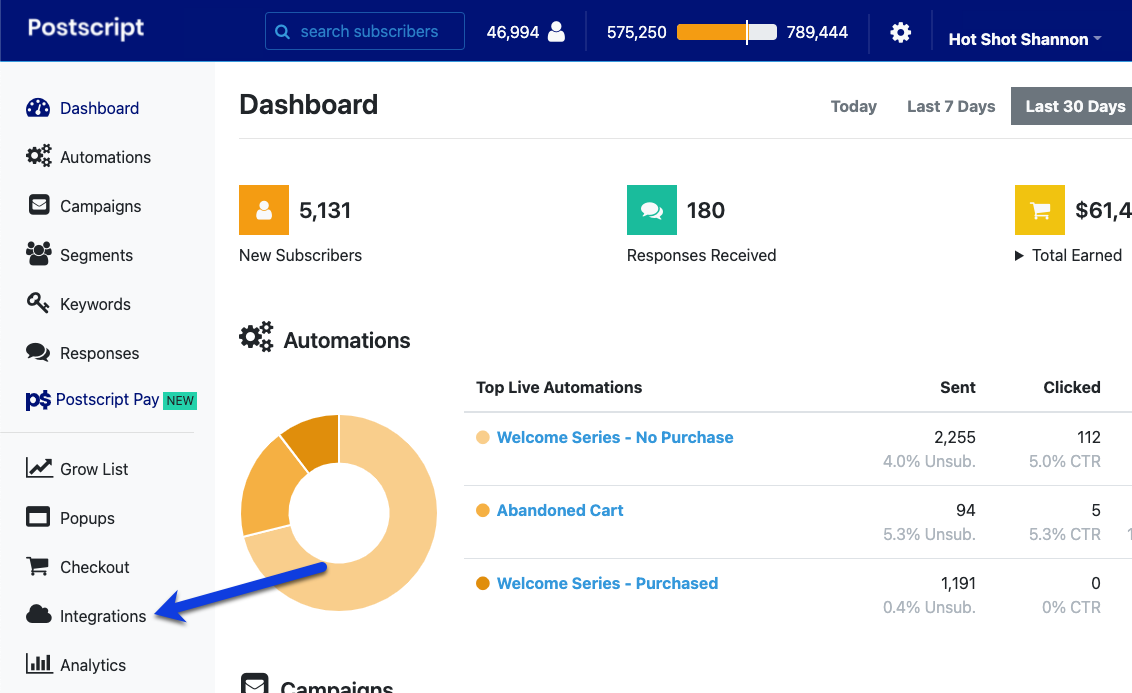 The Integrations page displays integrations you've previously enabled as well as additional integrations available to you.
Locate the Klaviyo integration from the options listed. You can use the search field at the top-left of the page to filter options.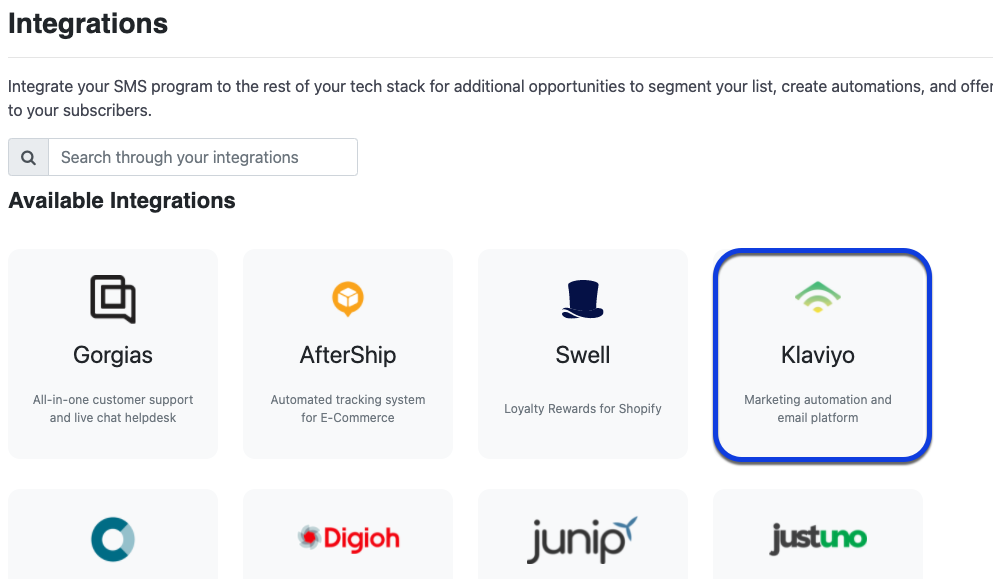 Postscript requires two key pieces of information in order to complete this integration setup: your Klaviyo API Key and your Klaviyo Public API Key. You can find both keys in your Klaviyo account.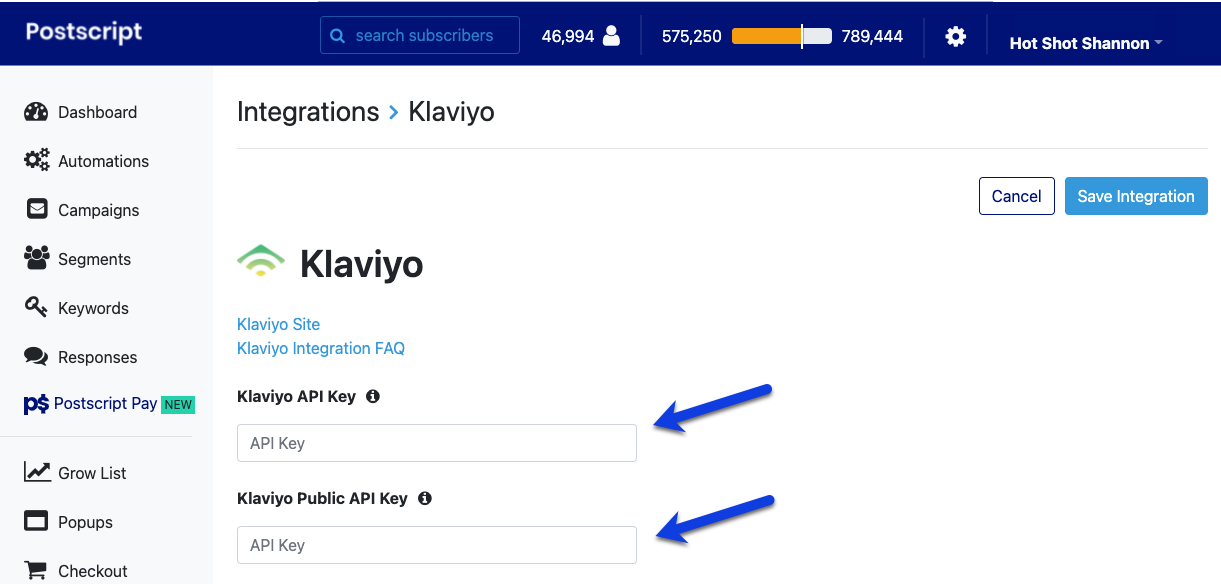 Locate Your Klaviyo API Keys
---
Your Klaviyo API keys allow Postscript and Klaviyo to communicate and exchange important information. You'll need to locate your API keys in your Klaviyo account and enter those keys in Postscript. We walk through each step below.
To get started, log into your Klaviyo account. On the top-right corner of the page, select your account name. This expands a drop-down menu. Select Account from the options listed.

Your account page contains several tabs in the top-right corner. Select Settings to expand the drop-down menu, then select API Keys.

Your API Keys page allows you to view and manage your public and private API keys.

Public API Key. Locate your public API key. You will need to copy and paste this into the Klaviyo Public API Key field in Postscript.
Create Private API Key. You will need to create a unique private API key for Postscript. Select Create Private API Key to generate this API key.
Label. Add a label to this API key so that you know which integration uses this key. Select the pencil icon to enter your API key label.
Private API Key. Klaviyo hides your private API key details. Select the eye icon to the right of the hidden key to reveal the API key details. You will need to copy and paste this into the Klaviyo Private API Key field in Postscript.
Complete Your Klaviyo Integration Setup
---
Once you locate your public and private Klaviyo API keys, you can copy those details into Postscript.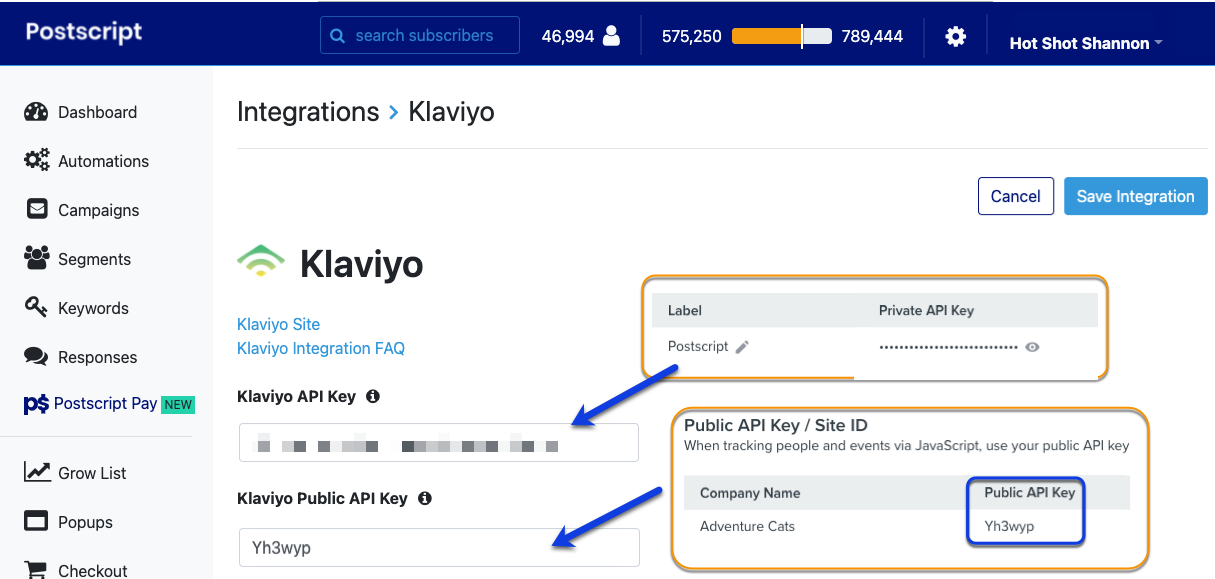 Select Save Integration in the top-right corner to save your API key details. Your last step in the setup process is enabling the integration. Select the Enabled toggle above the integration name in the top-left corner.
What's Next
---
Get Support
---
Have questions? Please feel free to reach out to our wonderful Support team at support@postscript.io or via live chat. You can also submit a support request here!
Need ongoing channel strategy guidance? Please fill out this form and we'll connect you to one of our certified partners.