Tip: Select any of the images or GIFs in this article for a closer look.
Growing your subscriber list is an essential part of a strong SMS strategy. The best and easiest way to grow your SMS subscriber list is to enable both your Postscript desktop and Postscript mobile popup as soon as possible.
About popups
---
Popups are a powerful way to grab attention and engage users who visit your website on their desktop and mobile devices. 
With popups, you can offer your customers a discount, giveaway, or VIP membership in exchange for their phone number. Both desktop and mobile popups require compliant opt-in language but don't worry—with Postscript popups, we've got you covered. 
How Postscript popups benefit you
---
Easily collect SMS (and email!) subscribers on desktop and mobile devices.
Subscribers instantly appear in Postscript, meaning you can start sending out automations and campaigns right away.
Use your popup to offer discounts, promote a giveaway or contest, or invite subscribers to join your exclusive VIP club.
Know you're always 100% compliant with the right language and collection process. 
Use A/B testing to find the perfect - or most effective - combination of timing, triggers, displays, and copy & design. 
Enable your Postscript popups
---
Select Acquisition in the side menu of your Postscript dashboard, then select Popups.
Select the toggle beside Desktop so it is light blue and displays as Enabled. 
Select the toggle beside Mobile so it is light blue and displays as Enabled.
That's it! Your desktop and mobile popups are now active, 100% compliant, and ready to collect SMS subscribers. You can learn more about how to edit and customize your popups to show the voice and tone of your brand below.
Compliance requirements
---
Compliance is a priority at Postscript. With popups, there are two ways to ensure compliance: include TCPA-compliant opt-in language and enable double opt-in.
TCPA-compliant opt-in language
When collecting subscribers, the TCPA requires you to include necessary compliance language that informs visitors they are opting-in to SMS messaging from your store. At Postscript, we hard code compliance language into the popups you use.
Here's the TCPA-approved compliance language:
*I agree to receive recurring automated marketing text messages (e.g. cart reminders) at the phone number provided. Consent is not a condition to purchase. Msg & data rates may apply. Msg frequency varies. Reply HELP for help and STOP to cancel. View our Terms of Service and Privacy Policy.
Note: In order to collect subscribers compliantly, your shop's Terms of Service and Privacy Policy need to be hyperlinked in the language shown above. If they cannot be hyperlinked, the full URLs of each need to be included so a viewer may search your terms or privacy policy if needed.
For example, "View our Terms of Service (https:/myshop.com/terms-of-service/) and Privacy Policy (https://myshop.com/privacy-policy/)."
Two-step collection
Carriers require that the email field and the phone field on popups, forms, and landing pages need to be entirely separate calls-to-actions. At Postscript, our popups automatically display the phone field and email field as separate steps. Below is a compliant popup example. Learn more here.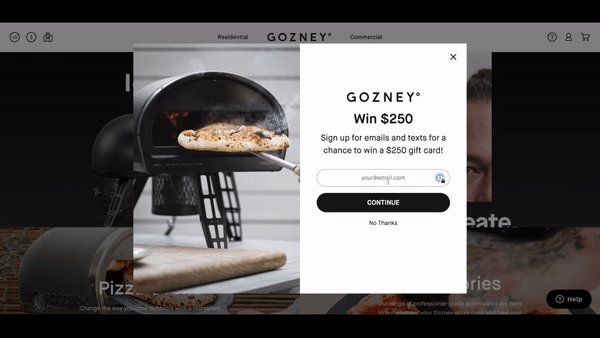 Popup integrations
---
Postscript integrates with several platforms that offer popup design. With these integrations, it's easier than ever to design an engaging popup while also collecting SMS subscribers in Postscript.
Get Support
---
Have questions? Please feel free to reach out to our wonderful Support team at support@postscript.io or via live chat. You can also submit a support request here!
Need ongoing channel strategy guidance? Please fill out this form and we'll connect you to one of our certified partners.