Tip: Select any of the images or GIFs in this article for a closer look.
If you use a Klaviyo popup form to collect phone numbers, then you can also create a Klaviyo-specific welcome series that sends to those collected subscribers.
About Klaviyo
---
Klaviyo is an automated marketing campaign solution that focuses on email, social advertising, and analytics. By linking your Klaviyo account with Postscript, you can collect SMS subscribers through Klaviyo forms, popups, and email lists.
Why You Should Create a Klaviyo Welcome Series
---
You can use a template Postscript created and further customize your message.
Create a unique welcome series for subscribers who opt-in via specific Klaviyo forms and popups.
All you need to do is plug in your form ID. Postscript already has the right automation trigger, user filter, and cancellation trigger selected for you.
Create a Klaviyo Welcome Series
---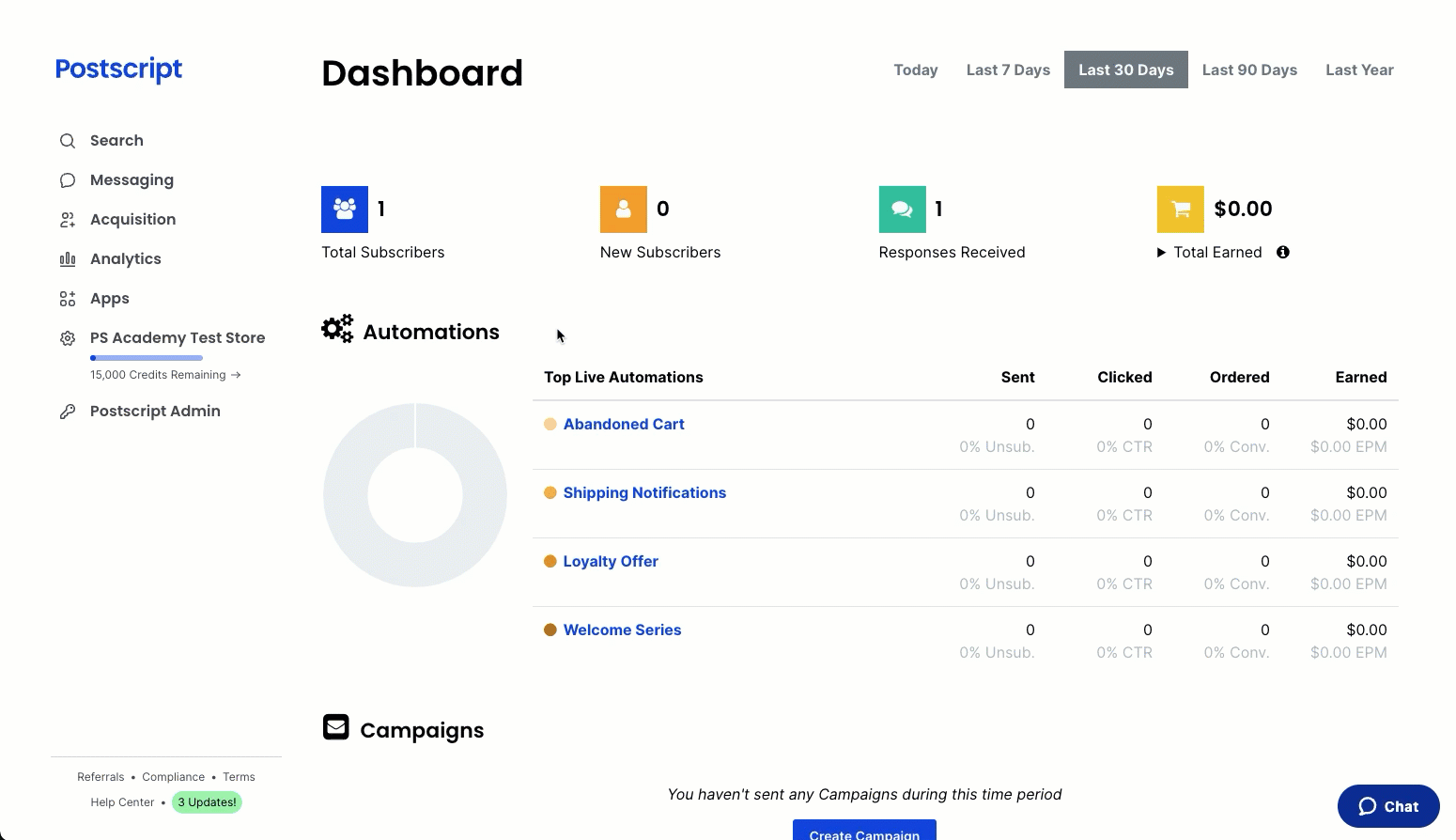 Select Messaging in the side menu of your Postscript dashboard, then select Automations.
Select Create Automation in the top-right corner of the page.
Use the search field in the top-right corner of the template page to search for Welcome Series (Klaviyo Specific).
Customize Your Messages
---
Postscript templates come loaded with pre-written messages, and you can easily customize the messages your subscribers receive by selecting the Edit button in the top-right corner.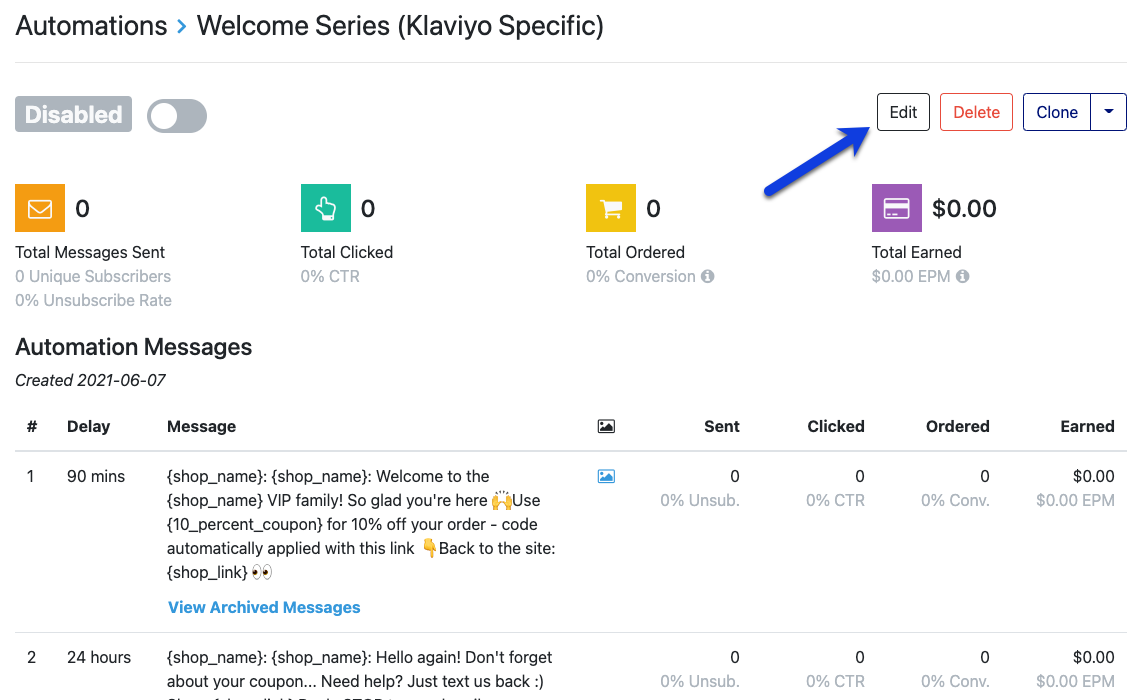 Welcome series typically contain multiple messages spaced out at an interval you define. You can use welcome series to educate subscribers on your brand, offer promotions, or both.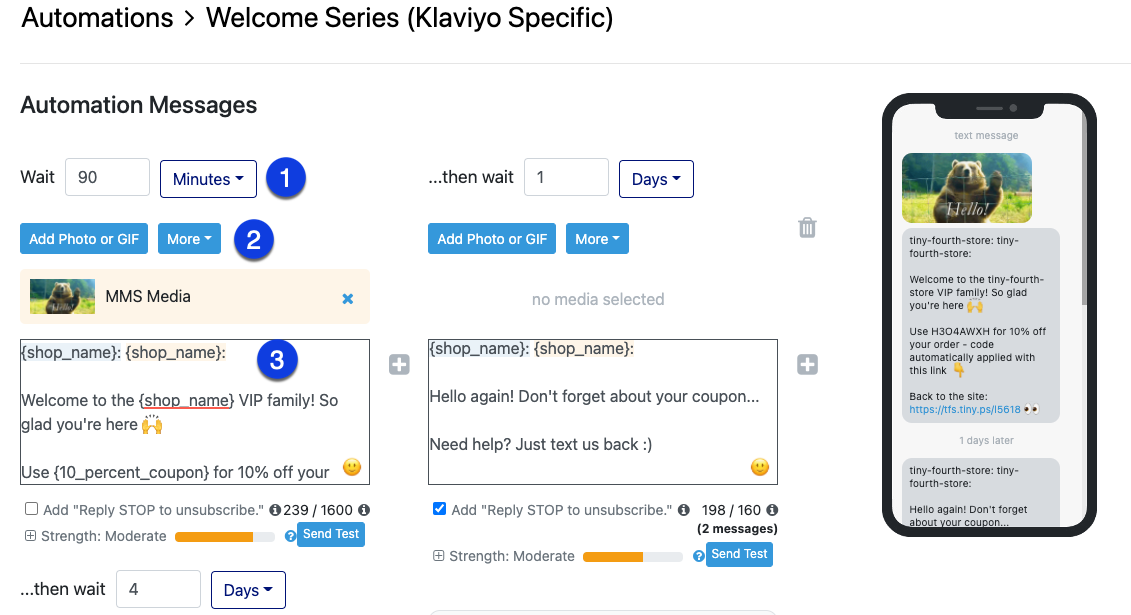 Timing. Specify when you want each message to send in the series. Options include minutes, hours, days, and weeks.
Image or GIF. Choose to include an image or GIF in your message. These can increase engagement and click-through rates. (Note: Adding an image or GIF makes the message an MMS message.)
Message. Get creative with your message text! Personalize it to reflect your brand and customers. We recommend adding in an emoji or two, if appropriate!
Link Your Klaviyo Form
---
Linking your Klaviyo popup form tells Postscript which subscribers you want to include in the welcome series. It's a crucial part of your welcome series setup.
From the automation details page, select Edit Automation Properties in the bottom-right corner of the page.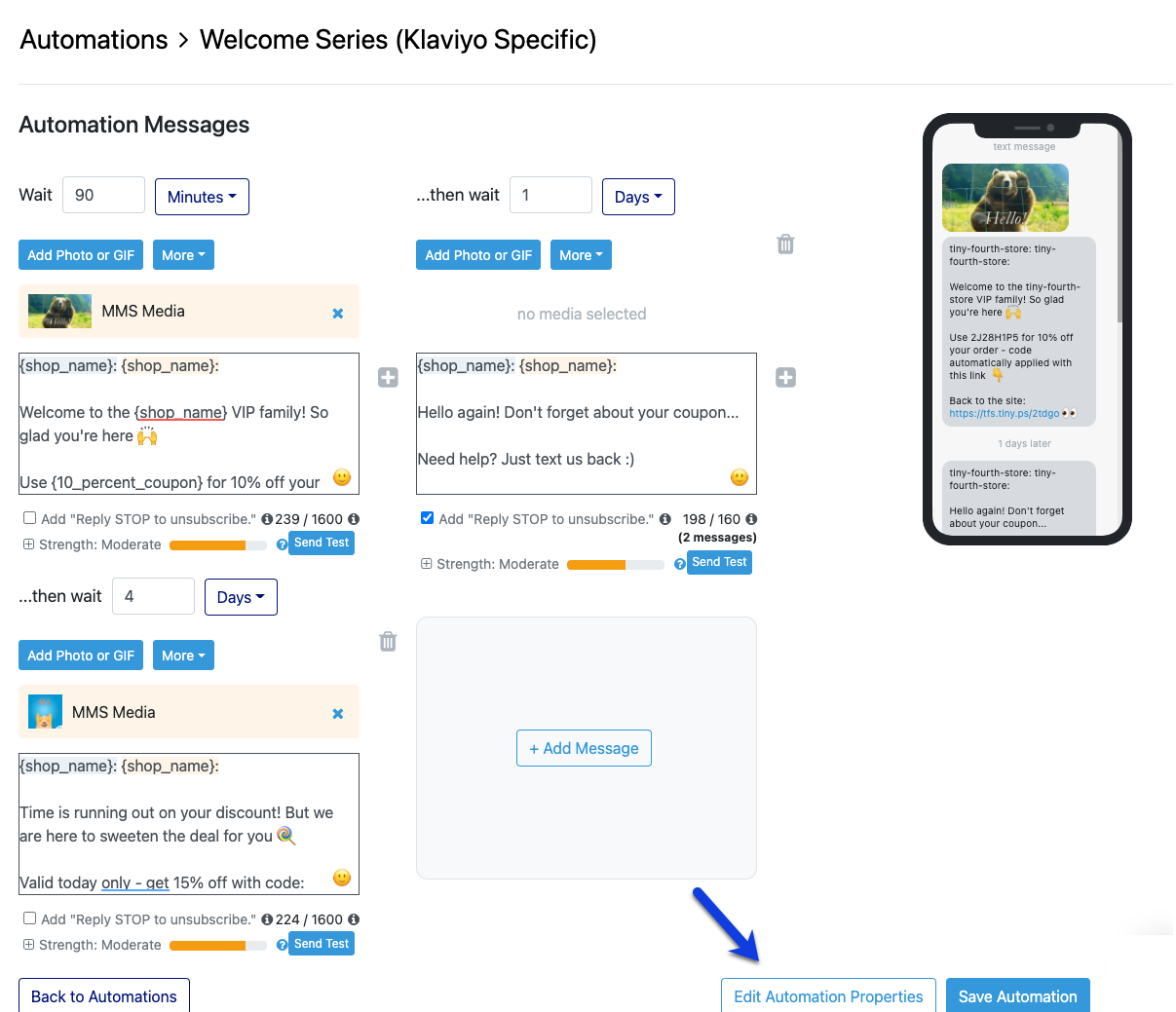 The automation behavior page is where you tell Postscript who to include in your welcome series and when to start (and stop) the series.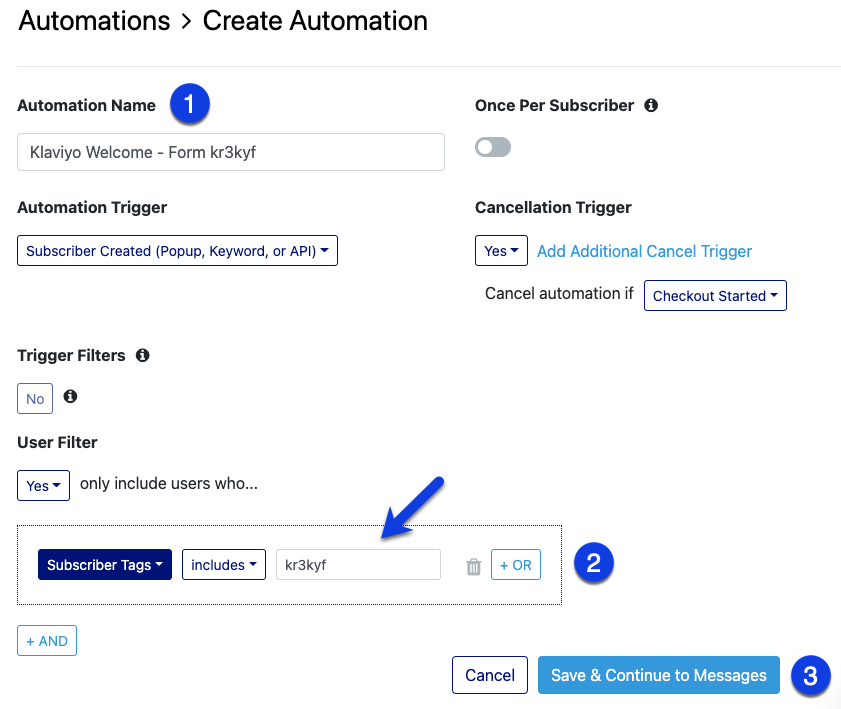 Automation Name. We recommend that you update the automation name to one that helps you identify which Klaviyo group you're targeting. We included our form name (kr3kyf) so we know at a glance that this series targets subscribers of this form.
User Filter. This filter ensures only subscribers to a specific form receive this welcome series. Enter your Form ID in the empty field. In our example, this ID is kr3kyf.
 Save. 
How This Automation Performs
---
Here's how your subscribers will experience what you see above:
Your subscribers will receive the first welcome series message soon after they enter their phone number in your form and opt-in to SMS marketing [Automation Trigger].
Only subscribers who entered their number in Klavyio form kr3kyf will receive this particular welcome series [User Filter].
Once a subscriber begins the checkout process, Postscript will remove them from the welcome series automation [Cancellation Trigger].
Get Support
---
Have questions? Please feel free to reach out to our wonderful Support team at support@postscript.io or via live chat. You can also submit a support request here!
Need ongoing channel strategy guidance? Please fill out this form and we'll connect you to one of our certified partners.