Tip: Select any of the images or GIFs in this article for a closer look.
Postscript integrates with Klaviyo, allowing you to share information between the two solutions. 
About Klaviyo
---
Klaviyo is an automated marketing campaign solution that focuses on email, social advertising, and analytics. By linking your Klaviyo account with Postscript, you can collect SMS subscribers through Klaviyo forms, popups, and email lists.
Why Our Klaviyo Integration Benefits You
---
Our integration works both ways, allowing you to push information to Klaviyo as well as receive information from Klaviyo.
You can use Klaviyo lists to create segments in Postscript.
You can collect SMS subscribers using a Klaviyo form or popup and pass those subscribers to Postscript.
Cookie the Klaviyo email subscribers you collect using Postscript popups and trigger events like checkout started, abandoned cart, etc. 
Sync dynamically generated Postscript coupons with Klaviyo.
Create segments for Klaviyo subscribers who received an email or clicked on a link in an email.
Create Klaviyo segments based on whether a subscriber interacted with links included in messages sent using Postscript
Configure Klaviyo in Postscript
---
Select your Shop Name in the top-right corner of your Klaviyo dashboard, then select Account from the drop-down.
Select the Settings drop-down, then select API Keys.
Select the blue Create Private API Key button to generate a new API key.
Under Label, select the pencil icon for your new API key to note that you're using this key for Postscript.
Select the eye icon to the right of the Private API Key to view the key.
You'll need both your Public API Key and your Private API Key. Write both of these down—you'll enter them in Postscript later.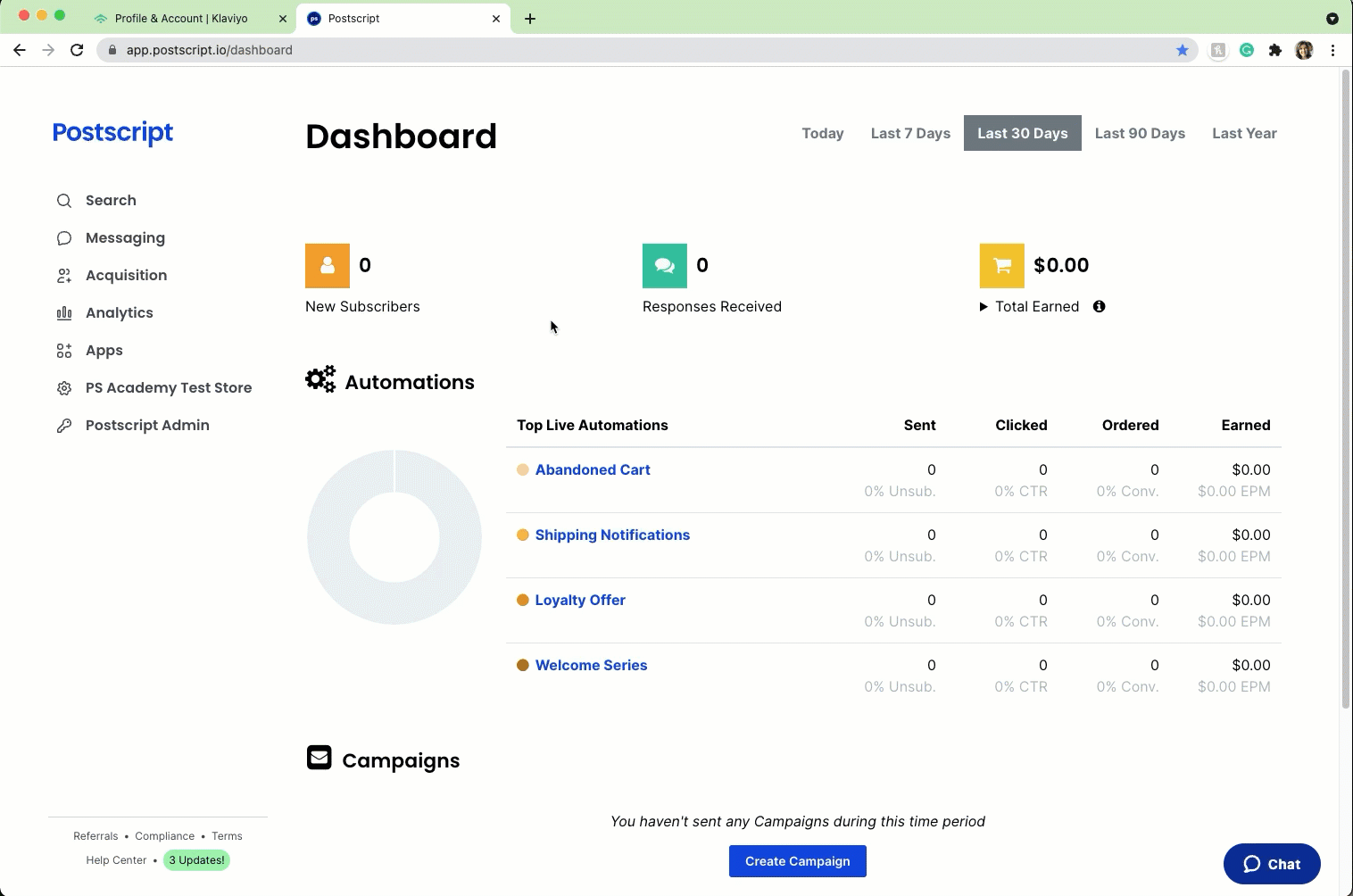 Select Apps in the side menu of your Postscript dashboard, then select List Growth.
Locate and select Klaviyo. You can scroll to locate it or use the search field at the top of the Apps page.
Enter or paste your Private API Key in the Klaviyo API Key field.
Enter or paste your Klaviyo Public API Key in the Klaviyo Public API Key field.
Select Save Integration in the top-right corner of the page.
Once these details save, select the Enabled toggle so it turns blue.
   Note: When collecting subscribers using a list growth integration, subscribers will be prompted with a "Reply Y to Subscribe" text to confirm their opt-in. This allows your shop to confirm they are a valid, consenting subscriber. This Reply Y interaction is automatic and cannot be disabled.
But Wait, There's More!
---
Postscript's integration with Klaviyo is robust, allowing you to streamline and accomplish your work. We've linked to additional content below which will help you knock out these extra tasks.
Get Support
---
Have questions? Please feel free to reach out to our wonderful Support team at support@postscript.io or via live chat. You can also submit a support request here!
Need ongoing channel strategy guidance? Please fill out this form and we'll connect you to one of our certified partners.