One of the best and easiest ways to grow your subscriber list, engage with subscribers and even level up your segmentation is by using keywords!
A keyword is a term or phrase that individuals can text to your toll-free number or short code to opt into your shop's SMS marketing. Keywords can work behind the scenes, like when using a banner or landing page, or they can work front and center, like with our two-touch mobile popup experience. 
How Keywords Work
---
Create a keyword and add your keyword reply. Need inspo? Check out Fantastic Texts. 
Share this keyword

You can share your keyword with customers, social media followers, or connect it to your mobile popup so these individuals can text your keyword to your dedicated toll-free number or short code.
You can also use keywords to connect specific integrations to Postscript.
Lastly, you can use keywords to connect banners, landing pages, short links or email call-to-action buttons to Postscript

Once a subscriber triggers a keyword, they are added to your list an SMS subscriber and receive a keyword reply after opt-in.
Using Keywords
---
Check out this email campaign! This is a clever play on keyword opt-ins because the brand implemented a call-to-action button that routes to a landing page. This landing page is generated with a keyword (which you can learn more about here). We especially love this campaign because you can clearly see the TCPA compliance opt-in language.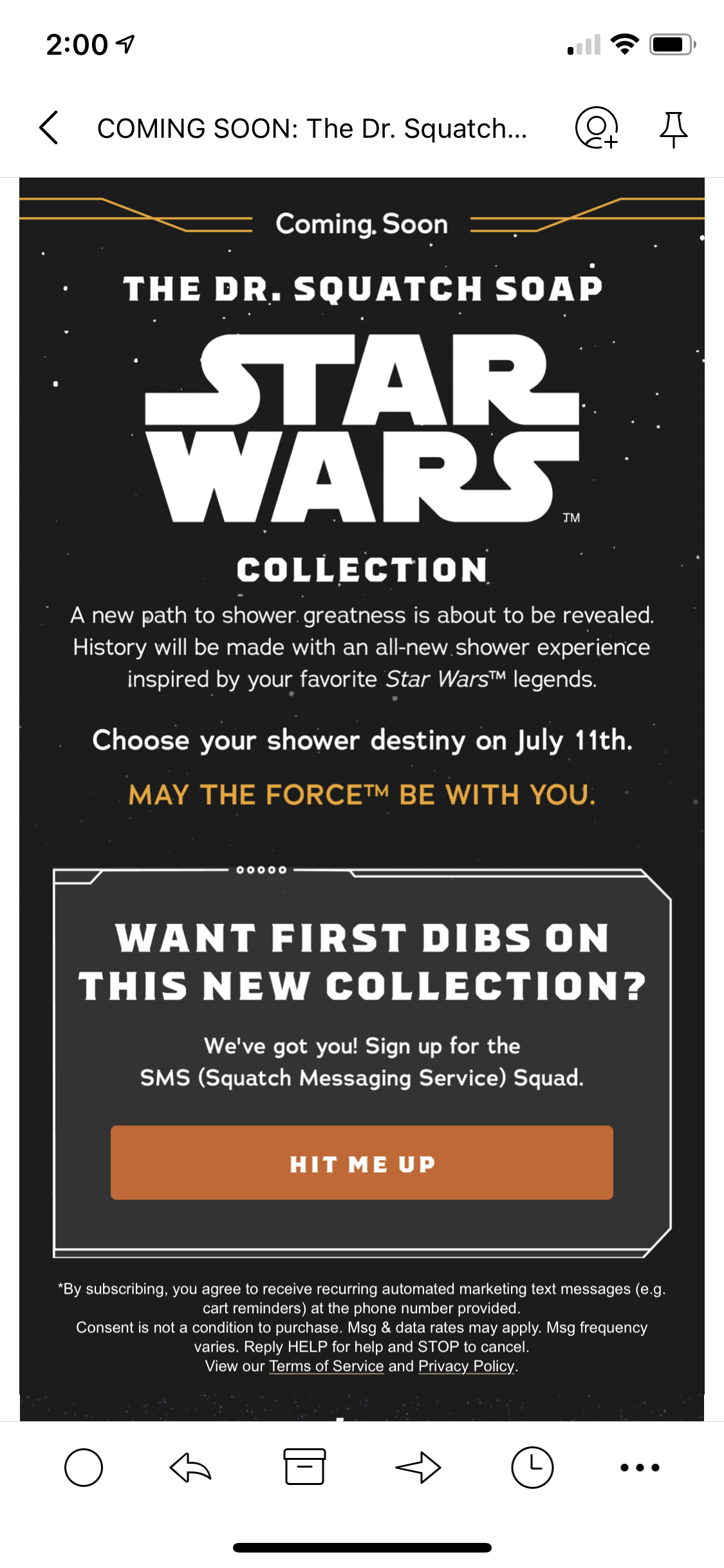 Once someone texts a keyword, they are opted into SMS marketing for a shop. They receive a confirmation message, a keyword reply, and so after flow through to a welcome series automation, if enabled.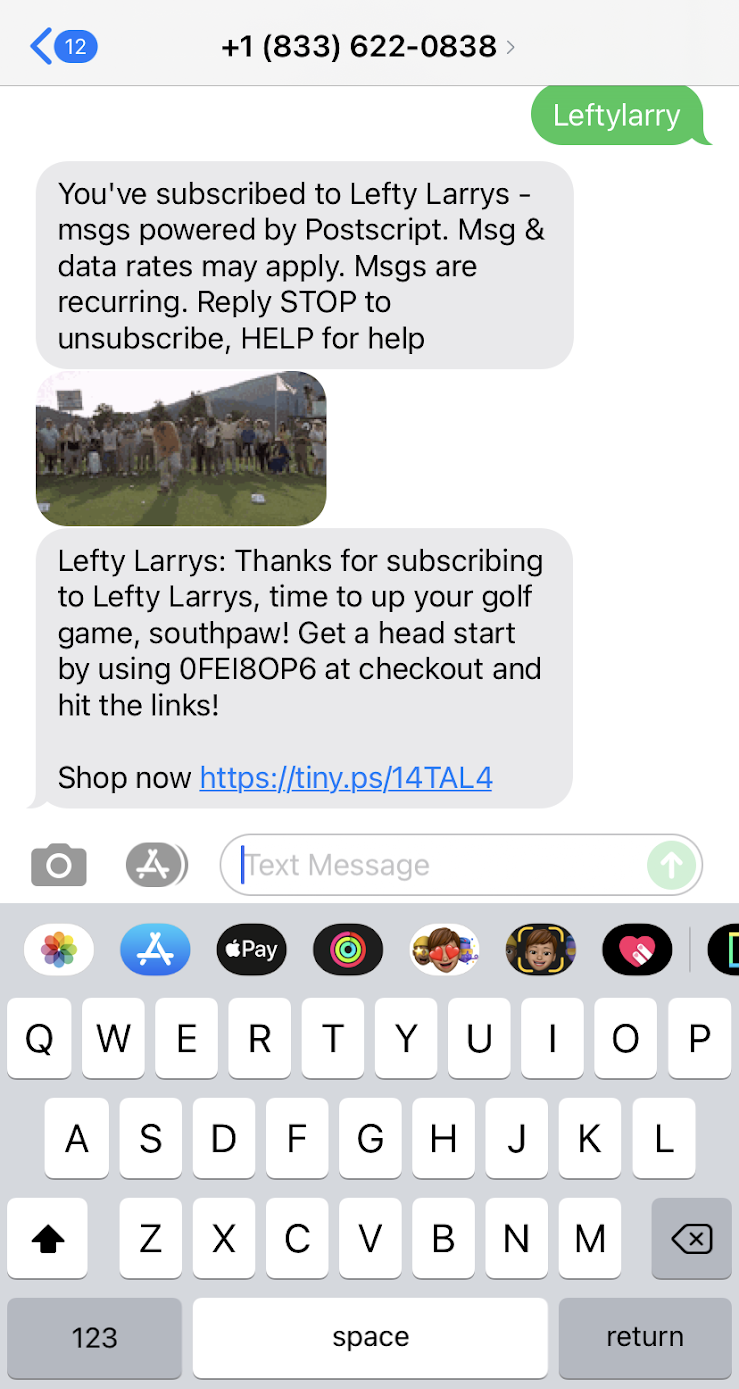 You can use keywords via short links on social media. You can put a short link on your story (like in this example), in a link tree, or even include your keyword and toll-free number or short code in a caption. Just be sure to include that TCPA compliance opt-in language!
You may also choose to use a banner at the top of your site that entices subscribers to opt in to your SMS marketing! This banner leads to a landing page where subscribers can opt in. This is an example of keywords working behind the scenes. Though the subscriber never sees the keyword, the keyword is connected to the landing page. Once a subscriber opts-in via the landing page, they will trigger the correlating keyword reply. 
Two-touch functionality on mobile popups is one of the most popular methods of subscriber acquisition! Peep the keyword in this example JOCO15. This experience only requires the visitor to touch the call-to-action button on the popup and touch the send button in their native texting app in order to be opted in (hence the name two-touch).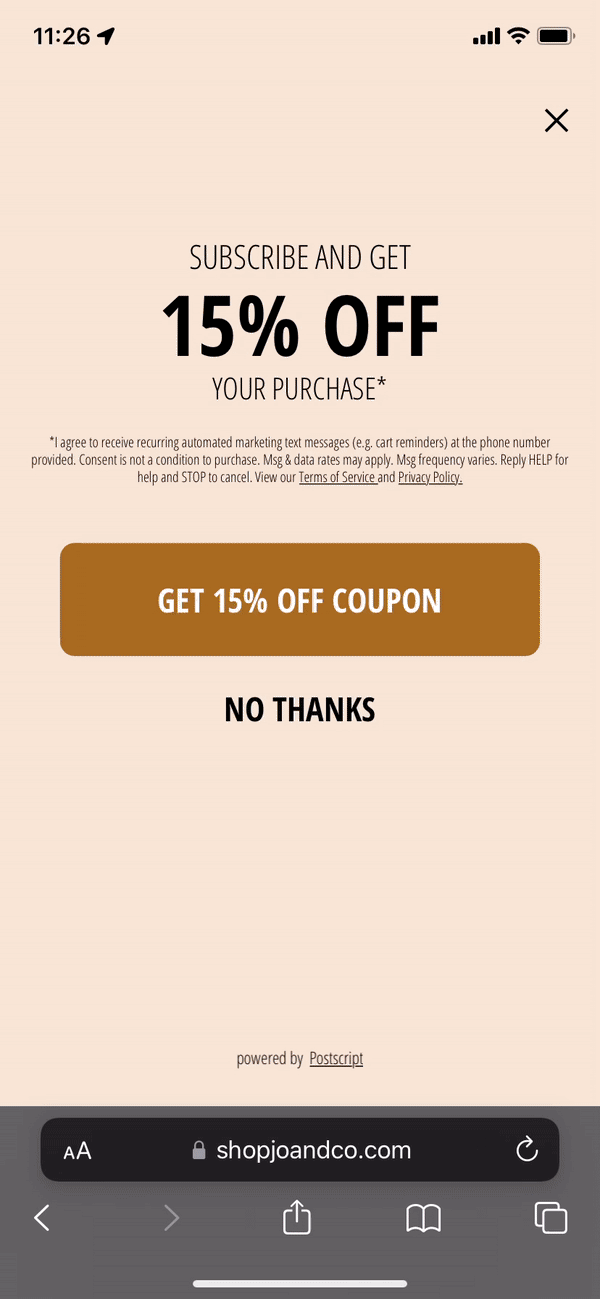 Compliance Language Requirements
---
When collecting subscribers, the TCPA requires you to include necessary compliance language that informs visitors that they are opting into SMS messaging from your store. This language needs to appear beneath your keyword or call to action (e.g., Text "DOGGONE" to 54631).
Here's the TCPA-approved compliance language:
*By providing your phone number, you agree to receive recurring automated marketing text messages (e.g. cart reminders) from this shop and third parties acting on its behalf. Consent is not a condition to obtain goods or services. Msg & data rates may apply. Msg frequency varies. Reply HELP for help and STOP to cancel. You also agree to the Terms of Service and Privacy Policy.
Note: In order to collect subscribers compliantly, your shop's Terms of Service and Privacy Policy need to be hyperlinked in the language shown above. If they cannot be hyperlinked, the full URLs of each need to be included so a viewer may search your terms or privacy policy if needed.
For example, "You also agree to the Terms of Service (https:/myshop.com/terms-of-service/) and Privacy Policy (https://myshop.com/privacy-policy/)." 
Additional Resources
---
Get Support
---
Have questions? Please feel free to reach out to our wonderful Support team at support@postscript.io or via live chat. You can also submit a support request here!
Need ongoing channel strategy guidance? Please fill out this form and we'll connect you to one of our certified partners.