Tip: Select any of the images or GIFs in this article for a closer look.
Growing your subscriber list is an essential part of a strong SMS strategy, and Postscript offers several creative ways to add SMS list growth opportunities throughout your marketing efforts.
In this article, we are going to introduce growing your list using keywords.
About Keywords
---
Keywords truly are one of the easiest ways to grow your subscriber list. You can include a keyword in a website banner or popup, social media campaigns, emails, printed marketing materials, videos, and more.
Here's how keywords work:
You create a keyword (ex: TOTHEMOON10) and assign it a coupon code for 10% off.
You share this keyword with your customers, social media followers, and other potential subscribers.
These individuals text TOTHEMOON10 to your dedicated toll-free number or short code.
Each individual receives an opt-in confirmation and the 10% coupon code to use in your store.
Share Your Keyword
---
You have several options when it comes to sharing your keywords. We review a few of these options below. 
The most effective way to share your keywords is with a
desktop
or
mobile
popup. When you create popups, you link a keyword that sends to the subscriber once they enter their phone number in the field provided. 
Countless people use social media these days, so why not convert your followers into SMS subscribers? You can post keywords on Facebook, Instagram, Twitter, Linkedin, Pinterest, and other popular platforms.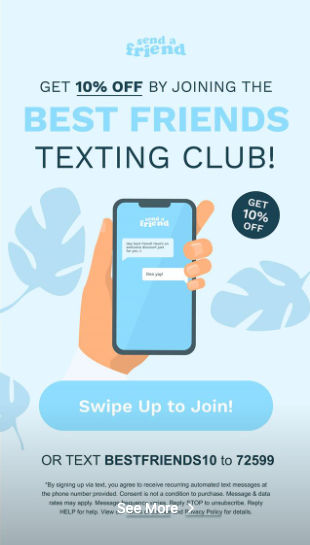 Think outside the box when it comes to keywords. They're incredibly versatile, which means you can use them almost anywhere.
Print keywords on inserts included in shipped orders.
Put keywords in your email signature.
Say keywords in live videos, radio ads, or podcast spots.
Print keywords on stickers, business cards, or other materials for events.
Compliance Language Requirements
---
When collecting subscribers, the TCPA requires you to include necessary compliance language that informs visitors that they are opting into SMS messaging from your store. This language needs to appear beneath your keyword or call to action (e.g., Text "DOGGONE" to 54631)
Here's the TCPA-approved compliance language:
*I agree to receive recurring automated marketing text messages (e.g. cart reminders) at the phone number provided. Consent is not a condition to purchase. Msg & data rates may apply. Msg frequency varies. Reply HELP for help and STOP to cancel. View our Terms of Service and Privacy Policy.
Note: In order to collect subscribers compliantly, your shop's Terms of Service and Privacy Policy need to be hyperlinked in the language shown above. If they cannot be hyperlinked, the full URLs of each need to be included so a viewer may search your terms or privacy policy if needed.
For example, "View our Terms of Service (https:/myshop.com/terms-of-service/) and Privacy Policy (https://myshop.com/privacy-policy/)."
Get Support
---
Have questions? Please feel free to reach out to our wonderful Support team at support@postscript.io or via live chat. You can also submit a support request here!
Need ongoing channel strategy guidance? Please fill out this form and we'll connect you to one of our certified partners.