Tip: Select any of the images or GIFs in this article for a closer look.
Need to upload an existing subscriber list?
The Postscript Support team is here to help! Check out
this article
for instructions on how to upload a subscriber list from a previous SMS platform or opt-in source.
We've designed this guide to introduce you to the concept of SMS list growth, highlight several list growth methods, and help you understand the importance of opt-in compliance.
We recommend that you review this guide before you proceed with growing your SMS subscriber list.
Overview
---
Growing your subscriber list is an essential, ongoing part of a strong SMS strategy. Each subscriber who opts into receiving text messages from your shop is a potential customer, meaning the more subscribers you collect, the more potential customers you can reach and revenue you can grow.
While many shops might look to grow their list ahead of a major sale holiday, such as Black Friday and Cyber Monday, the most successful shops grow their list year-round. 
Successful brands place opt-in opportunities throughout the customer journey, allowing them to collect subscribers no matter where that individual is in their journey with the brand. For example, a brand new to SMS can target repeat customers by enabling SMS collection during checkout.
Given the sheer number of opt-in methods, many brands test out different strategies and review performance to gauge effectiveness. For example, a brand might create multiple keywords to use on different social platforms and then view the total number of opt-ins for each keyword to determine which platform they should focus on.
Before we dive into how to grow your list, let's cover some foundational knowledge that will help you create compliant opt-in sources and grow a healthy subscriber list.
How Opt-In Works
---
Per Telephone Consumer Protection Act (TCPA) guidelines, businesses must have clear consent from a subscriber before the business can send a text message. You can gain this consent through opt-in.
Every list growth method contains a form of opt-in. For example, a desktop popup asks a potential subscriber to enter their phone number, or a social media post may advertise for subscribers to text a keyword to the shop's dedicated short code or toll-free number (TFN).
Once a subscriber completes the opt-in step, Postscript confirms their opt-in and ushers them into a shop's enabled welcome series automation flow.
Here's a visual of the opt-in experience with Postscript. Note that the flow can go in one of two directions, depending on whether you have confirmed opt-in enabled. We talk more about confirmed opt-in in the next section.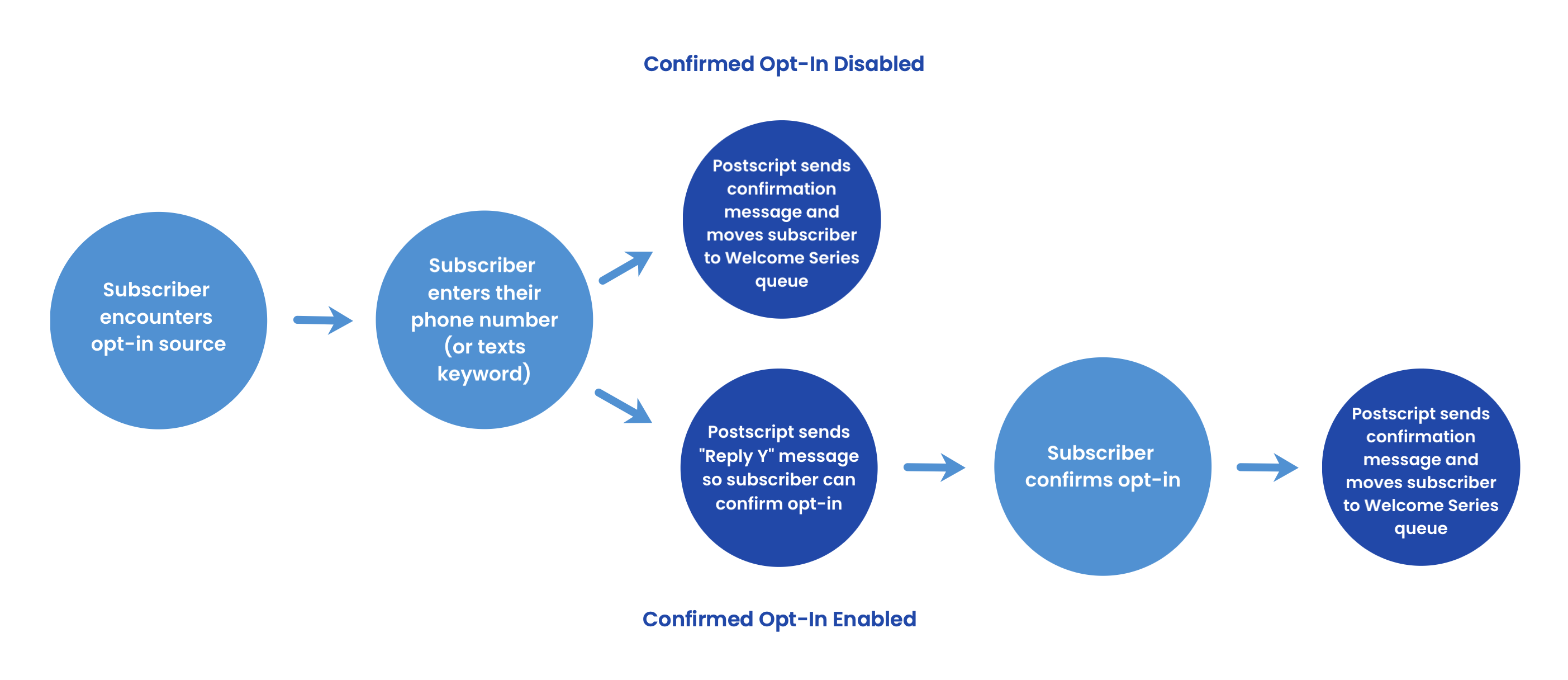 Confirming Opt-In
---
Confirmed opt-in (also known as double opt-in) allows brands to require that subscribers confirm their desire to opt into recurring SMS marketing messages by replying "Y" to an initial confirmation message.
Confirmed opt-in allows shops to build a subscriber list that is verified (i.e., not a landline or fake number) and engaged, increasing potential ROI while decreasing sending spend. Confirmed opt-in also creates a record of a subscriber's consent to receive your shop's recurring text messages, allowing you to prove the subscriber knowingly opted-in if you ever need to.
Confirmed opt-in is available to all shops regardless of size or plan. You can enable it from your Settings menu.
Select your Shop Name in the side menu of your Postscript dashboard, then select Settings.
Locate Require Confirmed Opt-ins, sometimes called Double Opt-ins, on Checkout and Integration subscribers option toward the top of the page.
Select Edit to the right of this option. This makes the checkbox selectable.
Select the checkbox, then select Save.
Compliance Language Basics
---
When collecting subscribers, the TCPA requires that you include compliance language that tells visitors they are opting into SMS messaging from your store.
Compliance language should appear alongside your call to action (i.e., Text HOLIDAYS to 54321), phone input field, and QR code, and be easy for the visitor to see and read.
Below is TCPA and CTIA-compliant language: 
*By providing your phone number, you agree to receive recurring automated marketing text messages (e.g. cart reminders) from this shop and third parties acting on its behalf. Consent is not a condition to obtain goods or services. Msg & data rates may apply. Msg frequency varies. Reply HELP for help and STOP to cancel. You also agree to the Terms of Service and Privacy Policy.
Note: In order to collect subscribers compliantly, your shop's Terms of Service and Privacy Policy need to be hyperlinked in the language shown above. If they cannot be hyperlinked, the full URLs of each need to be included so a viewer may search your terms or privacy policy if needed.
For example, "You also agree to the Terms of Service (https:/myshop.com/terms-of-service/) and Privacy Policy (https://myshop.com/privacy-policy/)."
Grow Your List with Multiple Opt-In Sources
---
Opt-in methods let you go where your target customers already are—in your social feeds, on your website, unpacking orders from your store, and more.
Most shops will have more than one opt-in source active at any given time. For example, they might enable their desktop and mobile popups, advertise keywords on TikTok and Instagram, and include QR codes on inserts included in packaged orders.
Which list growth methods you choose will depend on your shop and your subscribers. For example, maybe your target audience isn't active on TikTok or Instagram, but is active on Facebook. It would make sense to place an opt-in opportunity in a Facebook post or lead ad.
Below, we walk through and link you to several effective methods for growing your SMS subscriber list.
Grow Your List with Email. Learn the benefits of converting your email list to SMS, and the different opt-in options available to you.
Grow Your List with a Landing Page. Learn how to generate an opt-in link for your shop and how to create a compliant opt-in experience for both mobile and desktop subscribers.
Extra Resources
---
Get Support
---
Have questions? Please feel free to reach out to our wonderful Support team at support@postscript.io or via live chat. You can also submit a support request here!
Need ongoing channel strategy guidance? Please fill out this form and we'll connect you to one of our certified partners.