Tip: Select any of the images or GIFs in this article for a closer look.
Growing your subscriber list is an essential part of any SMS marketing strategy. Postscript offers you several ways to grow your list, allowing you to engage with your followers, customers, and potential subscribers across multiple outlets and in a variety of ways. This approach helps keep your list healthy, interactive, and as profitable as possible.
We'll review options available to you for growing your subscriber list and link you to additional resources that go in-depth on particular methods. 
Use a Desktop or Mobile Popup
---
Popups are a powerful way to grab an individual's attention. You can use a popup to advertise a giveaway, a discount code, or VIP access to exclusive deals or product drops. Individuals can gain access to any of these promotions by entering their phone number in a field included on the popup.
Popups are a popular list growth option for a variety of reasons:
Easy to set up. Postscript makes it easy to build your popup with everything you need in one place. You can even preview changes in real-time.
Highly customizable. You can fully customize Postscript popups. This includes popup timing, email and phone fields, and any incentives you wish to offer. You can customize popups to match your company brand with choice of fonts, colors, images, and custom CSS options. 
Guaranteed visibility. Popups automatically appear for every visitor the first time they visit your website on the desktop and mobile. That means every single visitor can be incentivized to join your subscriber list without any extra work on your part. Conversion rates are typically very high for desktop and mobile popups.
Postscript offers desktop and mobile popups. You can locate both options by selecting Popups in the side menu of your Postscript dashboard.
Link to an Opt-In Landing Page
---
Postscript makes it easy to create a hidden landing page with a form where visitors can opt-in. You can direct potential subscribers to this landing page by creating an opt-in short link that you can include in email and social media campaigns. It's an easy but powerful way to convert social followers and email subscribers to SMS.
From a desktop, the link takes users to a landing page where they can enter their phone number to opt-in to messages.
From a mobile device, the link launches the user's messaging app and pre-fills a text with a message you create. The user simply needs to send the text to complete the opt-in process.
You can locate your landing page options by selecting Grow List in the side menu of your Postscript dashboard. Select either Convert your email list or Share your opt-in link depending on which audience you wish to reach.
Here's an example of a desktop landing page in play.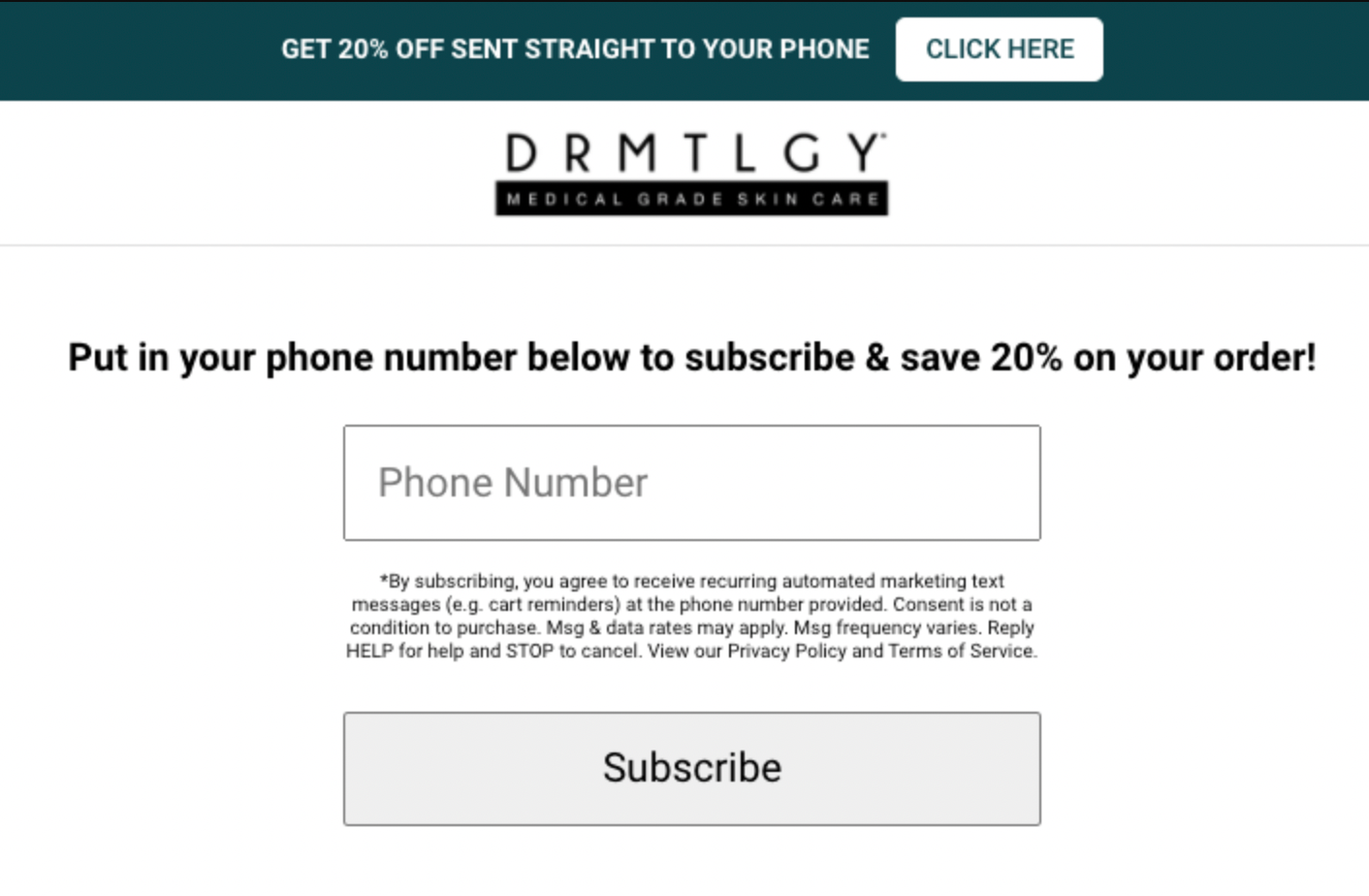 Collect Subscribers at Checkout
---
A significant amount of conversions happen at checkout because customers are often more inclined to provide all of their information when completing their orders.
Subscriber collection at checkout is now available to all Shopify stores. Learn how to set up subscriber collection at checkout here.
Here's an example of subscriber collection at checkout for a Shopify store.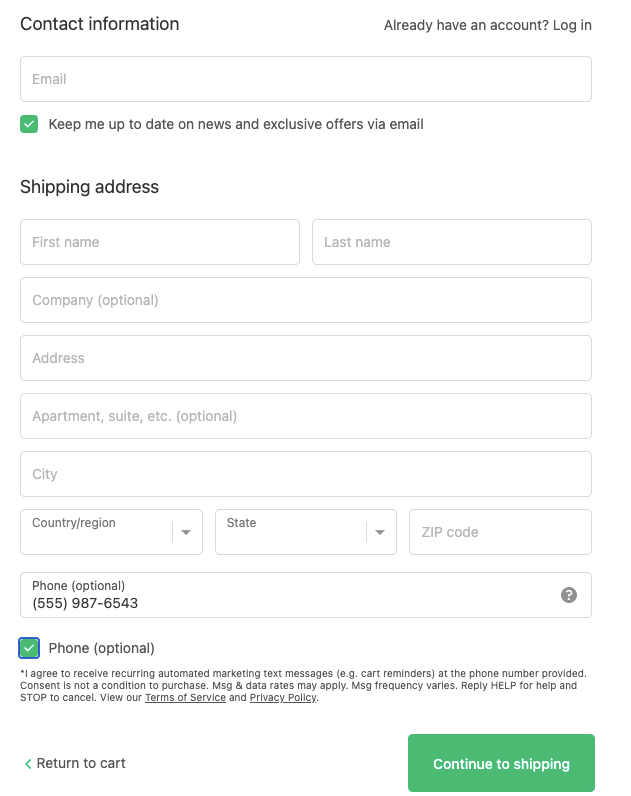 Take Advantage of Integrations
---
We have teamed up with several other apps to provide you with seamless integrations that can level up your SMS marketing strategy. With these integrations, you can add phone fields to these programs' forms, popups, pages, and more. When a user enters their phone number, it'll flow straight into your Postscript account so your list is always up-to-date.
Integrations can help you be a little more creative, too. Here are some ideas:
You can check out available integrations by selecting Integrations in the side menu of your Postscript dashboard.
Here's an example of a "Spin to Win" in play.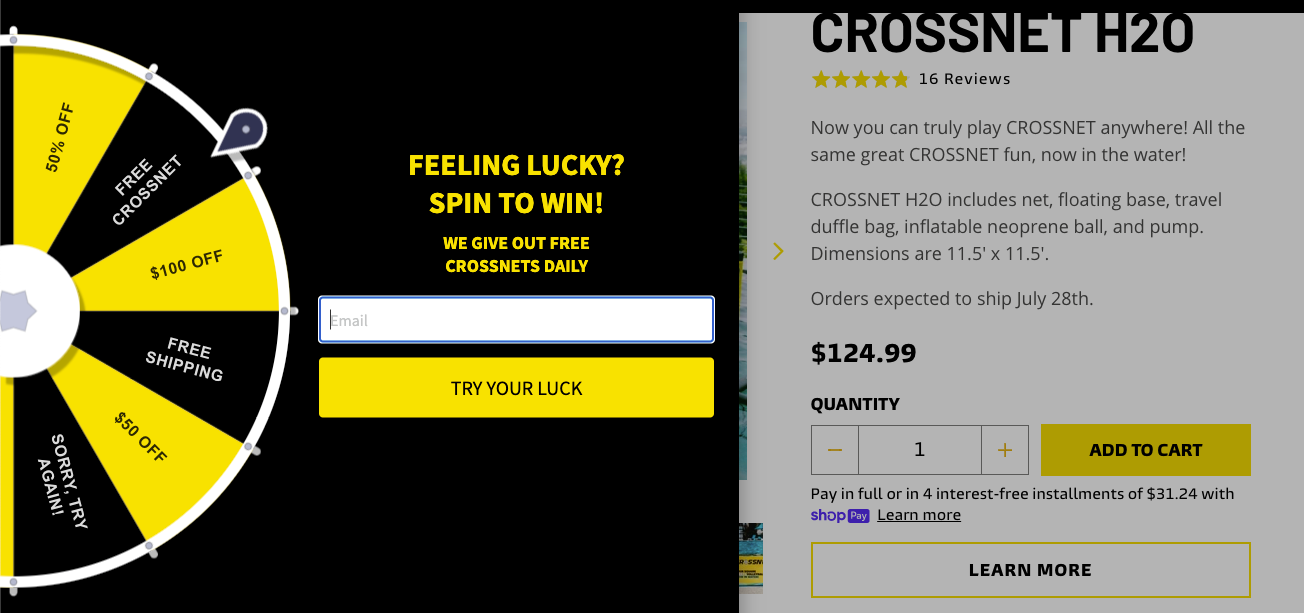 Create a QR Code
---
With QR codes, users simply open the photo app on their phone and scan the code. This automatically launches a user's messaging app and pre-fills a text with a message you create. The user simply needs to send the text to complete the opt-in process.
An added bonus of QR codes is that the codes don't have to remain virtual. Postscript allows you to download the image enabling you to print it on brochures, flyers, and/or mailers.
You can create a QR code by selecting Acquisition in the side menu of your Postscript dashboard, then List Growth tools.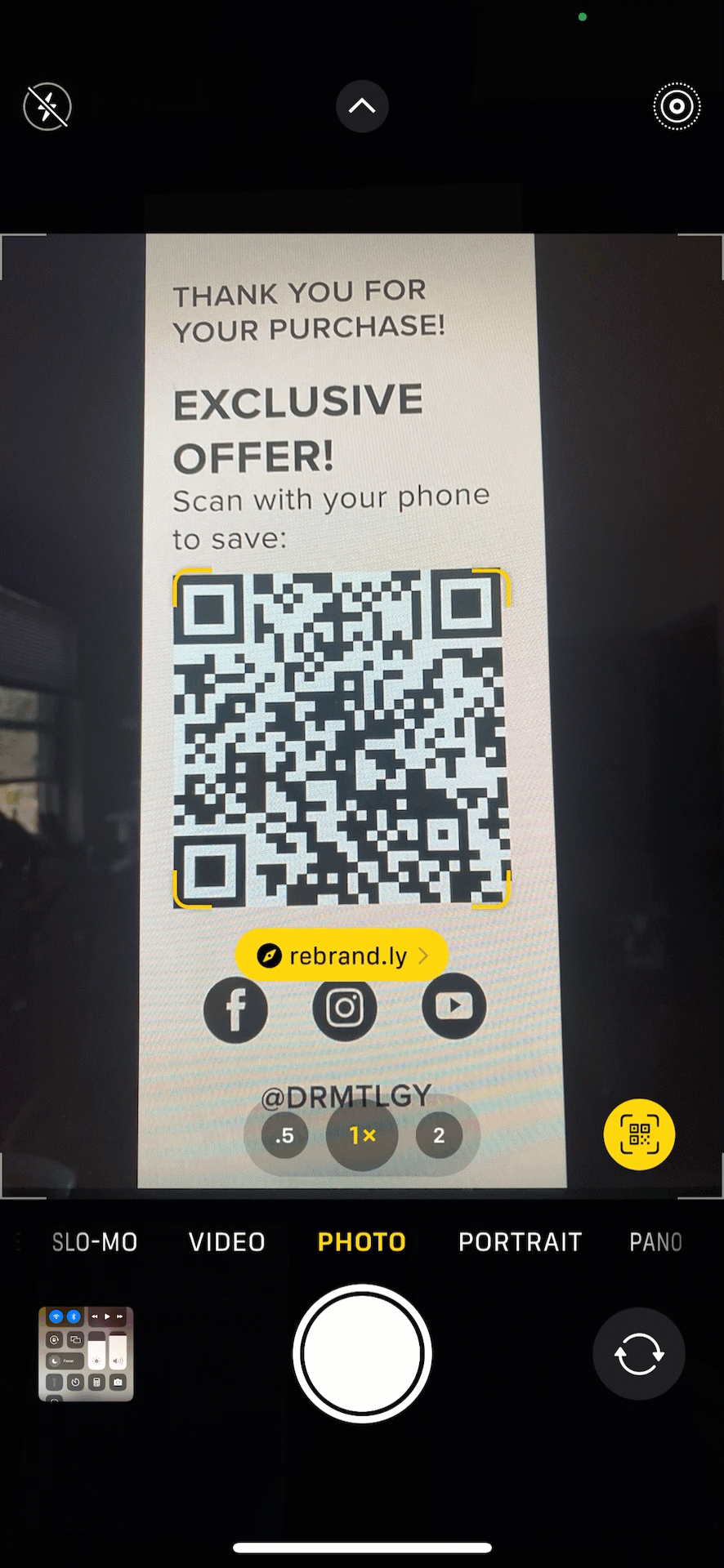 Compliance Language Requirements
---
When collecting subscribers, the TCPA requires you to include necessary compliance language that informs visitors that they are opting into SMS messaging from your store. 
Here's the TCPA-approved compliance language:
*I agree to receive recurring automated marketing text messages (e.g. cart reminders) at the phone number provided. Consent is not a condition to purchase. Msg & data rates may apply. Msg frequency varies. Reply HELP for help and STOP to cancel. View our Terms of Service and Privacy Policy.
Note: In order to collect subscribers compliantly, your shop's Terms of Service and Privacy Policy need to be hyperlinked in the language shown above. If they cannot be hyperlinked, the full URLs of each need to be included so a viewer may search your terms or privacy policy if needed.
For example, "View our Terms of Service (https:/myshop.com/terms-of-service/) and Privacy Policy (https://myshop.com/privacy-policy/)."
You should now be all set to begin growing your subscriber list! 
Get Support
---
Have questions? Please feel free to reach out to our wonderful Support team at support@postscript.io or via live chat. You can also submit a support request here!
Need ongoing channel strategy guidance? Please fill out this form and we'll connect you to one of our certified partners.