Tip: Select any of the images in this article for a closer look.
Growing your subscriber list is an essential part of a strong SMS strategy, and Postscript offers several creative ways to add SMS list growth opportunities throughout your marketing efforts.
In this article, we are going to introduce growing your list using Klaviyo forms and popups.
About Klaviyo
---
Klaviyo forms and popups are effective ways to engage people who visit your website. You can create Klaviyo popups and forms for both a desktop and mobile experience, allowing you to capture visitors from various devices.
Create highly customized or branded popups, forms, and website banners.
Sync events like SMS click activity and emails opened between Postscript and Klaviyo.
Create customer segments from specific forms and send targeted welcome series, automations, and campaigns.
Link Your Klaviyo Form or Popup
---
Before you can start collecting SMS subscribers, you'll need to create a form or popup in Klaviyo that contains a phone number field on a separate step from the email collection field.
After you create the form or popup, you'll need to do two things: ensure Collect SMS consent is selected in your popup/form settings and copy the form or popup ID.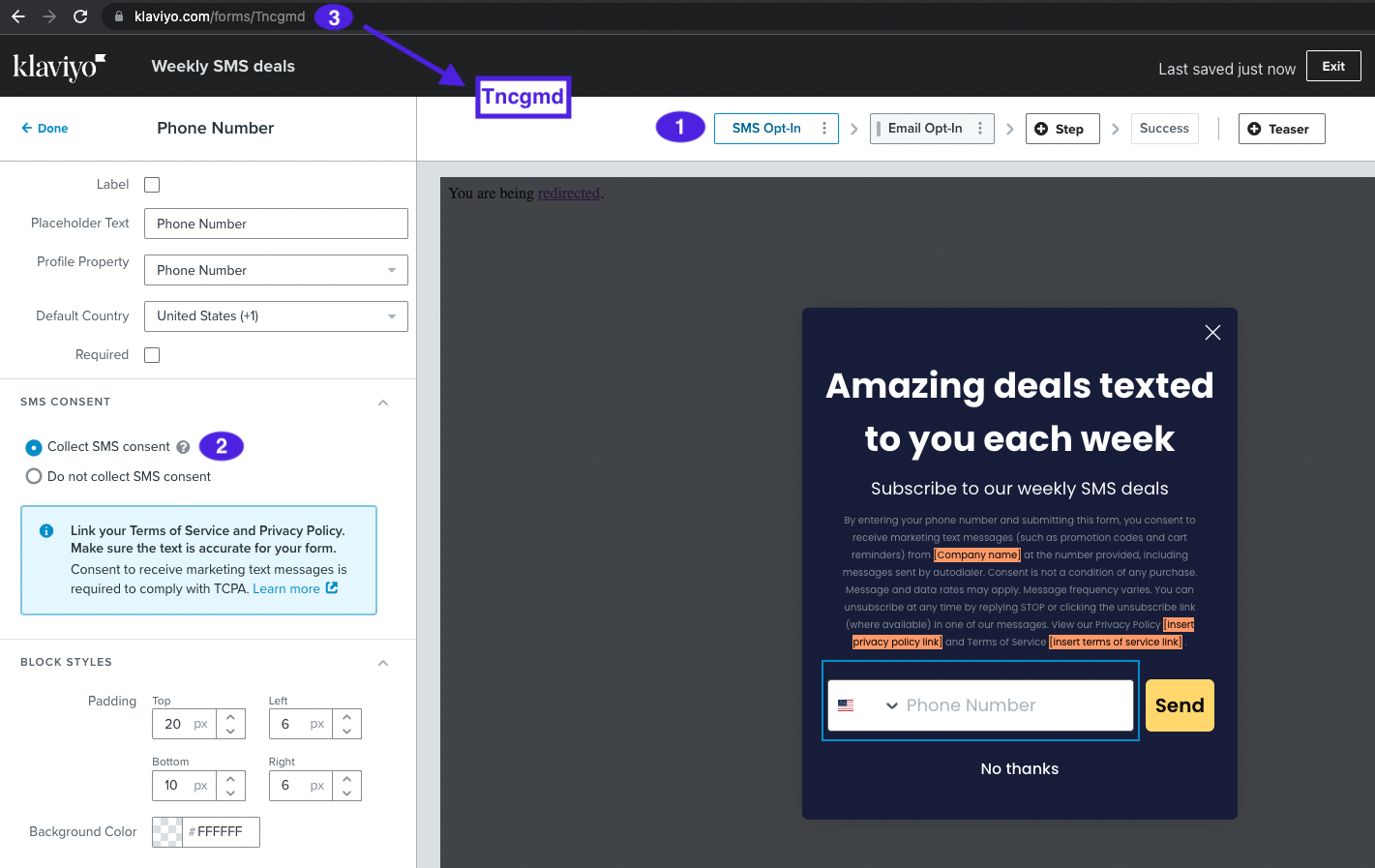 Phone field. Select the + Step action within your Klaviyo form editor to add a separate step for phone collection to your form or popup. This opens the Phone Number editing menu on the left side of the page.
SMS Consent. In order for SMS subscribers to flow through to Postscript, you need to make sure you've selected Collect SMS consent.
Form ID. You can locate the form or popup ID in the URL of the form. You'll need this ID to link the form or popup in Postscript. For this example, the form ID is Tncgmd.
Compliance Note:
In 2021, SMS carriers updated what they consider to be proper SMS opt-in consent: "Opt-in stands alone and is not displayed with other forms of communication (email, voice calls, etc)." The email field and the phone field need to be entirely separate calls-to-action on forms, popups, and landing pages.
Learn more.
Once you have the form ID, you can link your form or popup in Postscript. Select Add New Form on your Klaviyo integration page, and enter the form ID. Learn more about linking Klaviyo forms and popups here.
Examples of Two-Step Klaviyo Forms and Popups
---
With forms, you can make subscriber collection static. You can embed a form in your website, like the below example, or create a landing page for a special giveaway or event.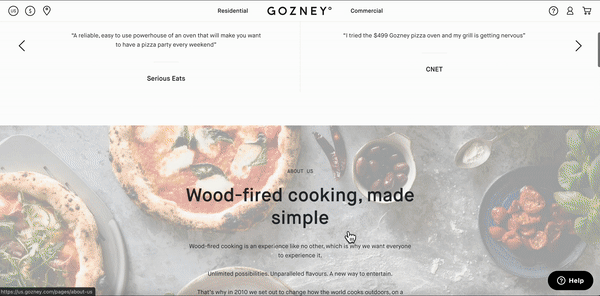 With popups, you can control how quickly the popup appears and whether it's triggered by entering or leaving your site. The example below is a traditional-style popup that fires when a visitor enters the site.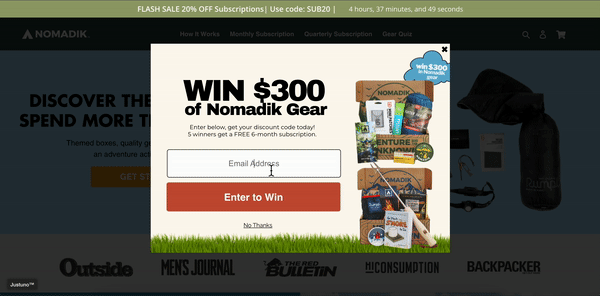 Compliance Requirements
---
When collecting subscribers, the TCPA requires you to include necessary compliance language that informs visitors that they are opting into SMS messaging from your store.
Here's the TCPA-approved compliance language:
*By providing your phone number, you agree to receive recurring automated marketing text messages (e.g. cart reminders) from this shop and third parties acting on its behalf. Consent is not a condition to obtain goods or services. Msg & data rates may apply. Msg frequency varies. Reply HELP for help and STOP to cancel. You also agree to the Terms of Service and Privacy Policy.
Note: In order to collect subscribers compliantly, your shop's Terms of Service and Privacy Policy need to be hyperlinked in the language shown above. If they cannot be hyperlinked, the full URLs of each need to be included so a viewer may search your terms or privacy policy if needed.
For example, "View our Terms of Service (https:/myshop.com/terms-of-service/) and Privacy Policy (https://myshop.com/privacy-policy/)."
You should now be all set to grow your list with Klaviyo forms and popups! Note: If you followed the instructions here, but do not see phone numbers being added to your Postscript account, please follow the troubleshooting steps here.
Get Support
---
Have questions? Please feel free to reach out to our wonderful Support team at support@postscript.io or via live chat. You can also submit a support request here!
Need ongoing channel strategy guidance? Please fill out this form and we'll connect you to one of our certified partners.