Tip: Select any of the images or GIFs in this article for a closer look.
You can now send Postscript click activity to Klaviyo. When a subscriber clicks on a link in a particular campaign, automation, keyword reply, or message, that activity information is sent to Klaviyo and stored in the subscriber's Klaviyo profile.
This allows you to create Klaviyo segments based on whether a subscriber interacted with links included in messages sent using Postscript.
What This Mean For Your Shop
---
You can create Klaviyo segments based on subscriber click activity with Postscript message links.
Reach out via email to subscribers who interacted with a specific Postscript campaign, automation, keyword reply, message, etc.
Specify a time frame for link clicks. Target subscribers who clicked a link at any point or who clicked a link on or after or before a specific date.
What You Need to Get Started
---
You will need an active Klaviyo integration in order to share information between Postscript and Klaviyo.
Postscript needs an email address for a subscriber in order to match it to a Klaviyo profile and sync link click activity. Postscript collects emails during abandoned and completed checkouts, but you can also enable your Postscript popups to collect email.
Create a Postscript Click Event Segment
---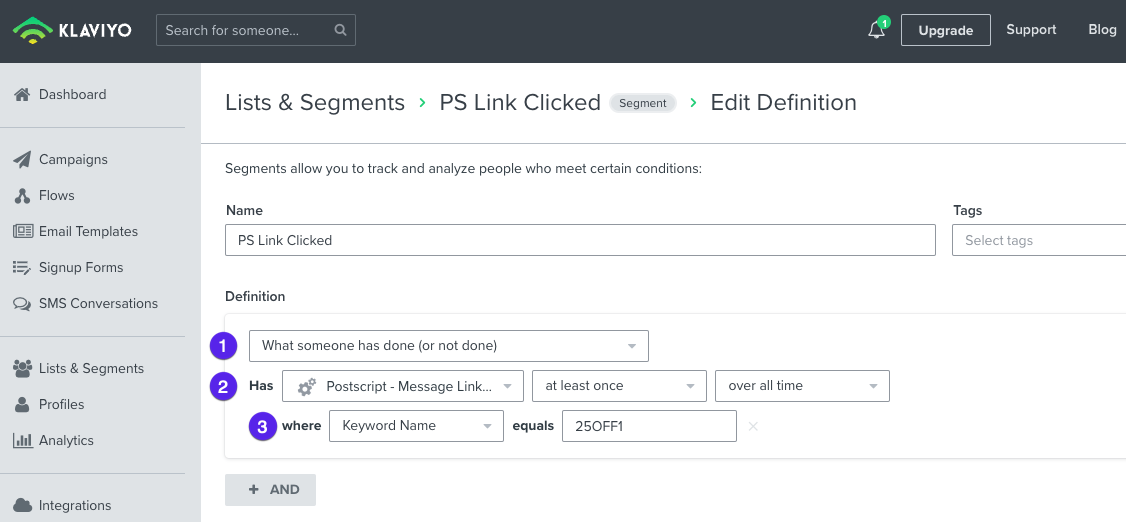 From your Definition drop-down, select When someone has done (or not done).
From the Choose metric drop-down, select Postscript Message Link.

Choose your refinement criteria (e.g., at least once, is at least, is greater than, equals, etc.).
Define your preferred time frame or date range (e.g., between dates, over all time, after, etc.).

To specify a particular campaign, automation, keyword reply, message, etc., select the Add Filter button.

Here you can choose from Campaign Name, Automation Name, Keyword Name, or message.
In the Equals field, enter the exact name of the campaign, automation, or keyword.
Get Support
---
Have questions? Please feel free to reach out to our wonderful Support team at support@postscript.io or via live chat. You can also submit a support request here!
Need ongoing channel strategy guidance? Please fill out this form and we'll connect you to one of our certified partners.