At Postscript, the successful delivery of your messages is a top priority. We wanted to share a transparent look into the deliverability process. In this article, we:
Define deliverability and throughput rates - these two concepts together paint a better picture about how your SMS program is operating.
Take you through the deliverability process from start to finish and discuss which parts your shop, Postscript, and the carriers control.
Discuss common causes of deliverability issues and recommend some best practices.
To navigate quickly to specific sections of this article, you can select any of the hyperlinked sections listed on the In this article card.
Understanding Throughput and Deliverability
---
SMS Delivery measures outgoing SMS and MMS messages that are received at their intended destination. Deliverability measures the difference between total delivered messages and total outgoing messages.
Throughput Rate is the rate at which messages can be sent, or move through messaging "roadways", within a given timeframe. In other words, throughput rate measures how long it takes for a subscriber to receive your message. Throughput rate can vary based on how busy the messaging roadways are and what kind of phone number a shop is using to send messages (e.g. shortcodes vs. toll-free numbers). The type of phone number a shop uses to send messages determines the size of the messaging "roadways". Postscript sends your messages to the carriers quickly, however the throughput rate is controlled by carriers and limited by overall system constraints (including several other users, including non-marketing use cases).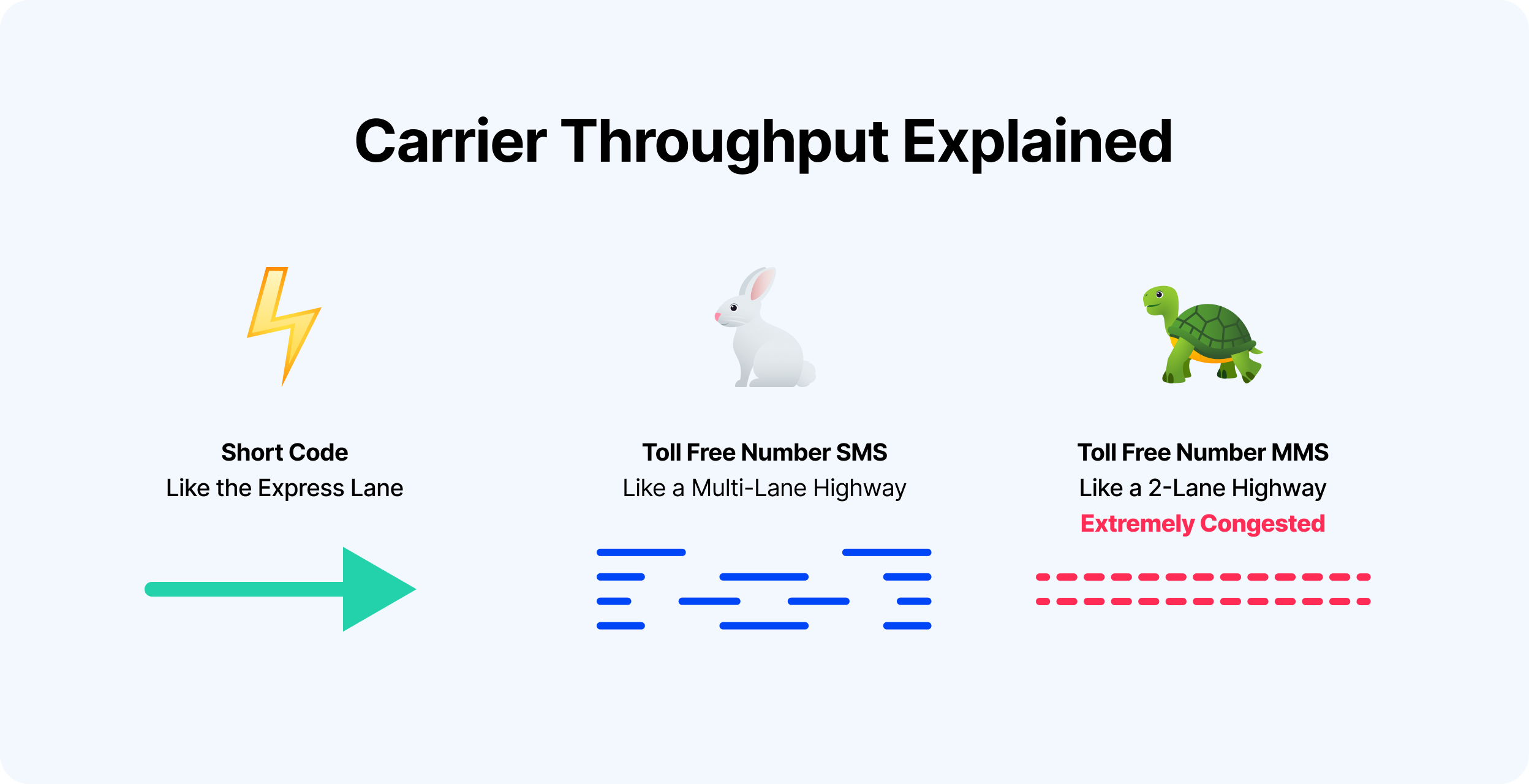 Sending messaging from a shortcode is like traveling in the express lane on a highway. It's built for high volume and top speed (and has a more involved process to get things up and running as well as a higher cost for the phone number) so these roads are accustomed to high throughput whereas sending SMS messages from a TFN is like traveling on a multi-lane highway. However, sending MMS from a TFN is like traveling on a congested 2-lane highway. When you send during peak sending times, the roadways are smaller and heavily trafficked. 
Postscript's partnership with Twilio allows merchants three times the bandwidth we received for BFCM 2021. You can think of this partnership as opening up an HOV lane on a two-lane highway for SMS messages. That means better throughput for Postscript merchants on both toll-free numbers (TFNs) and shortcakes. While this partnership improves throughput rate, keep in mind that carriers have a finite infrastructure that is limited by overall system constraints (including several other users with both marketing and non-marketing use cases).
If you consider the holiday season, as many businesses prepare for their busiest time of year, the number of marketing messages increases. This additional volume can turn what is normally a simple drive down a big highway into a highly trafficked drive as more cars get on the same highway. As a result, it takes longer to reach your destination.
Postscript and Mobile Carriers
---
When you send a message to your subscribers, Postscript works with network carriers to deliver those messages. In this section, we break down which entity has the most impact on each part of the delivery process.
While Postscript and network carriers play an important role in the message delivery process, the below are actions your shop can take to ensure you are viewed by the carriers as a trustworthy source.
Collect explicit opt-in consent from every subscriber using compliant list growth methods.
Create messages (including GIFs/images, copy, and promotional offers) to send to your subscribers.

Choose a phone number type (e.g., short code, toll-free, etc.) that best supports the volume of messages you wish to send.

Keep messages concise, engaging, and free of restricted content.
Provide opt-out opportunities (we recommend at least once a month).
The below are the responsibilities of Postscript as an SMS revenue platform.
The below are the responsibilities of the network carriers.
Filter messages for spam, fraud, restricted, or unwanted content to protect consumers from being sent illicit or unwanted content.
Send messages to subscriber phones via their telecommunication networks and confirm receipt. 
Update Postscript of any delivery issues or delays.
What Impacts Message Deliverability
---
Several factors can impact deliverability, or the percentage of messages that actually reach the intended recipients.
Additional Resources
---
Get Support
---
Have questions? Please feel free to reach out to our wonderful Support team at support@postscript.io or via live chat. You can also submit a support request here!
Need ongoing channel strategy guidance? Please fill out this form and we'll connect you to one of our certified partners.