Tip: Select any of the images or GIFs in this article for a closer look.
Postscript integrates with LoyaltyLion, allowing you to share information between the two solutions.
About LoyaltyLion
---
LoyaltyLion takes customer loyalty programs beyond points and rewards and empowers brands to create unique loyalty programs that nurture better customer relationships and drive greater customer lifetime value.
How a LoyaltyLion Integration Benefits You
---
Use the power of Postscript segmentation in tandem with LoyaltyLion to create highly-personalized customer experiences and reward repeat purchasers. 
Improve your brand's customer lifetime value by sending automated SMS 

updates incentivizing subscribers to join your LoyaltyLion rewards program. 
Configure LoyaltyLion
---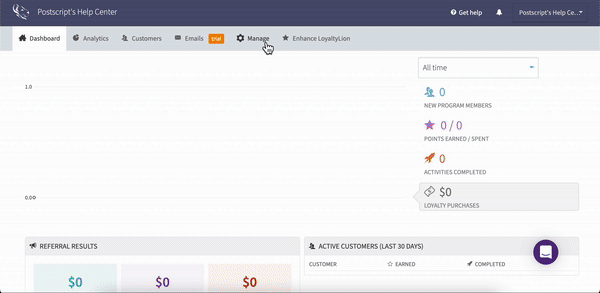 In LoyaltyLion, select Manage. 
On the left-side navigation panel, select Settings under Configuration.
Scroll down to the Token and secret section. Copy both the Token and Secret keys or write them down—you'll need to enter them in Postscript later (tip: in the gif above, the user toggles between LoyaltyLion and Postscript windows. This is an efficient way to copy + paste the tokens between platforms).
Head to your Postscript Dashboard and select Apps. 
Under Available Apps, select LoyaltyLion (tip: you can also search LoyaltyLion using the Search apps search bar in the upper-right corner of the Apps page).
Enter your LoyaltyLion Token in the first field, then enter your LoyaltyLion Secret Key in the second field. Select Save Integration in the upper right corner. 
Activate the integration by selecting the toggle bar in the upper right corner of the page.
LoyaltyLion x Postscript Use Cases
---
Have questions? Please feel free to reach out to our wonderful Support team at support@postscript.io or via live chat. You can also submit a support request here!
Need ongoing channel strategy guidance? Please fill out this form and we'll connect you to one of our certified partners.