Tip! Select any images or gifs in this article for a closer look.
Postscript has recently transitioned into the Sales Channel application section of the Shopify app store so we can continue enhancing the scope of our app. Because of this transition, your shop will need to authorize Postscript as a Sales Channel App in your Shopify admin.
This guide walks you through how to authorize Postscript to a Sales Channel app so you can begin accessing your Postscript Dashboard through the Sales Channel section of your Shopify admin's left-side navigation panel. If you have not installed Postscript yet, please follow this guide. 
Update Postscript to a Sales Channel App in Shopify
---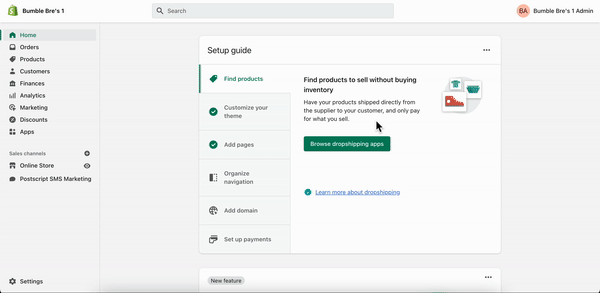 Head to your Shopify Admin. On the left-hand navigation bar, under Sales Channel, select Postscript SMS Marketing. 
In the upper-right corner of the Postscript SMS Marketing landing page, select the green Update sales channel button.  
Select Go to your Postscript Dashboard.
Shopify will re-route you to your Postscript Dashboard.
Moving forward, you can access Postscript on the left-side navigation panel in Shopify admin under Sales Channels.
Get Support
---
Have questions? Please feel free to reach out to our wonderful Support team at support@postscript.io or via live chat. You can also submit a support request here!
Need ongoing channel strategy guidance? Please fill out this form and we'll connect you to one of our certified partners.