Tip: Select any of the images or GIFs in this article for a closer look.
Campaign Flows allow you to schedule and send multiple messages to a specific customer segment or your entire customer base. Campaign Flows differ from legacy campaigns in that you can send multi-message campaigns and take advantage of Campaign Flow-specific features like Wait for Event Branching.
Campaign Flow templates make it easy to spin up fresh copy and ideas for product ratings, product releases, sales, and more. Simply choose your Template Type, select the template you wish to use, and you're ready to go. 
Why You Should Consider Templates
---
Get time added back to your day. Save time when creating your campaigns while still delivering top-notch content.
Move past that writer's block. Use this feature as inspiration to get your creative wheels spinning, then easily create variations of campaign flow templates.
Spice up your typical campaign approach. By offering various types of templates including Klaviyo email follow-ups, product feedback, and campaign follow-ups if a subscriber has not ordered from a previously received campaign, this feature can help you explore other approaches to your campaign flow strategies.
How to Use Campaign Flow Templates
---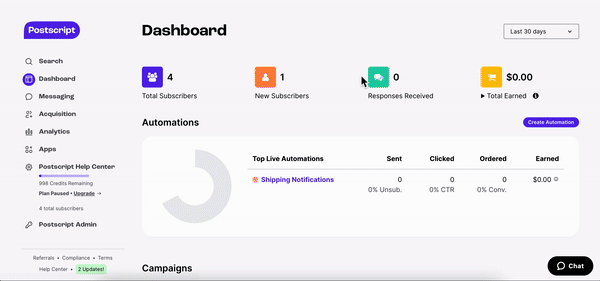 Select Messaging in the side menu of your Postscript dashboard, then select Flow Builder.
Select Create Flow in the top-right corner of the page.
Select Use a template, then Continue in the bottom right.
Select the Template Type dropdown, then choose Campaign. Templates will automatically populate below the dropdown.
Select the template you wish to use, then select Create flow in the bottom left corner of the Choose a template modal.
Be sure to name your campaign flow and make any desired edits like adding a segment, adding a coupon, or merge tags. 
If you need to step away and resume working on your campaign flow at a later time, click Save Flow in the upper right corner. If you are ready to schedule or launch your campaign, click Schedule or Launch in the upper right corner.
Get Support
---
Have questions? Please feel free to reach out to our wonderful Support team at support@postscript.io or via live chat. You can also submit a support request here!
Need ongoing channel strategy guidance? Please fill out this form and we'll connect you to one of our certified partners.