If you are receiving an error message when attempting to delete or deactivate a keyword, it could be because that keyword is associated with a landing page or popup. In this article, we'll walk you through how to delete the landing page so you can delete or deactivate a keyword.
How to Deactivate a Keyword Associated with a Landing Page
---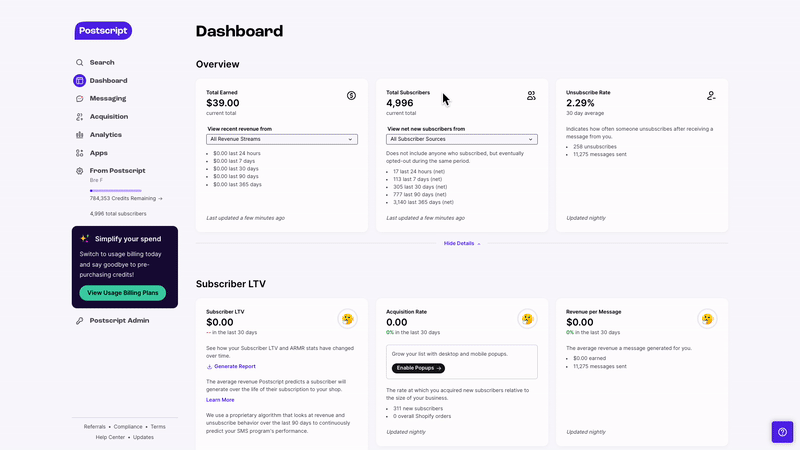 From the Postscript dashboard, select Acquisition, then select List Growth Tools.
Select the Get Started button next to Share your opt-in link.
From the dropdown menu on Step 1, choose the keyword you'd like to deactivate or delete.
If you've created a landing page associated with this keyword, you will see four options under Step 2. Select Delete page. Then confirm your action by selecting the OK button in the popup.
Now that your landing page is deleted, you can deactivate or delete the keyword associated with that landing page by navigating to the Keywords page on the left-side navigation panel.
Find and select the keyword you'd like to delete or deactivate. Select Delete in the upper-right corner.
Recall Deleted Keywords
---
To view deleted keywords, select the Filter keywords dropdown menu on the far right of the keywords page. You can view both active and deleted keywords.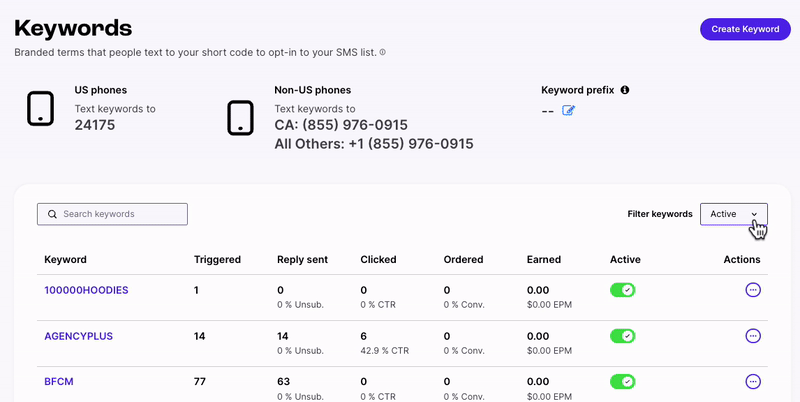 Before You Go
---
To ensure two-touch opt-in continues capturing subscribers, be sure that any keywords you'd like to deactivate or delete are not associated with any of your shop's active mobile popups.
Additional Resources
---
Did you know you can view your keyword short link and QR code history? See how with this guide.
Need some inspo for ways you can use keywords? Check out this tutorial for several creative strategies to employ keywords so you can acquire more subscribers. 
Interested in customizing a landing page? Take a look at this guide.
Get Support
---
Have questions? Please feel free to reach out to our wonderful Support team at support@postscript.io or via live chat. You can also submit a support request here!
Need ongoing channel strategy guidance? Please fill out this form and we'll connect you to one of our certified partners.