At Postscript, we pride ourselves on being Customer First– which includes being transparent with our merchants about how our pricing works.
In 2021, we started analyzing our credits-based pricing structure. We had several conversations with you, our customers, and we learned that our credits-based billing model was not only confusing and frustrating, but needed to be changed.
In 2022, we started offering usage-based billing as a direct result from the feedback we received from our customers. This pricing model offers shops the flexibility they need to adjust their SMS strategy throughout the year. Usage billing means:
We understand that for some of our oldest customers, this is a big change. Which is why we put together this article that answers several frequently asked questions about migrating from credits-based billing to usage billing.
Keep in mind, you can also chat with our support team to answer additional questions you have. Our goal is to deliver the support and resources you need to make the most informed decision about your SMS program and Postscript account.
Frequently Asked Questions
---
What's the difference between credits and usage billing?
Previously, shops were able to purchase a set amount of credits at the beginning of each billing cycle. Shops then spent the month trying to use up their credits and any remaining credits rolled over to the next month. After that rollover month, any unused credits expired. Shops also needed to upgrade to the next plan in order to receive more credits, which oftentimes led to an unneeded surplus of credits.
With usage billing, shops no longer need to worry about upgrading or downgrading, managing rollover credits, or chasing down credits purchased before a send. Shops can now just send campaigns and automations as needed and, at the end of the month, will receive their bill for what was sent.
What does this mean for my account?
When switching to usage billing, your bill will be broken down into several line items that may include Platform Fee, Messaging Fees, Carrier Fees, and Recurring Fees. We break down each of these fees below.
As messages are sent throughout the month, your invoice will reflect accumulated charges related to messaging and carrier fees. We'll also bill for any recurring fees. At the end of each month, or when you hit your billing threshold, you'll be charged for usage and recurring fees.
Why is Postscript making this change?
At Postscript, we strive to be as transparent as possible with our merchants about how our pricing works. After thorough research and conversations with partners and customers, we determined a usage-based plan offers shops the flexibility needed to to adjust their SMS strategy throughout the year.
We're making this change now to reduce complexity in our billing model. This means we'll have more resources to dedicate to improving our app, building best-in-class new features, and continuing to provide excellent support – all for our customers.
Is there a rate change?
In the spirit of transparency, we want you to know that rates are changing-- which may result in higher monthly bills for some shops and lower monthly bills for others, depending on usage.
Let's take a look at what this rate change could mean for your brand.
Brands that were on a $25, $50, $100, or $200 credit plan will see a rate change on the Starter and Growth plans. Below is a breakdown of the rate changes:
| | | | | |
| --- | --- | --- | --- | --- |
|   | Credit System | Starter Plan | Growth Plan | Professional Plan |
| Platform Fee | $0/mo | $0/mo | $100/mo | $500/mo |
| SMS Fees | $0.01 | $0.015 | $0.01 | $0.007 |
| MMS Fees | $0.03 | $0.045 | $0.03 | $0.024 |
| International Fees | $0.10 | $0.15 | $0.10 | $0.07 |
| Carrier Fees | Included in the cost per credit | $0.00287 avg/SMS $0.0065 avg/MMS | $0.00287 avg/SMS $0.0065 avg/MMS | $0.00287 avg/SMS $0.0065 avg/MMS |
While rates are changing, you only pay for only what you send with usage billing, ultimately saving you money on unused, expired credits.
We've kept a close ear on feedback from our merchants to understand their experience with usage billing. We've heard repeatedly that merchants prefer usage billing now that they no longer need to worry about the complexities of credits-based billing like upgrading or downgrading depending on a fluctuating messaging frequency, or chasing down credits purchased ahead of sends.
Why am I seeing carrier fees on my bill now?
Carriers have always charged fees for using their "roadways" to send messages. Historically, Postscript baked messaging fees and carrier fees into the cost per credit. With usage based billing– and because these fees vary from carrier to carrier– we can now better adapt to fluctuations in carrier fees and can more accurately invoice the exact fees directly to our merchants from individual carriers.
When you switch to usage billing, you will see carrier fees listed separately on your invoice. The cost you see on your invoice is defined by the carrier and Postscript passes the exact fee from your brand to the carriers without any additional markup.
Do I have to pay a platform fee now?
The platform fees associated with our higher-tier plans are aligned with additional features and functionality that may be important to your SMS strategy. We've created a Starter plan (which has no platform fee) for shops that are newer to SMS.
Check out our pricing page to learn more about our different plans and what is included in each.
How can I tell how much a campaign will cost?*
You can view the estimated cost (Messaging + Carrier Fees) of a new campaign on the review screen: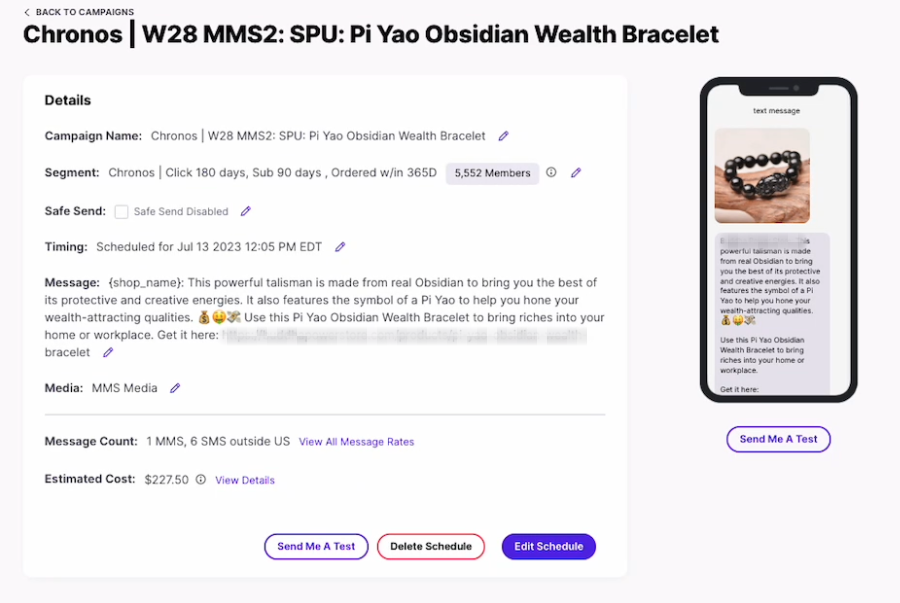 Selecting View Details next to Estimated Cost: will open a modal with additional info: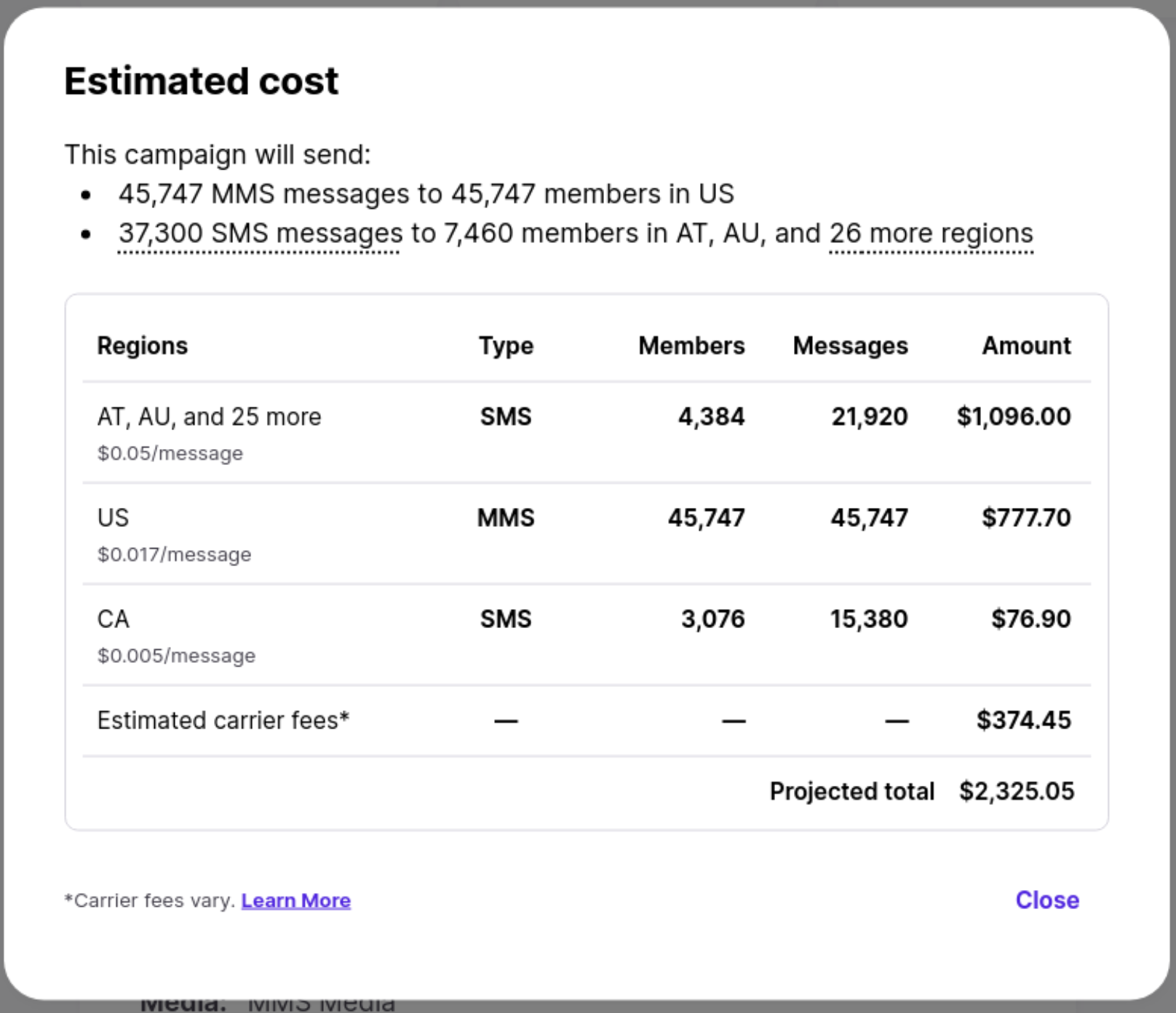 How can I switch to Usage Billing today?
To switch to usage billing, head here or select your shop name on the left-side navigation panel, then choose Billing. Select the View Plans and Upgrade button in the top banner. Next, you can choose your new plan. Below each plan name, you'll find the platform fee, messaging rates for the United States, Puerto Rico, and Canada, and a list of features included in each plan.
Additional Resources
---
Get Support
---
Have questions? Please feel free to reach out to our wonderful Support team at support@postscript.io or via live chat. You can also submit a support request here!
Need ongoing channel strategy guidance? Please fill out this form and we'll connect you to one of our certified partners.