The information in this article pertains to Postscript brands on usage billing. If you are on credit-based billing, see
here
for information about credits.
At Postscript, we strive to be as transparent as possible with our merchants about how our pricing works. After thorough research and conversations with partners and customers, we determined a usage-based plan offers shops the flexibility needed to adapt to their industry throughout the year. With our usage-based approach to pricing, you:
Will only be charged for what you send.
Can review your usage across days, carriers, country, message type, and more
Can track, control, and predict your spend for each month
In this article, we discuss billing thresholds and the role they play in the billing process.
What Are Billing Thresholds?
---
One approach to usage-based billing is to charge shops for every automation that fires or for every scheduled campaign a shop sends. However, shops find that these many, smaller charges can make a lot of noise in their banking system. In an effort to provide a quality experience for shops and break costs into chunks, we've implemented billing thresholds.
A billing threshold is a set dollar amount of spend that triggers a charge when a shop's usage exceeds that threshold. In other words, shops will send messages and accrue the related message fees, and once those fees reach that billing threshold, the shop will be charged.
For example, if a shop has a billing threshold of $100, each time their usage activity (i.e. message fees for messages sent) totals or exceeds $100, their payment on file is charged. Shops can view current progress toward their billing threshold on their Billing Overview page.
   Tip: To view a breakdown of your billing threshold charges, select View all product usage beneath your usage activity summary.
Let's take a look at another example below. This shop has a billing threshold of $500. In other words, this shop is charged each time their bill, calculated by usage activity (i.e. message fees for messages sent), reaches $500. In this example, the shop is charged in two parts over the first month and one part over the second month.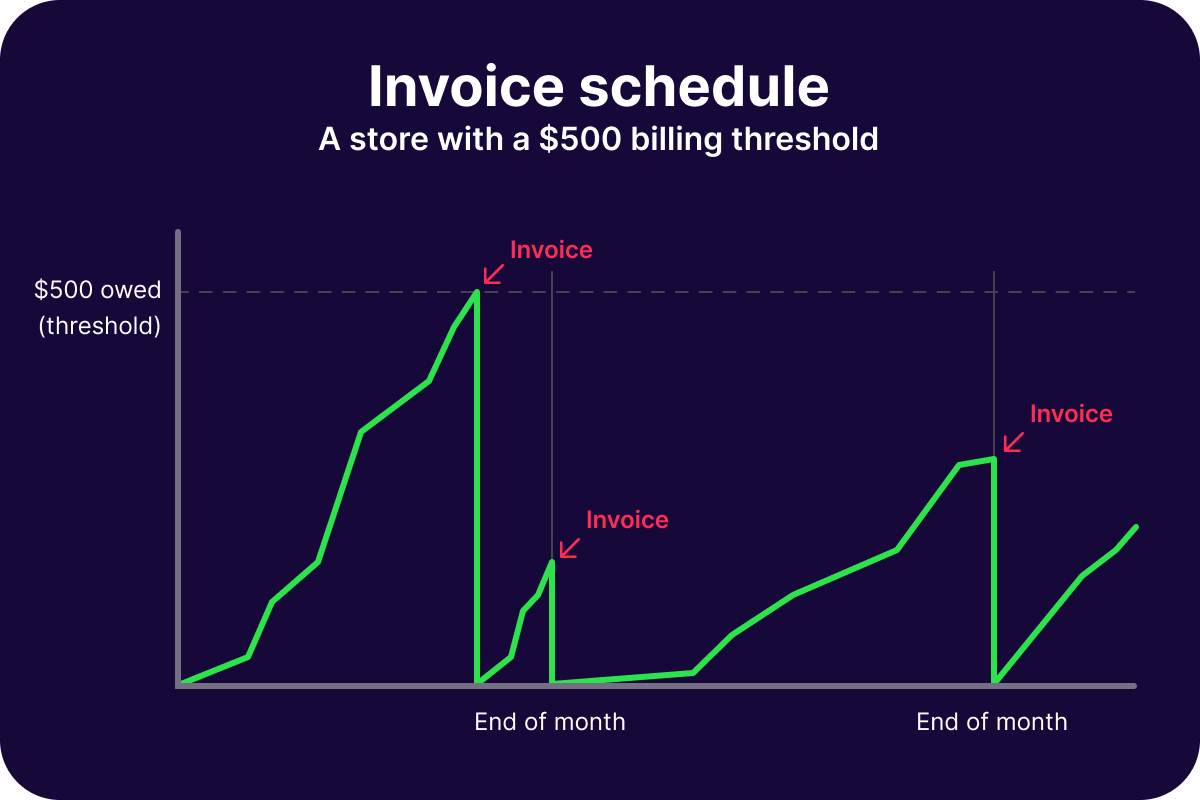 During the first month, the shop accrued $500 worth of usage and hit their billing threshold before the end of their billing cycle so they were charged at the time their usage exceeded or met their $500 billing threshold.
After they met their billing threshold and before the end of their billing cycle, this shop accrued roughly $100 more of usage so, at the end of their billing cycle, they are charged $100.
The following month, their billing threshold is never met so they are only charged at the end of the billing cycle.
How Billing Thresholds Work
---
With billing thresholds, Postscript can group usage activity and fees together in a single charge rather than allowing several smaller charges to hit a shop's payment on file.
Since Postscript charges a shop's payment on file each time it reaches its billing threshold, shops may see multiple billing threshold charges each month. For example, if a shop with a billing threshold of $100 reaches that threshold three times in January, then they will see three separate $100 charges in that month for a total of $300 in usage costs.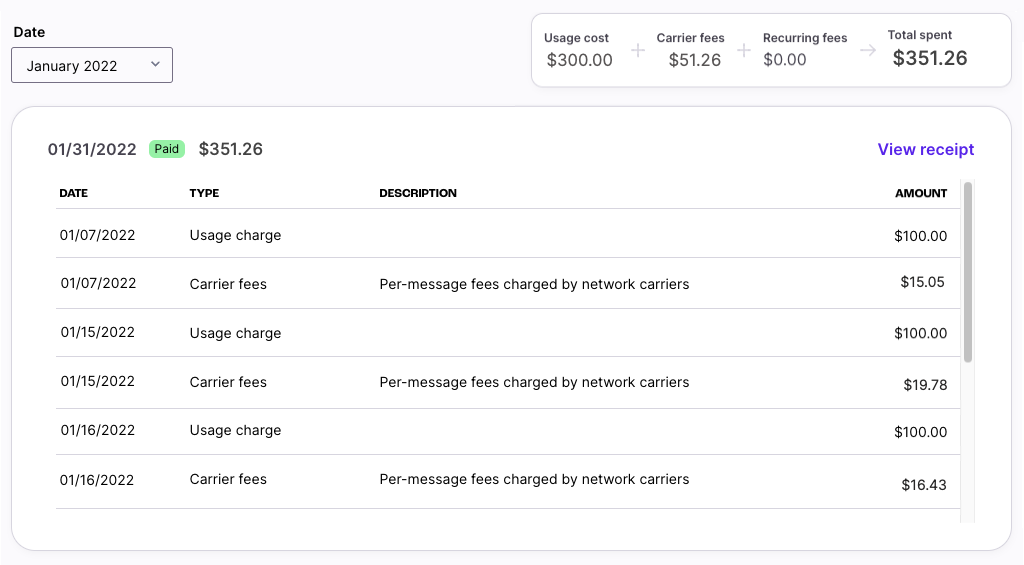 Before You Go
---
Billing thresholds are billed and charged differently on the Professional and Enterprise plans. Reach out to your Customer Success Manager or Postscript Support if you have questions about your billing threshold.
Carrier fees are calculated daily and billed when a usage billing threshold is met.
Additional Resources
---
Did you know special characters and emojis impact character count? Learn more

 

about the impact these have on character count, and ultimately, your bill.
Interested in learning more about your Postscript bill and charges? We've got you covered with

 

this guide.
Need to brush up on how carrier fees impact your bill? Check out

 

this article.
Get Support
---
Have questions? Please feel free to reach out to our wonderful Support team at support@postscript.io or via live chat. You can also submit a support request here!
Need ongoing channel strategy guidance? Please fill out this form and we'll connect you to one of our certified partners.