Postscript strongly believes in SMS as an "owned-channel" and gives all brands the freedom to export their shop data when they want. In this article, we'll discuss each report available for export and provide resources to learn more about each specific report.
By having access to export your data, you: 
Have true ownership over the data collected by your SMS program.
Can easily export information you need to paint a better picture of the success of your SMS program.
Can gauge the effectiveness of your existing strategies when you analyze and compare different pockets of your SMS program (i.e. comparing the performance of popups or back in stock as it relates to list growth).
To navigate to your Reports page, select Analytics in the side menu of your Postscript dashboard, then select Reports.
Subscriber Lists
---
When you navigate to your reports page, you can not only easily export your active subscriber list, but you can also export a list of people who have unsubscribed from your brand.

When you create a segment, you can download that segment. Once you select Download, the segment report will be available on your Reports page.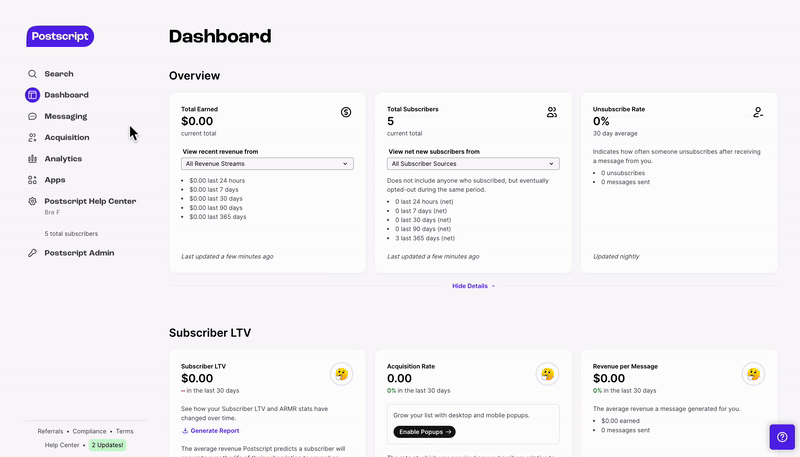 Revenue Report
---
From your Reports page, you are able to export a revenue report that includes the last 90 days of revenue.

This revenue report includes the following information:
Amount_in_cents: The revenue amount in cents that was attributed to a specific message.
Minutes_from_view_or_click: How many minutes the subscriber took before clicking or viewing the message (whether a subscriber clicked or just viewed a message is also denoted in the report).
Order_created_at: A timestamp of when the subscriber placed an order with your brand denoted in Coordinated Universal Time (UTC).
Order_ID: The identifier associated with the order this subscriber placed (Note: Shopify uses Order Number, though you can cross reference order ID to find the associated order number in Shopify).
Postscript_coupon_used_in_order: The specific Postscript coupon that was applied at checkout.
Sent_message_time: A timestamp of when the message was sent to the subscriber denoted in Coordinated Universal Time (UTC).
Text: The message copy sent to the subscriber.
Type: Denotes if the message was an automation, campaign, keyword, etc.
Type_name: The name of the campaign or automation as it's listed in Postscript.
View_or_click: Denotes whether the subscriber clicked the message or viewed it.
Back in Stock Details
---
Our Back in Stock automation and list growth tool allows you to grow your subscriber list with high-intent users as well as reclaim potentially lost revenue. Within your Reports page, you are able to run a Back in Stock detail report containing several different data points. We've got two that we want to call out specifically and do so below the image. 

Product ID/Title. View the most requested/in-demand products by their product ID and/or product title in Shopify.
Variant ID/Title. Get specific with a breakdown at the variant level. View products by their requested variant ID and/or variant title in Shopify.
Message Analytics
---
Message analytics gives you an aggregate overview of your message performance broken down into several criterion including revenue, unsubscribes, click-through rate, and more. Available data updates every 15 minutes.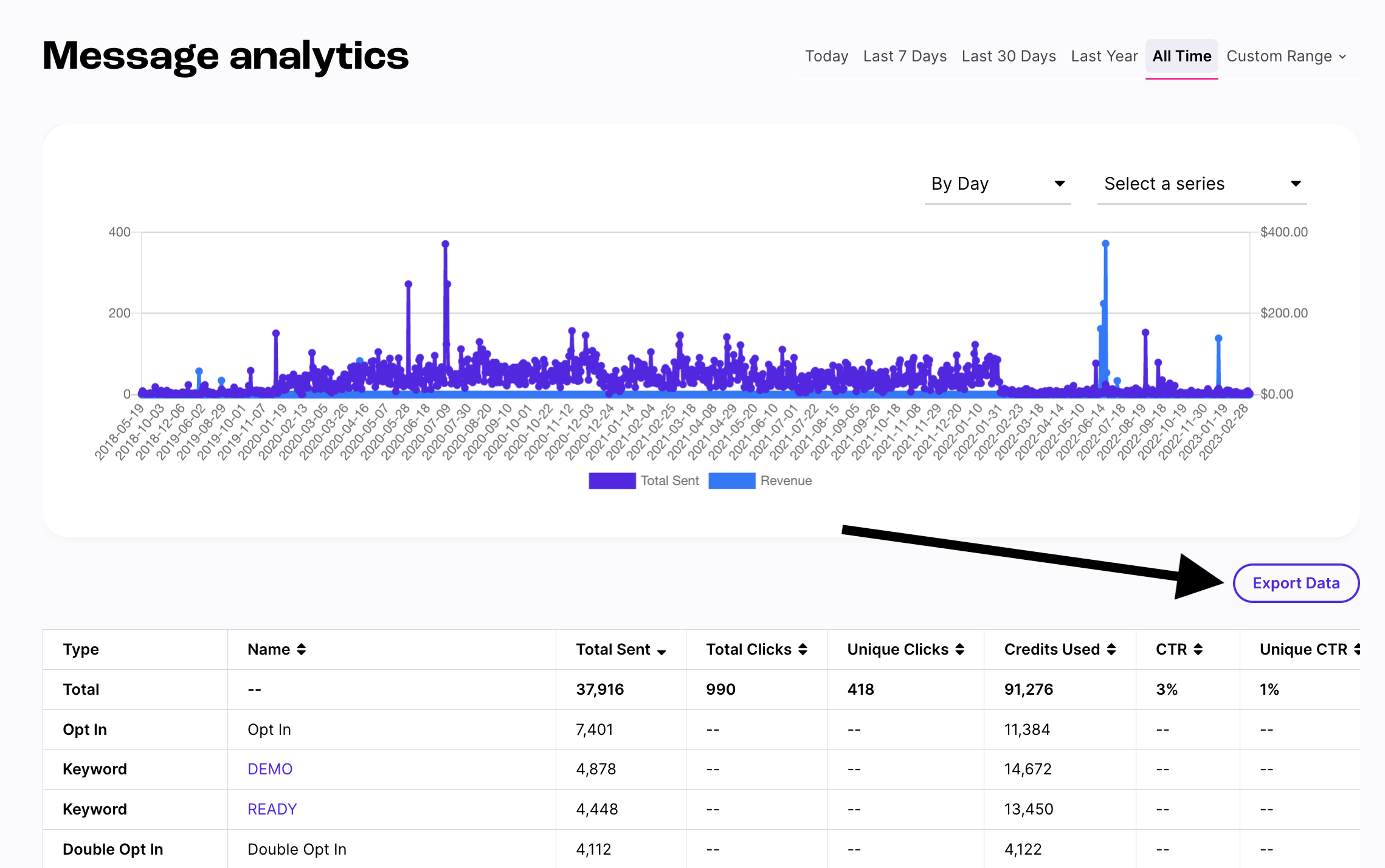 If you wish to run your analysis of this data, you can export it to a spreadsheet by selecting the Export Data button between the graph and data table. This report will be available to download on your Reports page. You can learn more about message analytics here.
Subscriber Analytics
---
Subscriber analytics allow you to have a more in-depth understanding of your subscribers, their behavior, and the success of your various opt-in sources. Like with Message analytics, available data updates every 15 minutes.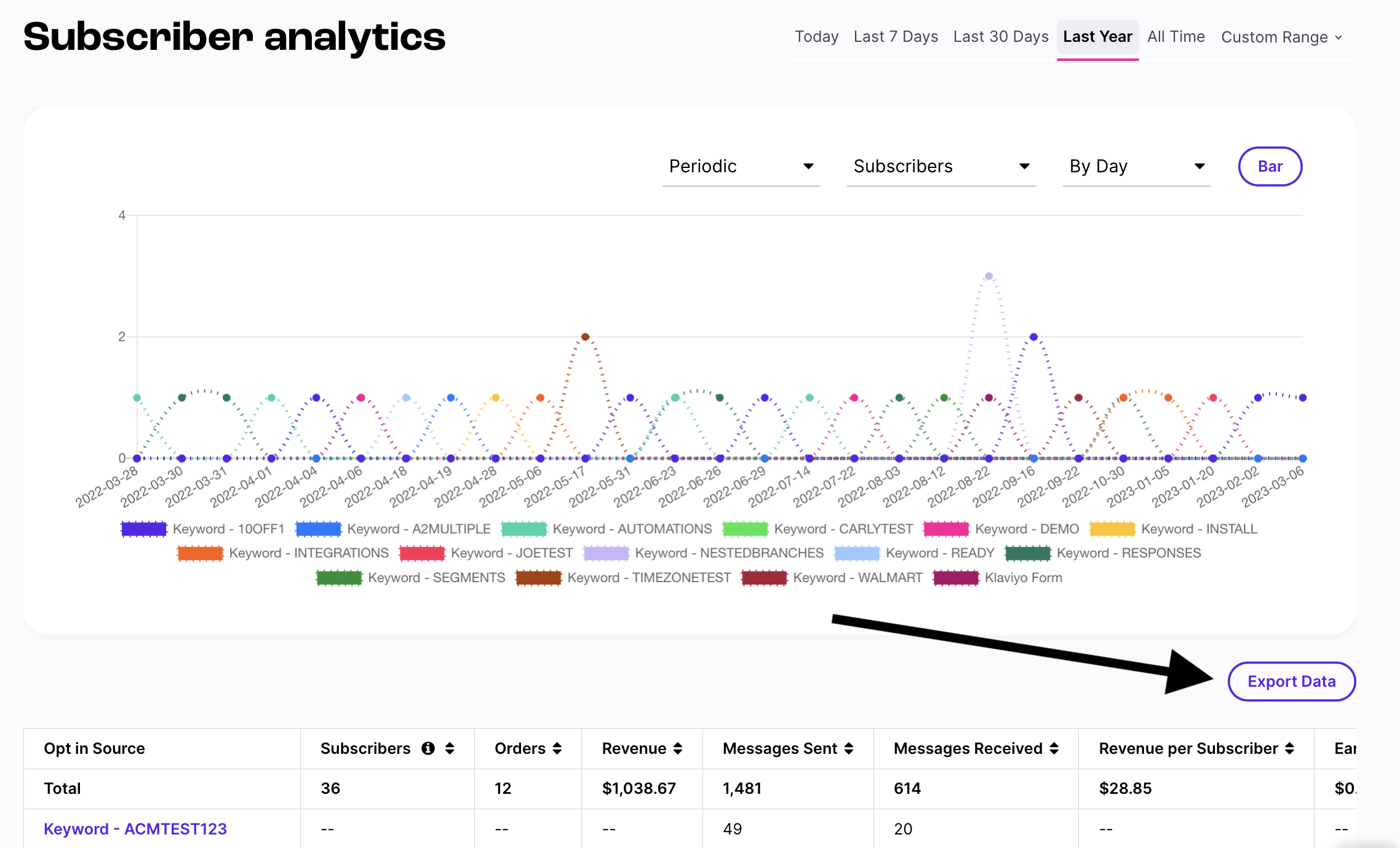 If you wish to run your analysis of this data, you can export it to a spreadsheet by selecting the Export Data button. This report will be available to download on your Reports page. You can learn more about subscriber analytics here.
Response Labels Details
---
When you export your response labels detail report, you have an aggregated view of responses your subscribers sent you, their sentiment, customer and subscriber IDs, and the topic of the response. 
This report includes responses from the last 30 days.

If you need to brush up on topic and sentiment labels for subscriber responses, we've got you covered with this guide.
Popup Analytics
---
With Postscript popups, you can view impression, engagement, and conversion metrics for both desktop and mobile popups. Postscript popups collecting phone numbers and email will see broken-out conversation metrics for each.
To export your popup analytics, head to your Reports page. Select Generate Report in the upper-right corner, then select Popup Analytics. When the report generates, select the Download button to save the spreadsheet to your device.

Subscriber Lifetime Value
---
When you export your Subscriber Lifetime Value (Subscriber LTV) report, the data displayed will depend on the time period you select. You can choose 7 days, 30 days, 60 days, or you can define a custom range.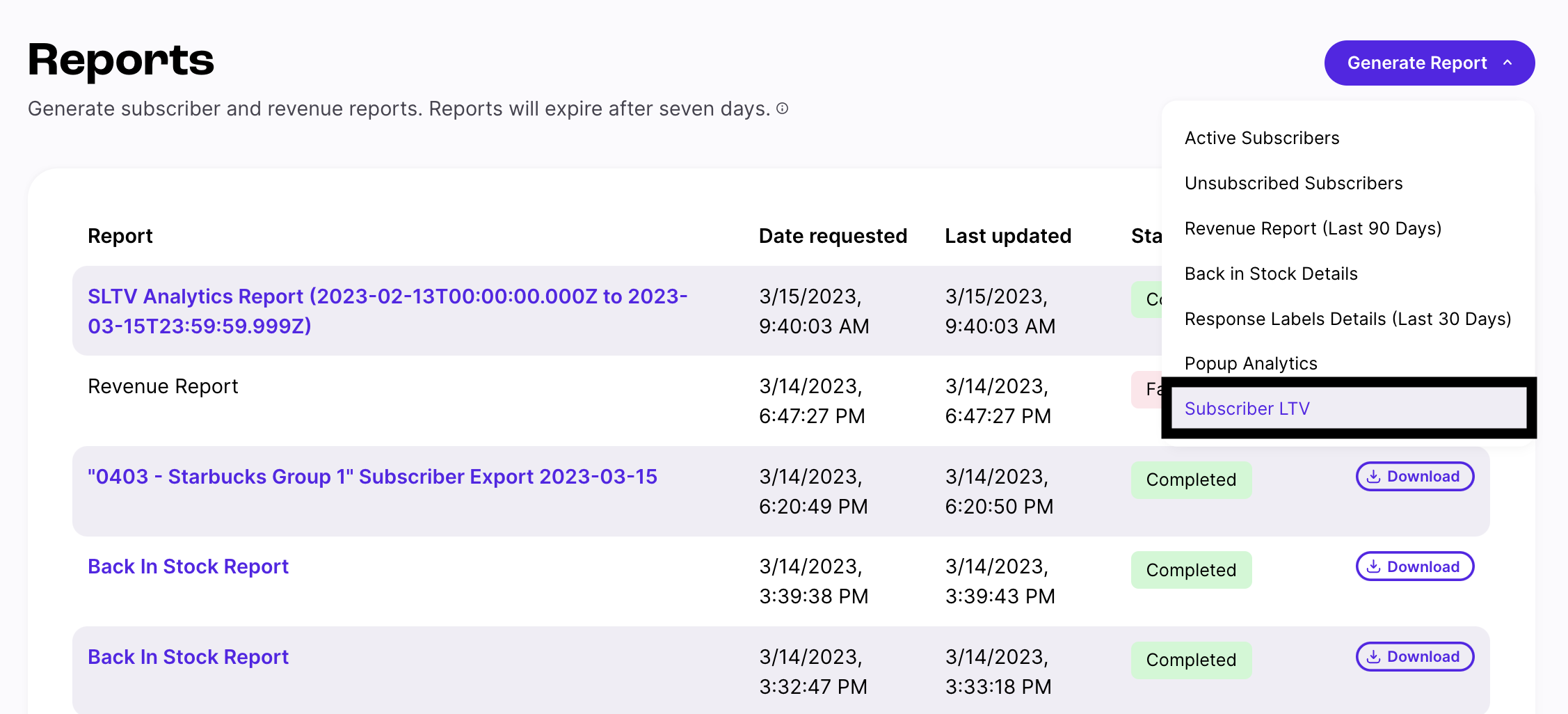 The data included in this report includes a daily look at your ARMR scores -- Acquisition Rate, Revenue per Message, Messages per Subscriber, and Retention rate. It also includes your Subscriber LTV on a rolling 90 day average. You can do a deep dive into Subscriber LTV and ARMR (its contributing metrics) in this guide.
Before You Go
---
Reports will expire after seven days in your account so be sure to download them to your device.
Some reports take longer to generate than others depending on file size. If you do not see your report after a few moments, please refresh your reports page.
While Postscript defaults to a 7-day click, 24-hour view attribution model, you can set your own attribution parameters. Learn how here.
Get Support
---
Have questions? Please feel free to reach out to our wonderful Support team at support@postscript.io or via live chat. You can also submit a support request here!
Need ongoing channel strategy guidance? Please fill out this form and we'll connect you to one of our certified partners.