Tip: Select any of the images in this article for a closer look.
The TCPA requires you to remove customers from text message marketing campaigns if they make a reasonable request to be removed. In SMS marketing, we refer to this as the "opt-out" process.
About the Opt-Out Process
---
Similar to the opt-in process, where customers can opt-in by texting a certain keyword, customers can also request to opt-out by texting "STOP" at any time.
We've also designed Postscript to recognize variations on the theme of STOP (including typos) and to unsubscribe customers accordingly. Examples of alternative opt-out phrases Postscript recognizes are:
Cancel
Do not/don't text
End
Remove me from your list
Stop texting
Take me off this list
Wrong number
Unsubscribe
Manually Unsubscribe Customers
---
Postscript automatically processes and confirms all opt-out requests you receive through your Postscript phone number(s). However, it's important that you stay on top of your customer responses in the off chance an unsubscribe request makes it past Postscript's screening.
You have two options when manually unsubscribing a customer: via the customer response page or from the subscriber details page.
You can view customer responses by selecting Messaging in the side menu of your Postscript dashboard, then selecting Responses.
If you feel a customer is attempting to unsubscribe from text marketing campaigns, then you can simply select Opt Out at the far-right of the subscriber's row.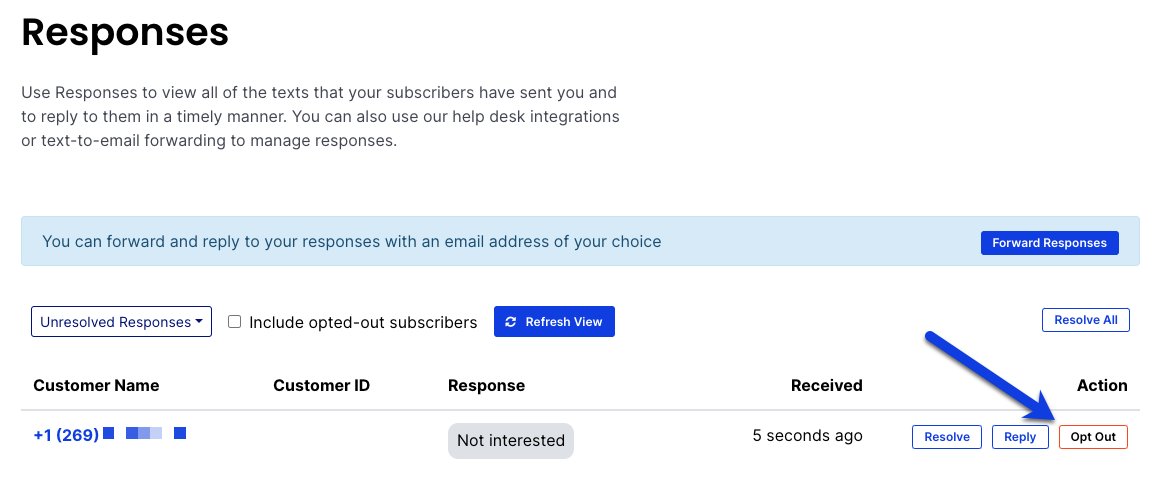 If you know the number of the subscriber, you can enter it in the Search field in the side menu of your Postscript dashboard.

On the subscriber details page, select Opt Out on the far-right of the Subscriber Status row.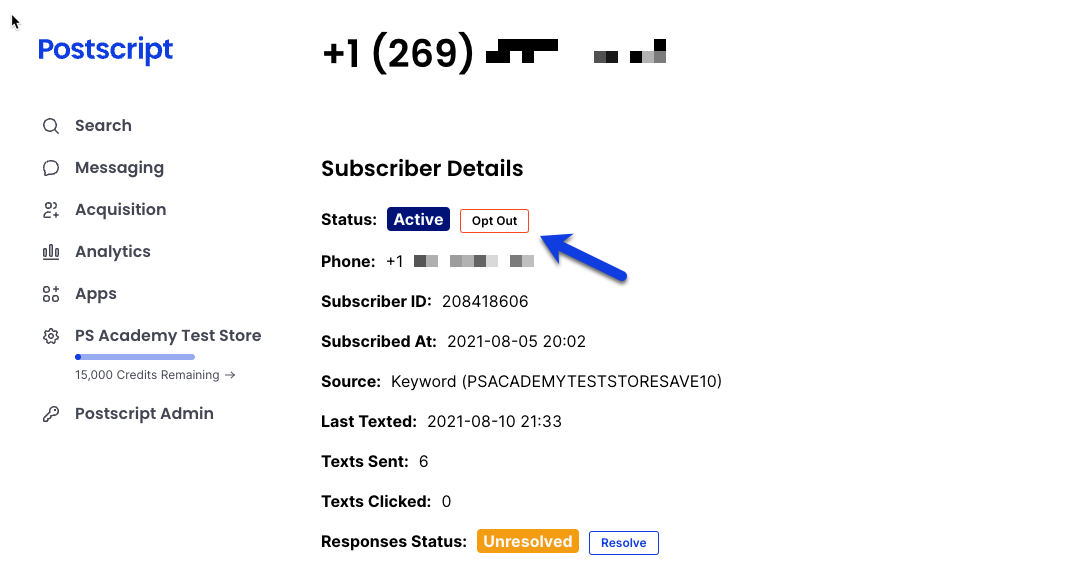 Include Opt-Out Language in Messages
---
You can choose to include opt-out language in both campaigns and automations. If you send regular campaigns, then we encourage you to include opt-in language at least once a month.
Postscript makes it easy to include opt-out language when creating a campaign or automation message. On the message details page, simply select the Add "Reply STOP to unsubscribe" checkbox below the message field. Doing so adds the opt-out language to your message.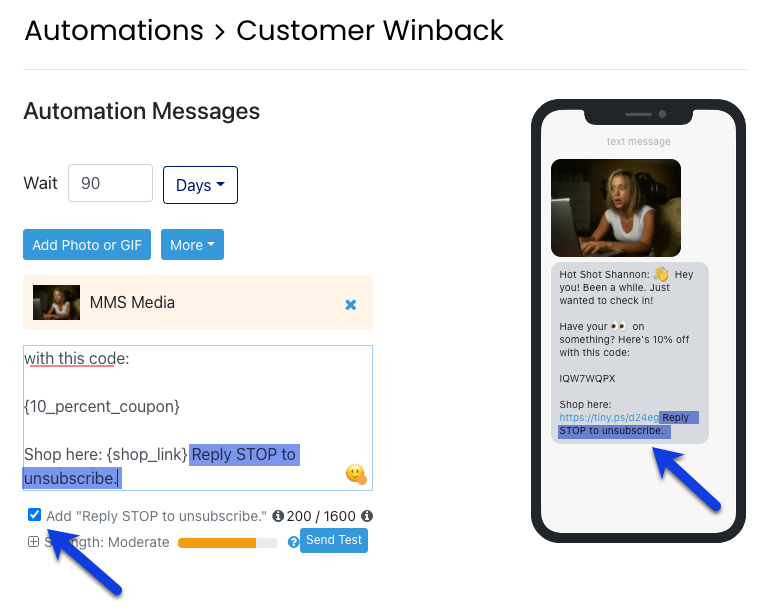 Note: Customers who have opted out can opt back into SMS marketing using an active keyword or opt-in method, such as a popup, QR code, or embedded form.
Get Support
---
Have questions? Please feel free to reach out to our wonderful Support team at support@postscript.io or via live chat. You can also submit a support request here!
Need ongoing channel strategy guidance? Please fill out this form and we'll connect you to one of our certified partners.