With Postscript popups, you can view impression, engagement, and conversion metrics for both desktop and mobile popups. Postscript popups collecting phone numbers and email will see broken-out conversation metrics for each. With this insight, you can:
Gauge the effectiveness of your various popups by comparing the popup types, styling, and/or offers.
Export your popup analytics to use with your data warehouse.
Paint a clearer picture of how your site visitors are interacting with your popup.
In this article, we guide you through how to export a popup analytics report, then provide additional resources.
Export Popup Analytics
---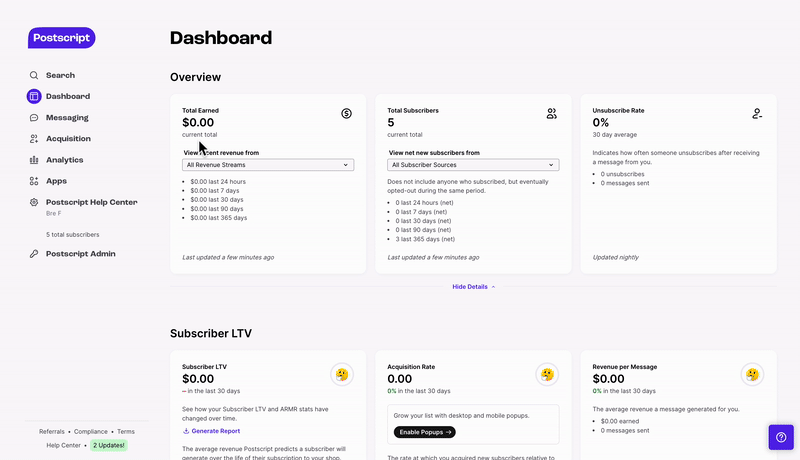 From your Postscript dashboard, select Analytics from the left-side navigation panel, then select Reports.
In the upper-right corner, select Generate Report then choose Popup Analytics.
Choose the timeframe then select the Generate button in the lower-right corner of the modal window. If your popup analytics report does not appear immediately, please refresh the page.
Select the Download button on the right to download the file to your device. Note: reports are only available in your Postscript Reports tab for 7 days.
Additional Resources
---
Need a refresher on popup analytics? We've got you covered with this article!
Curious to learn more about overall subscriber analytics? Check out this guide.
Interested in doing a deep dive into Postscript analytics? Take a look at our analytics guide.
Get Support
---
Have questions? Please feel free to reach out to our wonderful Support team at support@postscript.io or via live chat. You can also submit a support request here!
Need ongoing channel strategy guidance? Please fill out this form and we'll connect you to one of our certified partners.