Postscript's SMS and email message planner unifies your brand's scheduled Postscript SMS campaigns with your scheduled Klaviyo email campaigns into both a calendar view and a list view on your Postscript Dashboard.
With the Message Planner, you can:
Visualize a unified view of SMS and email campaigns for better planning of your brand's marketing communications.
Get a comprehensive view of your current sending cadence in order to inform future sending frequency, allowing for a better understanding of your overall messaging strategy.
How to Set Up Your Message Planner
---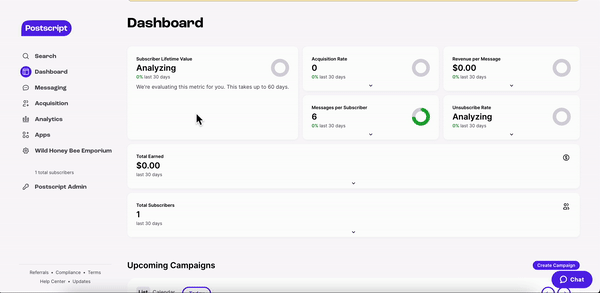 If you have not already, be sure to Set Up Your Klaviyo Integration so Postscript and Klaviyo can exchange the proper data (i.e. scheduled emails) between platforms.
Once your Klaviyo integration is set up, head to your Postscript Dashboard. Below your ARMU metrics, find your SMS and email campaigns under Upcoming Campaigns.
Optional: Toggle between list and calendar views by selecting the options in the upper right corner of the table view.
Before You Go
---
If you are setting up your Klaviyo x Postscript integration for the first time, the data between platforms will sync overnight. In other words, your Klaviyo campaigns will appear in your calendar and list view the day after setting up your integration.
Additional Resources
---
Get Support
---
Have questions? Please feel free to reach out to our wonderful Support team at support@postscript.io or via live chat. You can also submit a support request here!
Need ongoing channel strategy guidance? Please fill out this form and we'll connect you to one of our certified partners.