Note: Transactional Messaging is currently in beta for Postscript stores on the Professional or Enterprise plans. To enable Transactional Messaging, contact your Customer Success Manager.
As of June 2022, Postscript stores in the Transactional Messaging beta can send order-related, non-marketing texts through Postscript to a new category of subscriber: a transactional-only subscriber. Before this update, stores could only send SMS updates to subscribers who opted into their store's SMS marketing (a.k.a. marketing subscribers). Stores can now send order-related, non-marketing messages if they have Transactional Messaging enabled in their Postscript account.
The setup for Transactional Messaging has two parts: one part is in Shopify and the other is in Postscript. First, reach out to your Customer Success Manager to enable the feature in your Postscript account. You'll then follow instructions from your CSM to set up your Shopify checkout to compliantly collect transactional-only subscribers. Finally, you will finish setting up the feature in your Postscript account. Learn more about Transactional Messaging here.
How Transactional Messaging Benefits You
---
Reduce order-related inquiries by proactively providing customers with timely order updates.
Create one-to-one relationships with customers via SMS.
Use the responses tab, your help desk, or Slack to respond directly and promptly to transactional-only subscribers so you can get ahead of any order-related questions. If you are looking to prioritize response management, using sentiment tags allows you to group your responses, which makes it easier to get the answer to the correct team or handle potentially unhappy customers quickly.
Set up Transactional Messaging in Shopify
---
To begin, you'll set up transactional messaging in Shopify. To ensure subscribers do not get multiple transactional text messages from both Postscript and Shopify—and to avoid having transactional messages come from two different phone numbers (a Shopify number and your Postscript number)—you will disable Shopify's transactional text messaging using the following steps.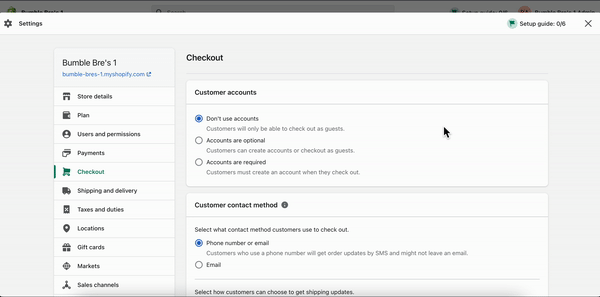 Within your Shopify admin, head to Settings, then Checkout
Under the header Customer contact method, locate the sub-header Select what contact method customers use to check out. Select Email.
Under the same header, locate the sub-header Select how customers can choose to get shipping updates. Deselect SMS or email. Step 2 (above) and step 3 will disable Shopify's one-way only transactional SMS messages.
On the same page, under the header Customer information, locate the sub-header Shipping address phone number. Select Optional. This allows shoppers to enter a phone number at checkout that can be used for transactional messages only.
Save your changes in the upper right-hand corner. Then scroll down and click the Manage Checkout Language button at the bottom of the page.
Locate the Phone tooltip field about three-fourths of the way down the page.
Enter the compliance language below, replacing each URL placeholder with the URLs for your shop's Terms of Service and Privacy Policy.

Send me updates about my order! Message and data rates apply. View our Terms of Service [mystore.com/policies/terms-of-service] and Privacy Policy [mystore.com/polices/privacy-policy].

Note: If you are unsure of your shop's terms of service and privacy policy URLs, check with your CSMs. We recommend testing each URL before entering them into the phone tool tip to ensure you've entered the correct URLs.

Save your changes in the upper right-hand corner.
Set up Transactional Messaging in Postscript
---
Once you've set up transactional messaging in Shopify, you'll add transactional messages to your shop's automations and submit them for approval to the Postscript Compliance team.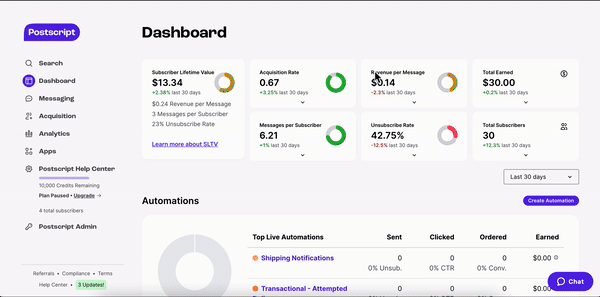 Navigate to Messaging on the left-side navigation bar, then select Automations.
Select Create Automation in the upper right corner. Select Legacy, then Continue. Note: At this time, transactional messaging is in beta and only available in legacy automations.
Search transactional in the upper-right corner search bar, then choose your transactional template.
Once your template is selected from the Automations Library, select Edit in the upper right corner, then select Edit Automation Properties in the lower right corner.
In the Automation Properties editor, select the dropdown under Transactional and select Yes - Requested, then save the changes by selecting Save & Continue to Messages.
Save the automation by selecting Save Automation in the lower-right corner of the automation Messages page. Once the automation is saved, it is automatically sent to our Compliance Team for review.

If you select a template and modify the language in the pre-approved message, this could result in the message being denied. If your message is denied, your CSM will notify you and work with you on crafting a compliant message. Until your message has been approved, the automation's Transactional Message Approval status will remain Requested under Automation Properties.

Once the automation is approved, you will see the approval denoted under the Automation Properties, and customers who enter their shipping phone number at checkout will begin receiving approved transactional messages from your brand.
   Note: Unmodified templates located within our Automations Library will receive approval quicker than custom messages or templated messages that have been modified. Any modifications to the templated message can cause delays in the approval process.
Get Support
---
Have questions? Check out our Transactional Messaging Guide here.
Still need support? Please feel free to reach out to our wonderful Support team at support@postscript.io or via live chat. You can also submit a support request here!