The information in this article pertains to Postscript brands on usage billing. If you are on credit-based billing, see
here
for information about credits.
At Postscript, we strive to be as transparent as possible with our merchants about how our pricing works. After thorough research and conversations with partners and customers, we determined a usage-based plan offers shops the flexibility needed to adapt to their industry throughout the year. With our usage-based approach to pricing, you:
Will only be charged for what you send.
Can review your usage across days, carriers, country, message type, and more
Can track, control, and predict your spend for each month
In this article, we discuss benefits of usage billing, then we'll walk through your Postscript Billing tab and the different sub-tabs and charges you might see.
Understanding Your Billing Overview
---
Your Postscript Billing Overview contains three categories in which we group charges and fees as well as shows billing statements from previous months. Below the image, we'll break these categories down.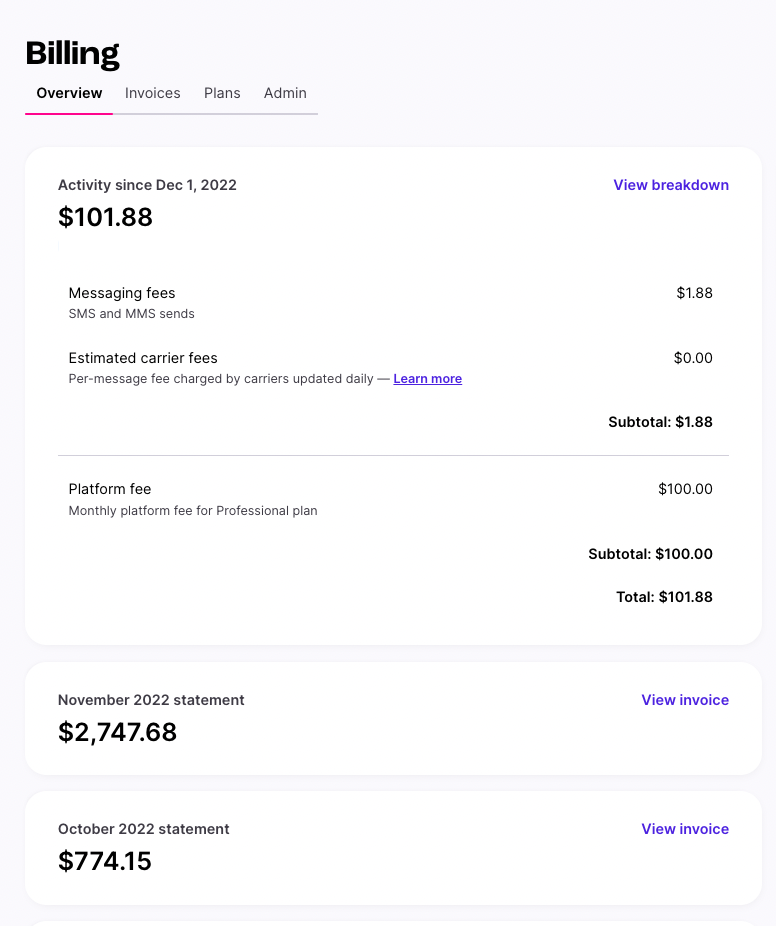 Messaging Fees. Messaging fees are usage charges and reflect the costs of sending SMS and MMS messages using Postscript.
Estimated carrier fees. Carrier fees are small surcharges that mobile carriers (e.g. Verizon, AT&T, T-Mobile, etc.) charge for sending messages using their networks. Learn more about carrier fees here.

Why is it an estimate? Carrier fees update at the end of the day (midnight UTC, specifically). If you are viewing your summary mid-day, after sending a campaign, your carrier fees wouldn't yet reflect the fees associated with that campaign.

Recurring Fees. Recurring fees are those fees a shop will pay on a monthly basis. For example, recurring fees can reflect the cost of a short code or other services.
Platform Fee. Platform fees are a recurring monthly charge you will see listed separately on your invoice. Your monthly platform fee covers the features available to a shop within Postscript and does not include usage.
Previous Month's Statements. Below your current month's summary, you'll find billing statements from previous months. Selecting View Invoice will route you to an expanded view of that month's billing breakdown.
Understanding Your Postscript Invoices
---
How and when Postscript charges a shop will depend on the type of plan the shop is on. Below, we walk through the billing summary and schedule for the plans offered on Postscript.
On a Starter and Growth plan, shops are charged for usage as they reach their billing threshold. Each billing threshold charge will be accompanied by a carrier fee charge for the fees related to that billing threshold. You can learn more about this process here.
On the Professional or Enterprise plans, shops are charged the total of their usage activity plus related carrier fees and recurring fees on a monthly basis.
With this in mind, let's look at the Invoices tab within your billing page. The image below shows the Invoices tab. Your invoices tab will display your service period, status, transaction types, messages sent, and amount billed for that service period. To see the specifics of any invoice, select the service period hyperlink.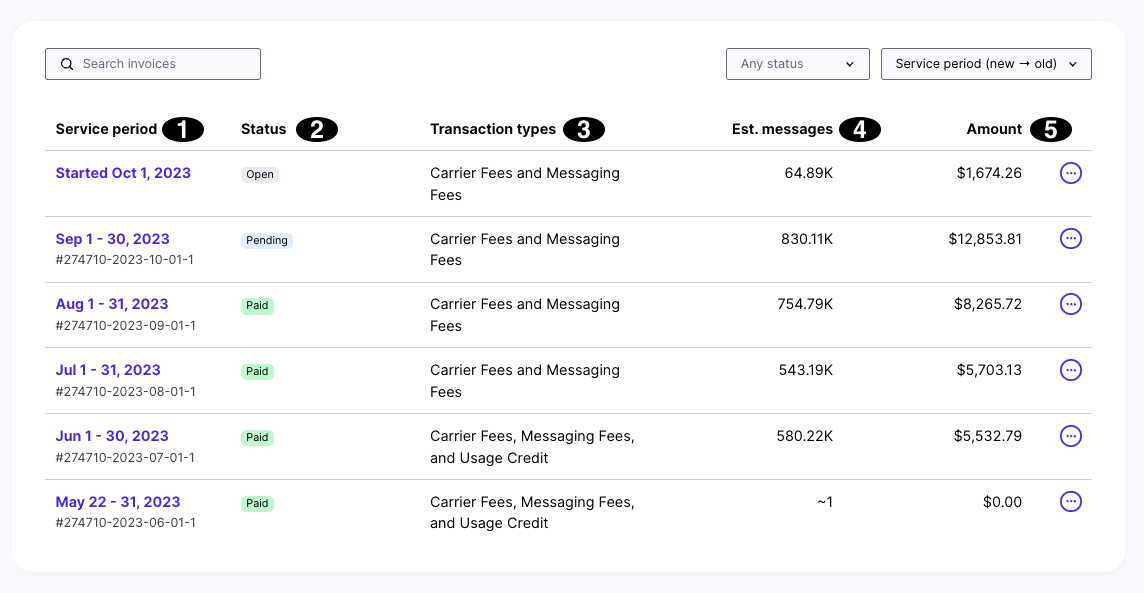 Service period. The effective start and end dates of the service period being billed. For brands billed monthly, this will always follow the start and end of the month. For merchants billed when they reach their billing threshold, this reflects the days within the invoice period and all individually charged fees will be on a separate line item.
Status. The current billing status for a specific service period.

Open. Your usage for a specific service period is still accruing.
Paid. Your invoice has been paid.
Overdue. Your billing due date has passed, but the invoice has not been paid.
Pending. The state between an invoice closing and the billing due date.
Processing. Your payment is being processed.

Transaction types. List of all charge types on any given invoice. This can include messaging fees, carrier fees, dedicated short code, etc.
Messages. An approximation of the number of message segments that are billed on the invoice.
Amount. Total balance of the invoice.
Drill Into An Invoice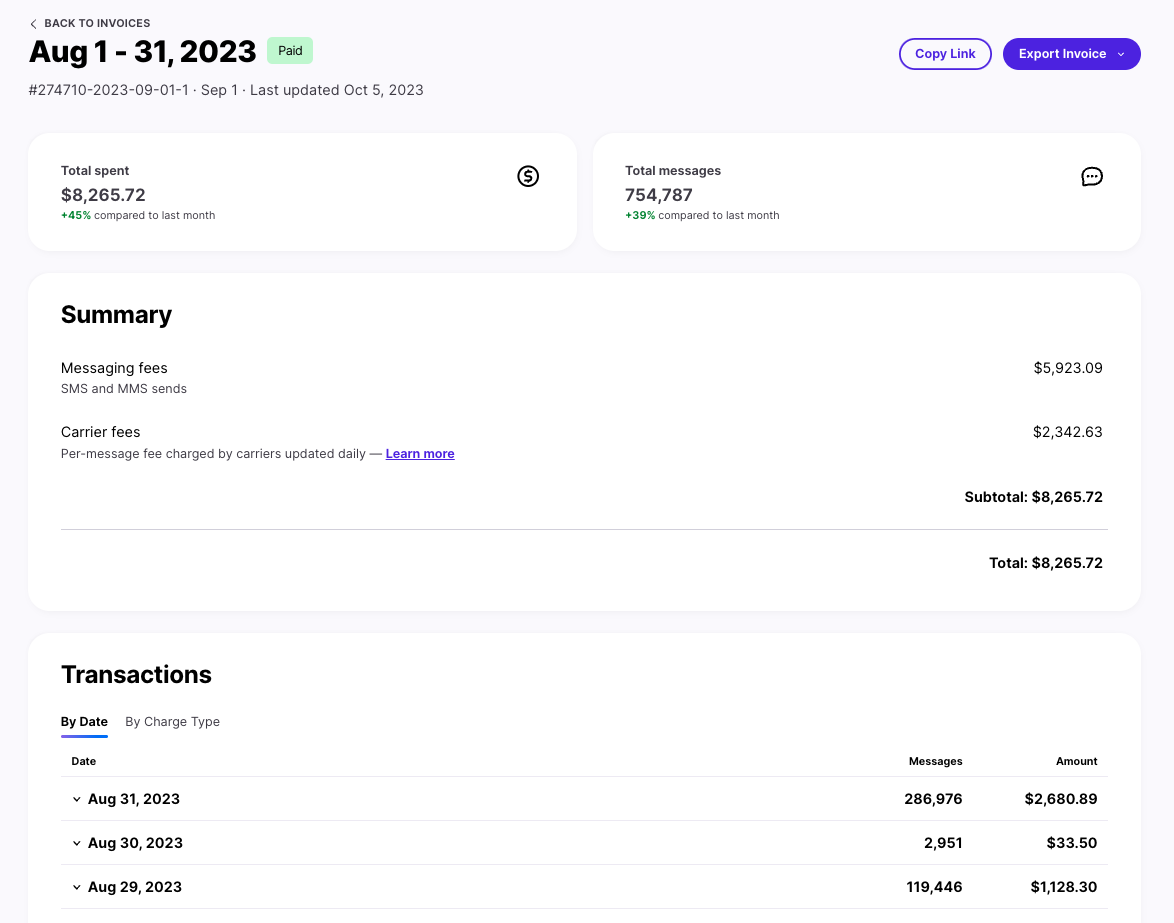 When you click into any given invoice, you can drill into the details of that service period. Within this section, you can download a CSV of your charge breakdown. You can also download your invoice as a PDF or share your invoice by selecting the Copy Link button in the upper-right corner.
From within a specific invoice, you can view the service period, status, summary of that month's spend, and see your usage compared to the prior month. The invoice page also allows you to view your usage by date or by a Charge Type view. Below, we break down both of these view types.
By Date view allows your brand to view your usage on specific dates, on a day-by-day basis. For a more granular understanding of how you are billed each day, you can expand each date to see usage based on campaigns, automations, keywords, opt-ins, message type (i.e. SMS vs. MMS), and country.
By Charge Type view shows usage based on country, campaigns, automations, opt-in messages, flows, and by date. 
   Note: Some carrier fees and undelivered message credits may post to your account up to 3 days after the send.
Additional Resources
---
Need to get familiar with billing thresholds? We've got you covered with this guide. 
Interested in getting insights into how carrier fees contribute to your bill? Check out our Understanding Carrier Fees article!
Need a better understanding of how emojis and special characters affect character counts and how this ultimately contributes to your bill? Check out this article. 
Get Support
---
Have questions? Please feel free to reach out to our wonderful Support team at support@postscript.io or via live chat. You can also submit a support request here!
Need ongoing channel strategy guidance? Please fill out this form and we'll connect you to one of our certified partners.