Tip: Select any of the images or GIFs in this article for a closer look.
Important:
Abandoned cart text messages can only be sent to individuals who have compliantly opted in to your store's SMS program before abandoning their cart. Learn more about growing your subscriber list
here
.
Automations allow you to create multi-stage communications triggered by a certain event (e.g., subscribing to texts, abandoning a cart, etc.) Automations run automatically in the background and are a great way to keep customers engaged.
Why You Should Create an Abandoned Cart Automation
---
Re-engage a potential sale by reaching out to the subscriber with a direct link to their cart.
Provide a little extra incentive with a higher discount or special offer to close that sale.
Target specific cart values with customized messaging and discount offers.
Create an Abandoned Cart Automation
---
Define Your Automation Behavior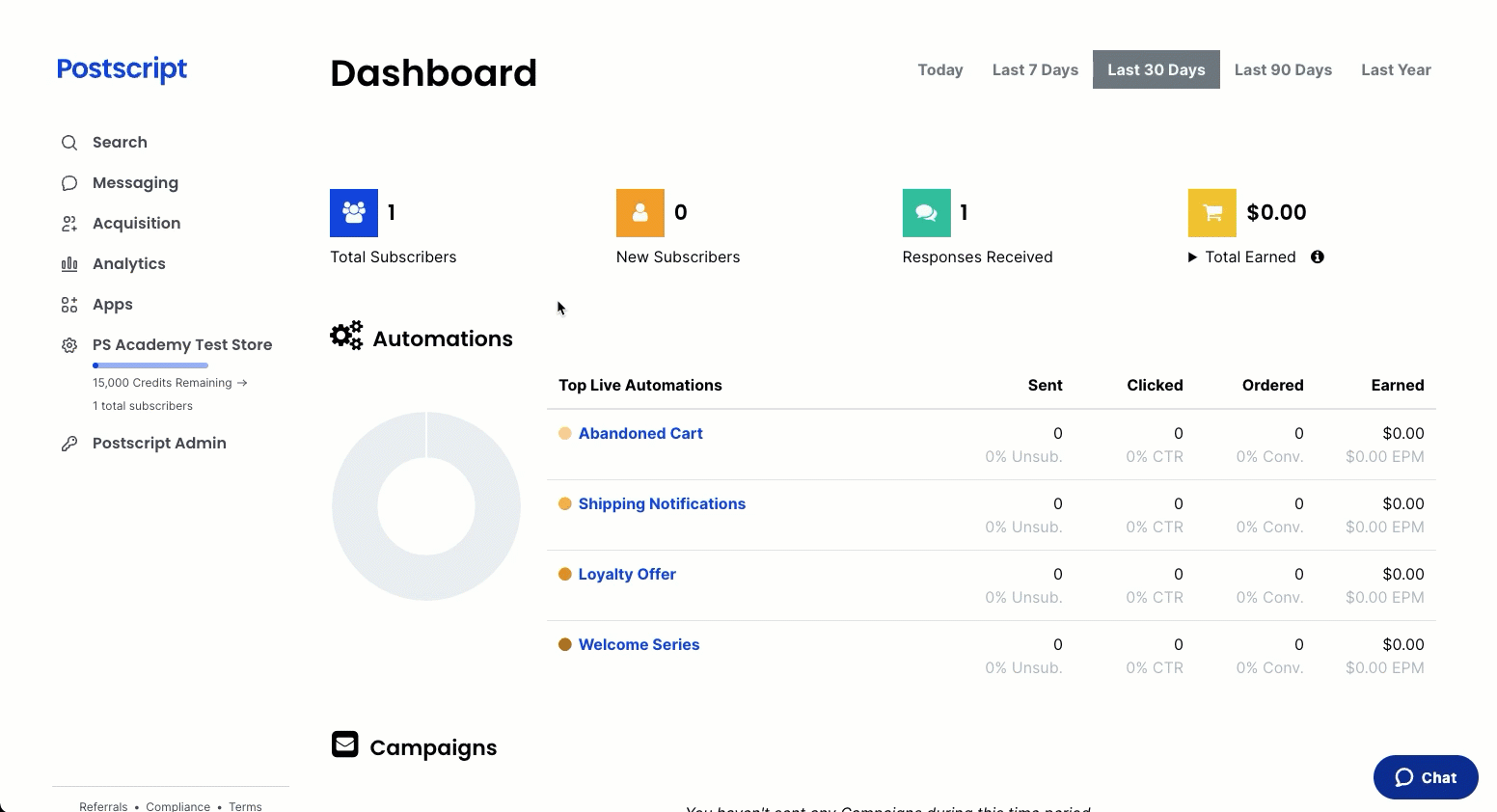 Select Messaging in the side menu of your Postscript dashboard, then select Automations.
Select Create Automations in the top-right corner of the page.
Select Custom Automation.

Want to use a template? Go for it! You can search for our Abandoned Cart template in the search field in the top-right corner of the page. The template comes loaded with the correct triggers and a basic message to get you started.

Give your automation a Name. If you're creating specific abandoned cart automation for different categories (e.g., cart value $50-100, returning customer, etc.), you might want to include that in the name.
Select Checkout Started from the Automation Trigger drop-down.
Under Cancellation Trigger, select Yes. Set your cancellation trigger as Order Created.

Why? Once a subscriber creates an order, you want them removed from the abandoned cart flow. Say a subscriber comes back to their cart an hour after they abandon it and complete their order. If you had your automation schedule to send at 2 hours, then this subscriber would not receive the message because they already created an order.

Select Save & Continue to Messages in the bottom-right corner of the page.
Create Your Automation Message
   Note: Adhering to carrier guidelines, abandoned cart automations can only contain one message, and that message should send within 48 hours of the trigger event (checkout started).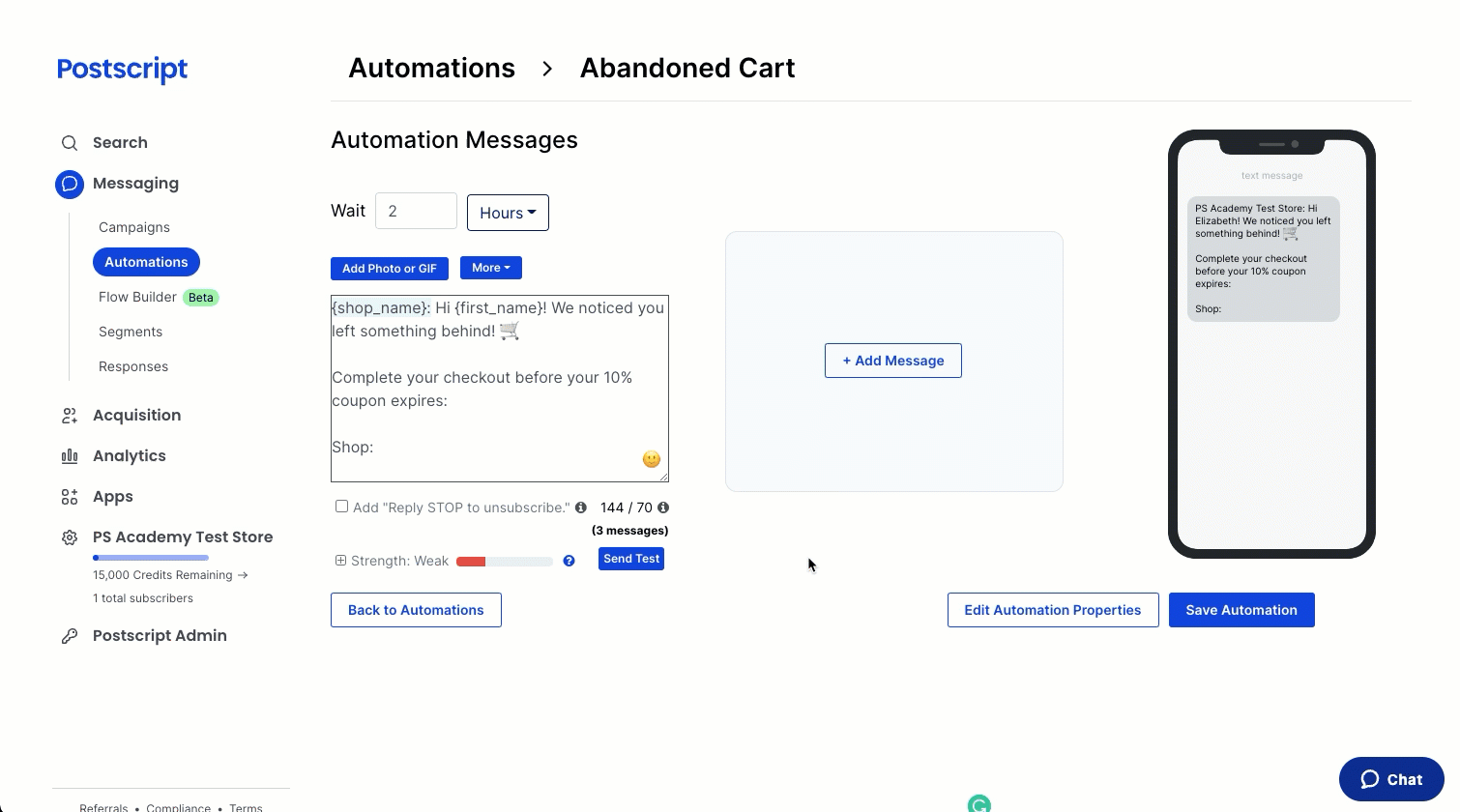 On the message screen, you can customize your abandoned cart message.
What can you customize?

Add a tag that will be replaced with a subscriber's name in the text.
Provide a discount code.
Include a dynamic product photo (Postscript will display the most expensive item in the cart)
Link to the subscriber's specific cart.
Include emojis.
Set the timing of your abandoned cart message.
Once you Save your abandoned cart automation, make sure to select the Enabled toggle to turn the automation on.
Extra Resources
---
Fantastic Texts. Need some inspiration? Check out some real-life customers and how they interact with their subscribers. Here are some examples of

Abandoned Cart

messages.
Create a Custom GIF. Want to create a GIF that features your products? It's easy. Learn how in this article.
Get Support
---
Have questions? Please feel free to reach out to our wonderful Support team at support@postscript.io or via live chat. You can also submit a support request here!
Need ongoing channel strategy guidance? Please fill out this form and we'll connect you to one of our certified partners.