When it comes to SMS, subscribers may text you for support regarding products, promotions, or tracking inquiries.
By creating an auto-response to these types of communications, you can:
Create a dependable brand experience by notifying subscribers that you received their message and by setting response expectations.
One of the benefits of SMS marketing is consolidating customer interactions to a single text thread (promotions, questions, support, and purchasing). However, consider using an auto-response message to inform subscribers how they can connect with your support team if you do not offer customer support via SMS.
Set an auto-response message for seasons when support ticket volume is high, or support personnel coverage is low, to promptly and efficiently communicate expectations with subscribers.
Create an Auto-Response Message
---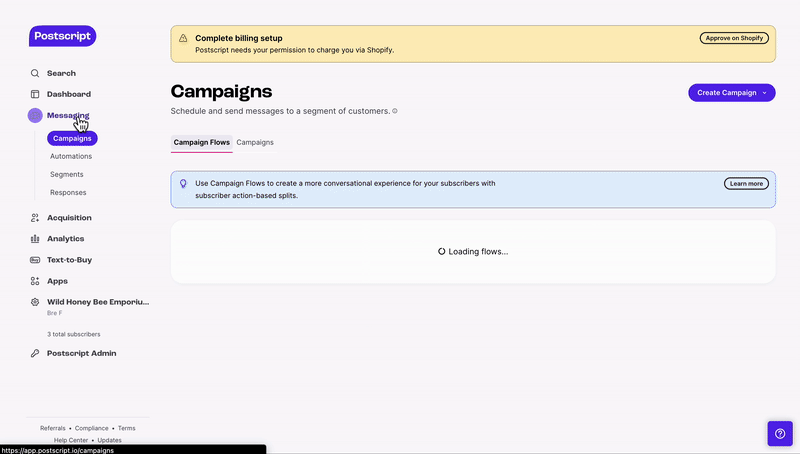 Select Messaging in the side menu of your Postscript dashboard, then select Automations.
To create a new automation, select Create Automation in the top-right corner of the page, then select Create Automation Flow.
Select Create a new automation, then select Create flow.
Name your automation. You also have an option to add a description of this flow under the automation name.
Within the Automation Properties card, select the dropdown menu under Add a subscriber when and choose Subscriber Response.
Optional: You have several options to help you further customize this automation including:

Filter event if: 

Fine-tune when an automation is triggered.

Include a subscriber only: Narrow down which subscribers can receive an automation.
Limited subscriber entry:

Limit how often a subscriber can enter a flow within a certain period of time.

Remove subscriber when: 

Tell Postscript when to remove a subscriber from your flow.

Once you add your automation properties, be sure to select Save in the bottom-right corner of the card.
Optional: If you'd like to add a delay, drag & drop the Delay action into your flow. Define your delay, then select Save.
Drag and drop the Send Message icon into your flow and craft your auto-response message.
Once your message is crafted, select Save in the bottom-right corner of the card.
Once your flow is built, select the Save Changes button in the top-right corner. Then select Schedule or Activate to activate your flow immediately or schedule a date and time for it to go live.
Additional Resources
---
Curious about how you can continue harnessing the power of automation flows? We've got you covered with our Guide to Automation Flows.
Ready to get started customizing your flows and scaling 1:1 conversations? Check out our guide to Wait for Event Branching.
Interested in a more targeted approach to your SMS strategy? Learn about how using subscribe tags helps your brand launch a more personalized SMS strategy.
Get Support
---
Have questions? Please feel free to reach out to our wonderful Support team at support@postscript.io or via live chat. You can also submit a support request here!
Need ongoing channel strategy guidance? Please fill out this form and we'll connect you to one of our certified partners.