When migrating your SMS program to Postscript from Klaviyo, you can upload your previously collected subscriber contact list so you:
Can make sure you upload active subscribers to your Postscript account only.
Never miss a beat during the transition and can begin using Postscript's robust features and tools.
Hit the ground running with your Postscript-hosted SMS program.
We've designed this guide to ensure you only export, and upload, subscribers who are actively subscribed to your SMS program.
Export Subscriber List From Klaviyo
---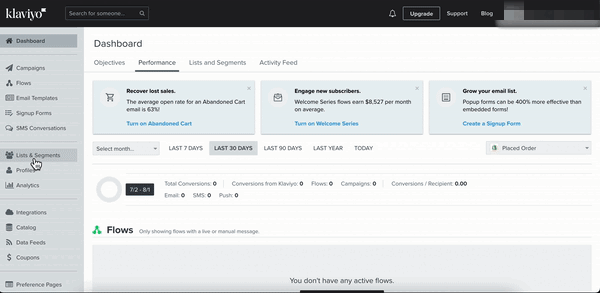 Within your Klaviyo account, select Lists & Segments on the left-hand navigation bar. 
Select Create List/Segment in the upper-right corner. Then choose Segment.
Name your segment. Be sure to give it a name that will allow you to easily identify it among your lists and other segments when exporting. 
Under Definition, select the dropdown and choose What someone has done (or not done).
Next to Has choose Consented to Receive SMS. Then, select at least once and over all time as your following values.
Select the + AND connector. Then, under Definition, select the dropdown and choose What someone has done (or not done).
Next to Has choose Unsubscribed from SMS. Then, select zero times and over all time as your following values.

Select Create Segment in the bottom-right of the editor. 
Once the segment is created, select Manage Segment in the upper-right corner, then choose Export Segment to CSV.
Select the checkbox next to Property to select all. Once all of the properties are selected, choose Start Export in the upper-right corner.
Once the export is complete, you can find this segment in your computer's Downloads file.
Import Subscriber List to Postscript
---
Fill out each required field. Attach your CSV from Klaviyo at the end of the form.
Postscript's compliance team will review your list and upload it to your account in 1-3 business days. Once uploaded, you will be notified in-app and automatically see your subscribers added to your Postscript account.
Additional Resources
---
Just getting started with your Postscript account? Be sure to copy over your welcome series, cart recovery, or post-purchase automations prior to disconnecting your previous SMS program. Learn more about setting up Postscript automations here.
Still using Klaviyo for email? Check out our SMS Email & Message Planner so you can visualize a unified view of your SMS and email messaging cadence.
Did you know you can use your Klaviyo lists to segment subscribers in Postscript? Learn how here.
Get Support
---
Have questions? Please feel free to reach out to our wonderful Support team at support@postscript.io or via live chat. You can also submit a support request here!
Need ongoing channel strategy guidance? Please fill out this form and we'll connect you to one of our certified partners.