Tip: Select any of the images or GIFs in this article for a closer look.
Product links take your subscribers from their SMS messages directly to your desired product. 
Why You Should Add Product Links to Your Flows
---
Decrease friction. Adding product links to your messages decreases friction when navigating subscribers from their SMS messages to your product page.
Get specific. Including product links is great for routing subscribers to view specific items during product launches or when offering personalized product recommendations.
How to Add a Product Link to Your Flows
---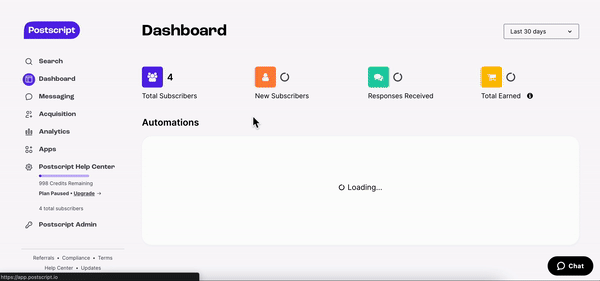 Select Messaging in the side menu of your Postscript dashboard, then select Flow Builder.
Select an existing flow or Create Flow in the top-right corner of the page. Need help with creating a flow? Check out how to create an automation flow or campaign flow. 
Add a Send Message action where desired or click on an existing message. In the Message Editor, select the hyperlink icon in the lower right of the message box.
Select Product Link, then add the desired product from the dropdown menu. Choose variant type and the quantity. Once the desired properties are added, select Add to Cart.
Optional: If you'd like to offer a Shopify discount for this item, you can add that discount code within the Product Link editor. This coupon code will apply automatically at checkout.
Save in the bottom right corner of the Product Link editor.
Get Support
---
Have questions? Please feel free to reach out to our wonderful Support team at support@postscript.io or via live chat. You can also submit a support request here!
Need ongoing channel strategy guidance? Please fill out this form and we'll connect you to one of our certified partners.