Tip: Select any of the images or GIFs in this article for a closer look.
Campaign flows are the perfect way to send multi-message campaigns to a specific customer segment or your entire subscriber base. With Flow Builder, you can easily visualize and build your flow, add delays between messages, and schedule a start date for sending.
Why Send a Content Drip Campaign Flow
---
Create a slow drip of helpful resources, such as product how-to videos, blog articles, holiday recipes, makeup tutorials, cool ways to use your product, and reviews.
Share your brand story in chapters, such as your mission, causes you support, and what makes your brand unique.
Send to your entire subscriber base or a specific segment. For example, if you are a beauty brand, you can send a makeup tutorials content drip to customers who have purchased makeup products.
How a Content Drop Campaign Flow Looks
---
Here are some example touchpoints for this flow. Note that with each of these, Flow Builder allows you to define the time between each message. You can choose from minutes, hours, or days.
Message 1. Kick off your campaign series.

This week, our resident skincare expert is taking over SMS to talk about everything you need to know about sunscreen. ☀️

Message 2. Continue your campaign. You can choose to narrow your focus with subsequent messages or keep your approach broad.

Why should you wear sunscreen all year round? We've got the answers (and tips!) you need! 🧴  Check out this video from our favorite dermatologist, Dr. Jenny Lee👩🏻‍⚕️  🎥  [Link to a video] 

Message 3. Hone in on a specific area, answer a popular question, or link to a resource.

What's the difference between chemical and physical sunscreen? All the details you need are right here >> [Link to an article]

Message 4. Present an offer or product recommendation (or both!)

Claire, here! CEO of Glowy Skin. What do I look for in a sunscreen and which are my favorite ones? That's easy! [Link to product] This sunscreen is lightweight and strong against those UV rays. 💪🏼  I love it so much that I'm offering you a special discount. Use CLAIRE25 ✨ today only✨ for 25% off your sunscreen order.
Create Your Campaign Flow Segment
---
Which segment you target with a content drip campaign flow will depend on the content you wish to include in your messages. Choosing your All US/CANADA Subscribers is perfect for a general education flow or your brand story, but here are two other ideas:
Total Spend. Target subscribers who are brand enthusiasts with content that highlights your higher-priced items.
Purchased Products. Create a content drip campaign around past purchases. For example, if a customer bought a certain makeup product, you could send makeup tutorials or tips for using that product.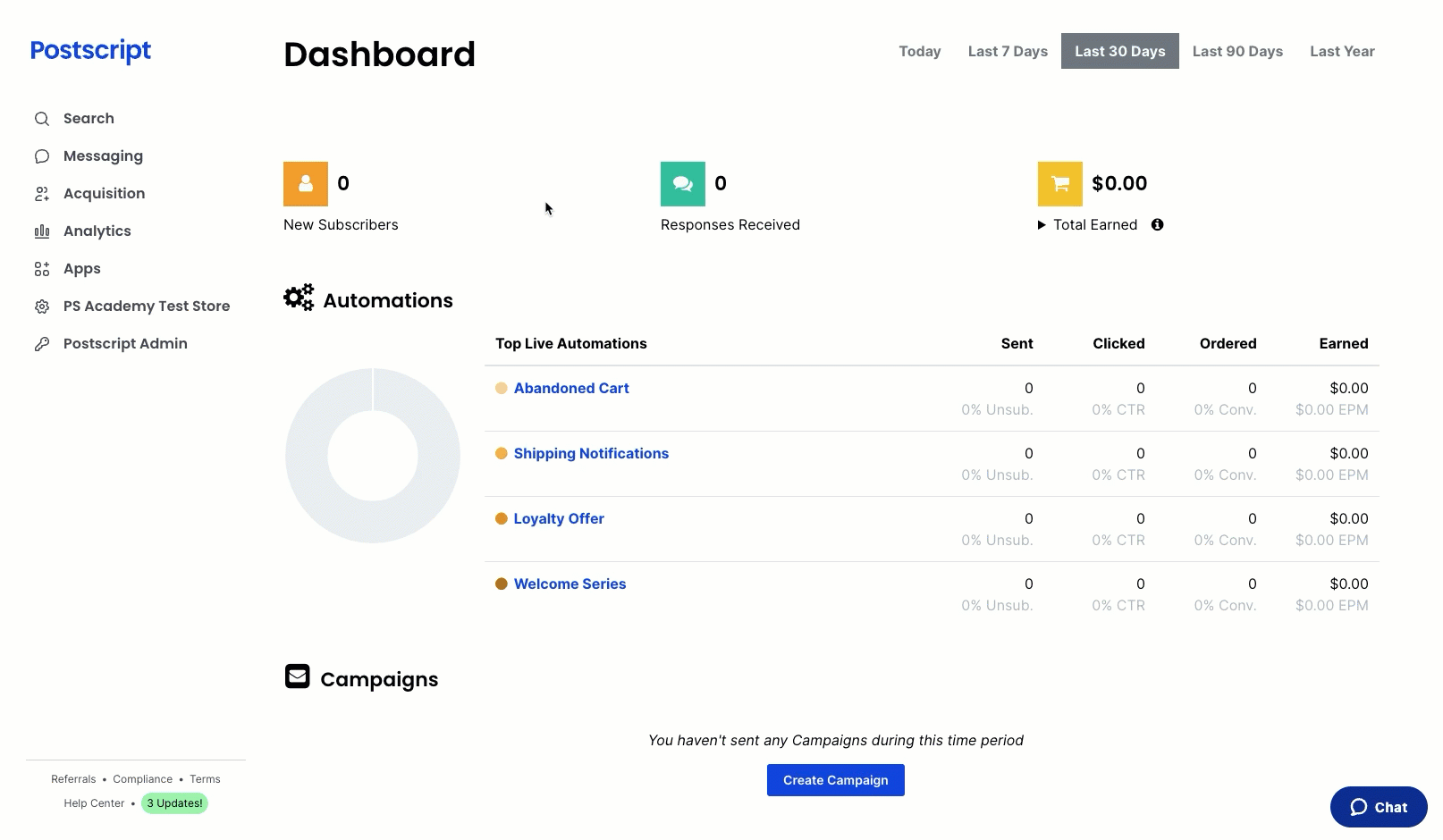 Select Messaging in the side menu of your Postscript dashboard, then select Segments.
Select Create Segment in the top-right corner of the page.
Give your segment a name. We recommend you include that the segment is for the launch of a specific product (or products).
Choose your segment criteria filter and define the appropriate value. For our example, we choose Total Spent with greater than or equal to a value of $200.
Select Save Segment in the bottom-right corner of the page.
Create Your Campaign Flow
---
Building out a content drip flow is easy with Flow Builder's drag and drop functionality. This allows you to visualize your message series and any delays you wish to include between messages.
Select Messaging in the side menu of your Postscript dashboard, then select Flow Builder.
Select Create Flow in the top-right corner of the page.
You can name your flow and enter a description

 

in the top-left corner of your flow.
Select your product launch segment from the Set Up Trigger

 

drop-down.
At this time, you can add a Send Message

 

and Wait

 

block to your flow. Simply drag either step to the

 

+ Add Step

 

bubble in the flow you're building.

Send Message: Craft a text message as part of a flow. You can include an image or GIF and add emojis. A

 

Send Message

 

block is required to activate a flow.
Wait: Add a time delay between other steps (like a Send Message step). You can set the wait time to minutes, hours, or days.

Once you are satisfied with your flow, you can select

 

Save Flow

 

in the top-right corner of the page.

If you're ready to send your flow, select 

Activate

in the top-right corner of the page. You can choose to activate your flow immediately or kick it off at a later date and time.
Get Support
---
Have questions? Please feel free to reach out to our wonderful Support team at support@postscript.io or via live chat. You can also submit a support request here!
Need ongoing channel strategy guidance? Please fill out this form and we'll connect you to one of our certified partners.