Tip: Select any of the images or GIFs in this article for a closer look.
Shops that purchase a short code must ensure their shop is 100% compliant as part of the audit process with our aggregate service. At Postscript, we're committed to supporting you during this time and have created the below compliance checklist to help you prepare your store for its audit.
About the Dedicated Short Code Audit Process
---
The dedicated short code audit process ensures that all opt-in methods and your store policies are compliant with TCPA guidelines and CTIA regulations.
Ensuring compliance in these areas is the first step in your audit process. You can learn more about the overall process and timeline here.
Your Compliance Audit Checklist
---
The areas we outline below are those that will be audited to ensure your shop is compliant. We strongly recommend that you complete this entire checklist before submitting your shop for review. This helps ensure your audit goes smoothly.
If auditors discover non-compliant examples, you will be required to correct the issue before the audit can continue. This can greatly impact how long it takes for you to receive your dedicated short code.
Popups
The following applies to both mobile and desktop popups whether enabled in Postscript or a list growth integration: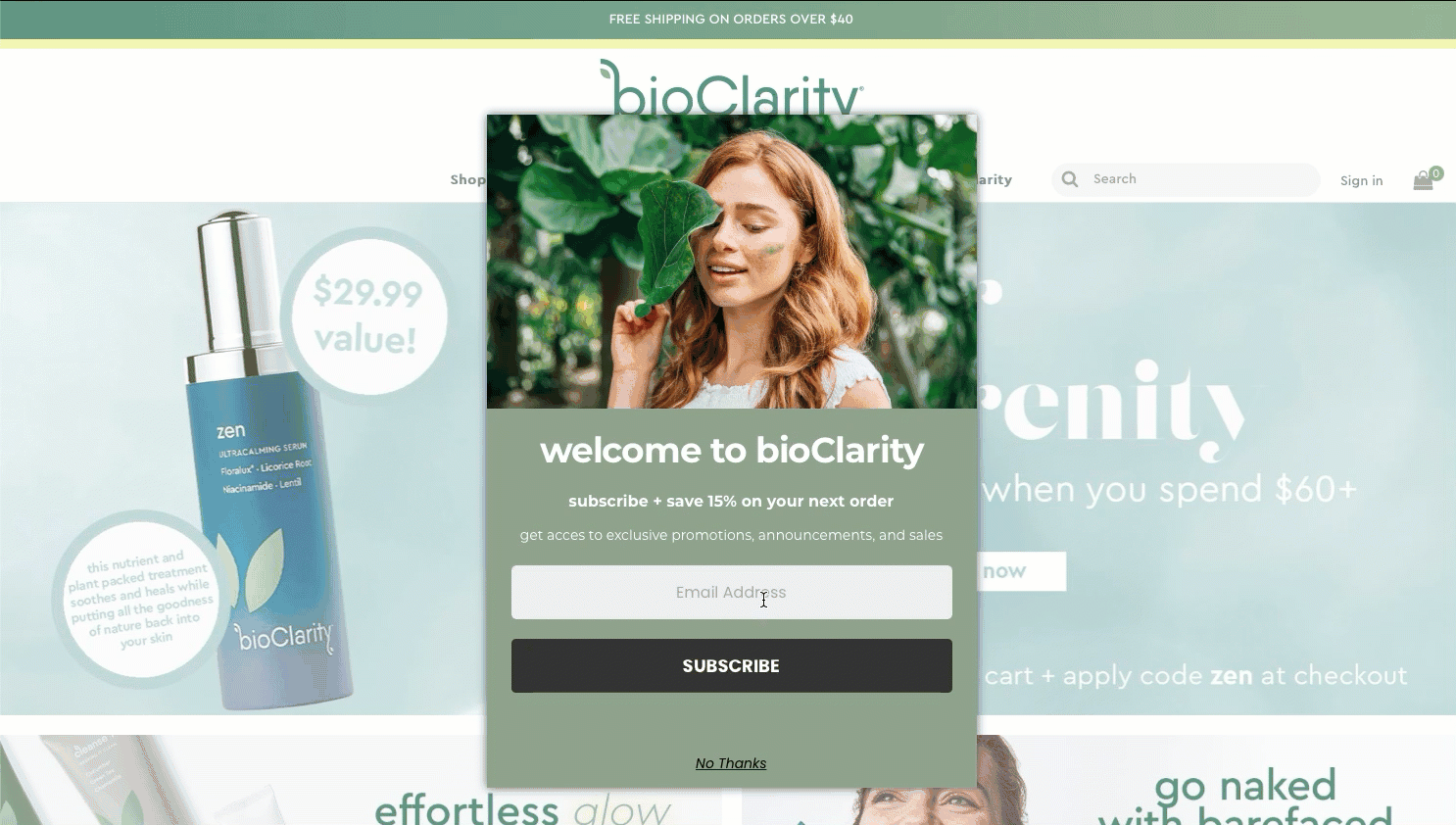 Two-step opt-in process. Email and phone collection appear on different steps/pages in the popup flow.
Compliance language. Our full compliance language appears directly beneath the call to action (CTA):

*I agree to receive recurring automated marketing text messages (e.g. cart reminders) at the phone number provided. Consent is not a condition to purchase. Msg & data rates may apply. Msg frequency varies. Reply HELP for help and STOP to cancel. View our

Terms of Service

and

Privacy Policy.

Terms of Service and Privacy Policy. Both your Terms of Service and Privacy policy are correctly linked in the compliance language.
Landing Page and Grow List
If you have a dedicated grow list landing page that you link to for opt-in, then it needs to be compliant.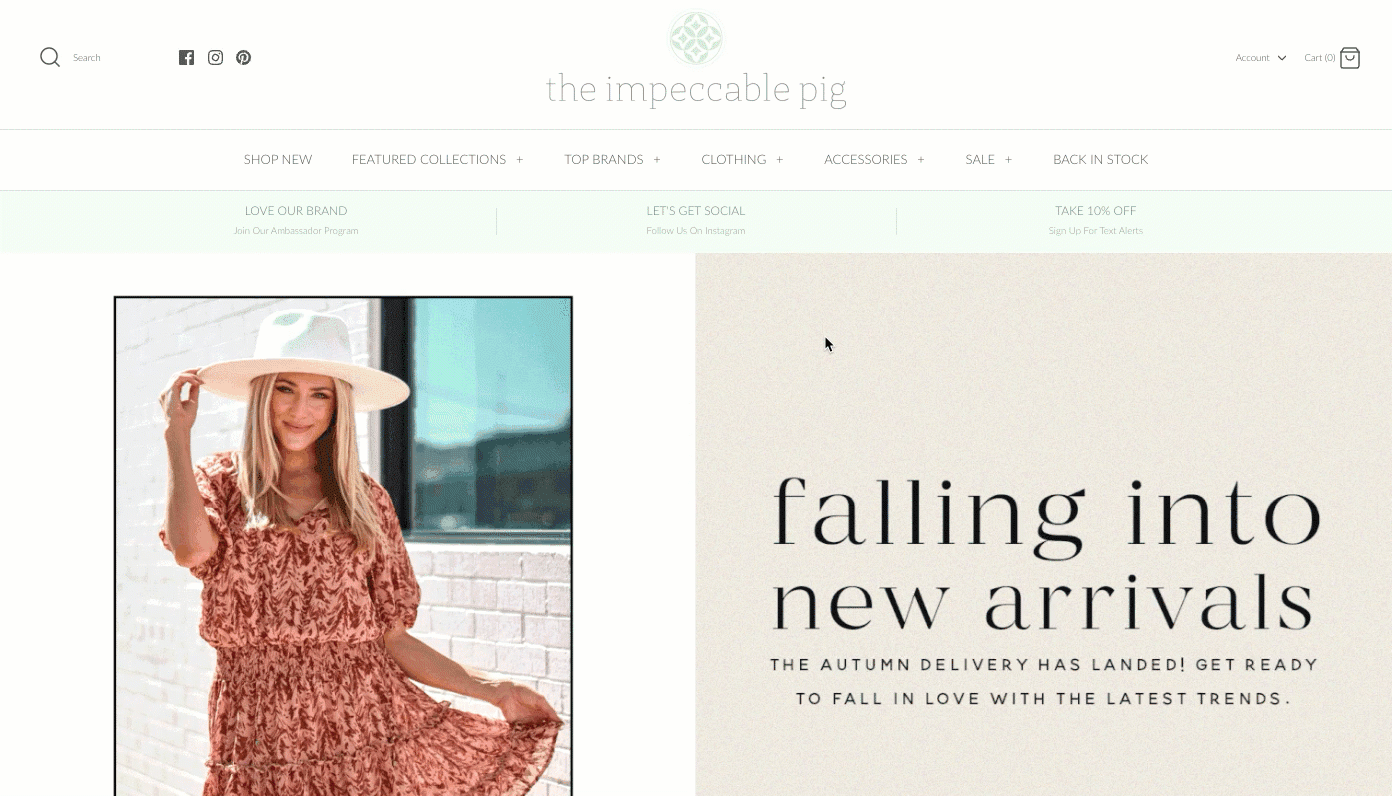 Compliance language. Our full compliance language appears directly beneath the call to action (CTA):

*I agree to receive recurring automated marketing text messages (e.g. cart reminders) at the phone number provided. Consent is not a condition to purchase. Msg & data rates may apply. Msg frequency varies. Reply HELP for help and STOP to cancel. View our

Terms of Service

and

Privacy Policy.

Terms of Service and Privacy Policy. Both your Terms of Service and Privacy policy are correctly linked in the compliance language.
Keywords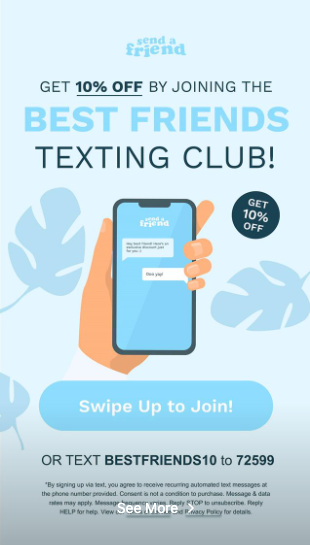 Compliance language. Our full compliance language appears directly beneath the keyword and short code/phone number:

*I agree to receive recurring automated marketing text messages (e.g. cart reminders) at the phone number provided. Consent is not a condition to purchase. Msg & data rates may apply. Msg frequency varies. Reply HELP for help and STOP to cancel. View our

Terms of Service

and

Privacy Policy.

Terms of Service and Privacy Policy. Both your Terms of Service and Privacy policy are correctly linked in the compliance language.
Embedded Forms

Compliance language. Our full compliance language appears directly beneath the call to action (CTA):

*I agree to receive recurring automated marketing text messages (e.g. cart reminders) at the phone number provided. Consent is not a condition to purchase. Msg & data rates may apply. Msg frequency varies. Reply HELP for help and STOP to cancel. View our

Terms of Service

and

Privacy Policy.

Terms of Service and Privacy Policy. Both your Terms of Service and Privacy policy are correctly linked in the compliance language.
Website and Checkout Footer
Your shop should include a Terms of Service and Privacy Policy on your website footer. Both of these policies should include the updated language discussed and linked below: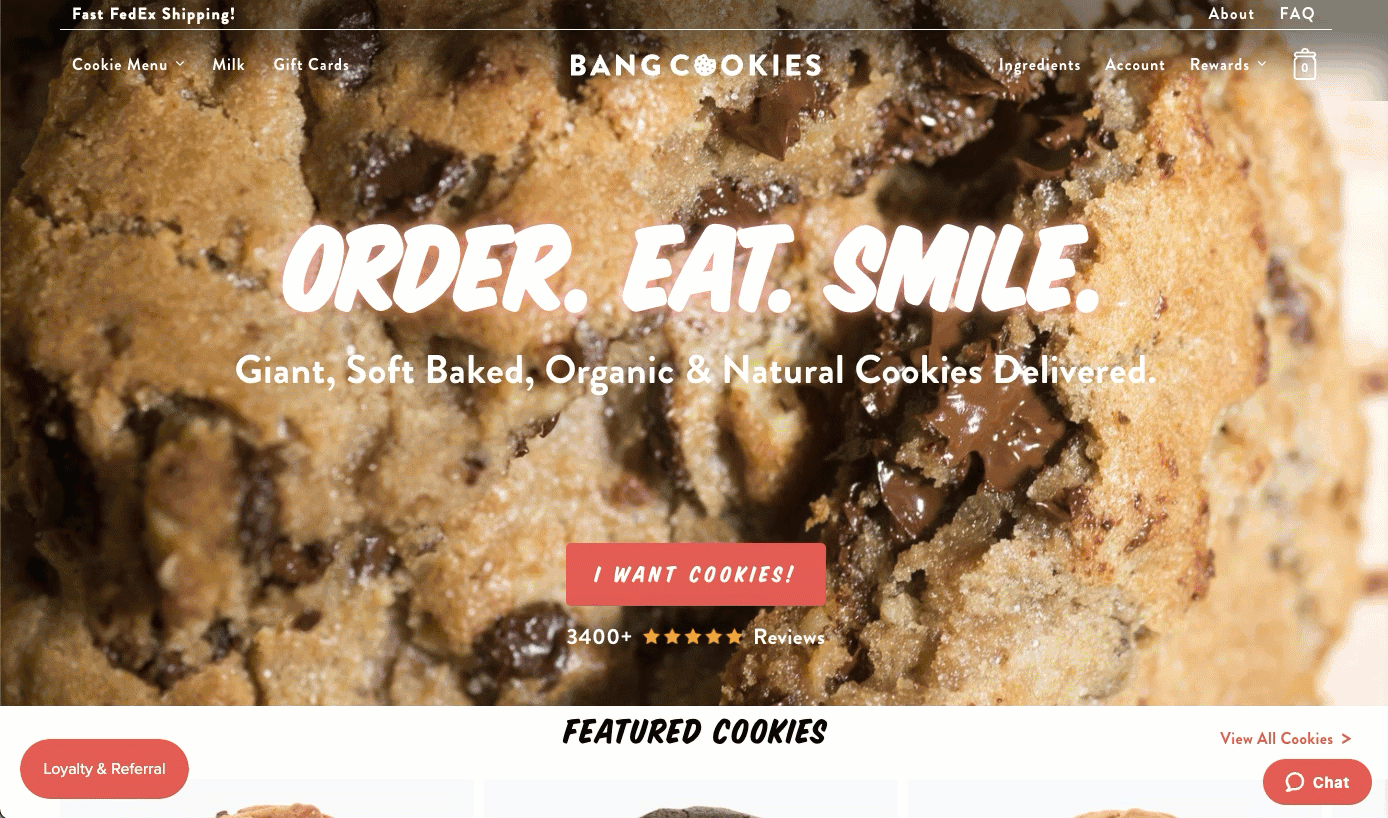 Terms of Service. Your Terms of Service page must include all phrases highlighted in yellow in our Terms of Service template. Phrases highlighted in blue must be present and exact to meet cellular carriers (e.g., Verizon, AT&T) requirements and CTIA policy.
Privacy Policy. Your Privacy Policy page must include the phrases highlighted in our Privacy Policy template. The rest is encouraged.
Learn how to update these policies and add them to your shop footer here: Terms of Service and Privacy Policy.
Checkout Page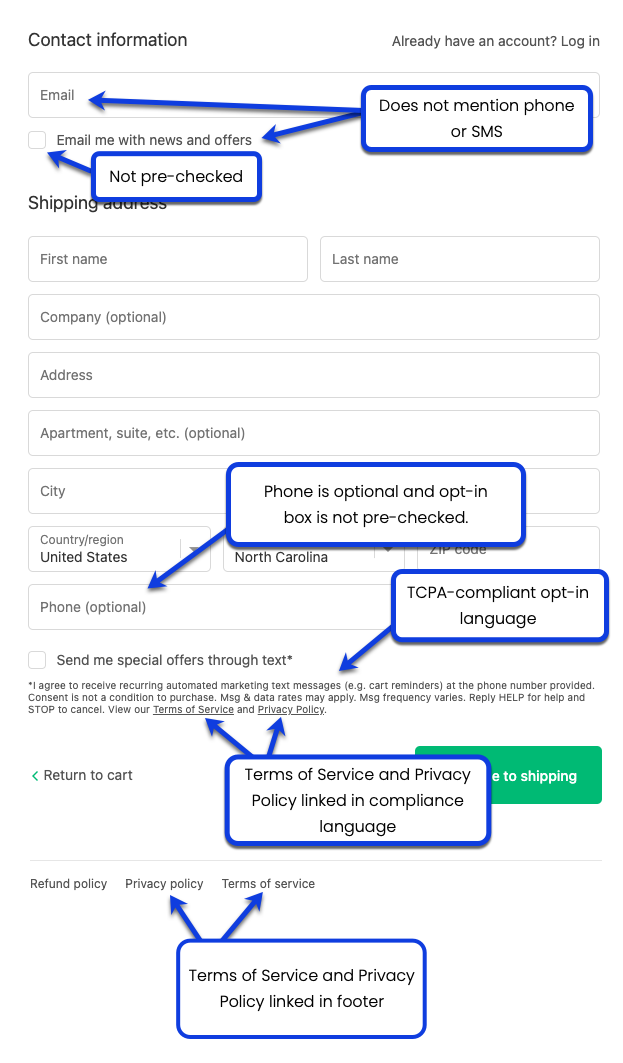 Email field. The text inside the email field should only ask for an email address, not an email and phone number.
Text below the email field. The text below the email field should only mention email, not phone or SMS.
Opt-in checkboxes. Opt-in checkboxes for both email and phone number should be optional and therefore not pre-checked. 
Compliance language. Compliance language should appear directly beneath the phone field and not elsewhere on the page.

*I agree to receive recurring automated marketing text messages (e.g. cart reminders) at the phone number provided. Consent is not a condition to purchase. Msg & data rates may apply. Msg frequency varies. Reply HELP for help and STOP to cancel. View our

Terms of Service

and

Privacy Policy.

Terms of Service and Privacy Policy. Both your Terms of Service and Privacy policy are correctly linked in the compliance language.
Checkout footer. Your Terms of Service and Privacy Policy should be linked in your checkout page footer.
Learn how to enable compliant subscriber collection during Shopify checkout here.
Get Support
---
Have questions? Please feel free to reach out to our wonderful Support team at support@postscript.io or via live chat. You can also submit a support request here!
Need ongoing channel strategy guidance? Please fill out this form and we'll connect you to one of our certified partners.