Who gets this?
Shops on all Postscript plans have access to this feature. To get enable this feature, contact your Customer Success Manager or our Support team.
Learn more about Postscript Plans.
Segments can be employed to filter out unengaged subscribers or mobile carriers - depending on carrier costs. When you segment by carrier, you can:
Segment out carriers that are experiencing sending delays.
Save money by segmenting out mobile carriers with higher carrier fees.
NOTE: Before Postscript can identify a subscriber's carrier, your brand will need to send a message to that subscriber. On a message send, we collect their mobile carrier information that you can recall in segments.
In this article, we'll walk you through how to segment by carrier.
Create a Segment by Carrier
---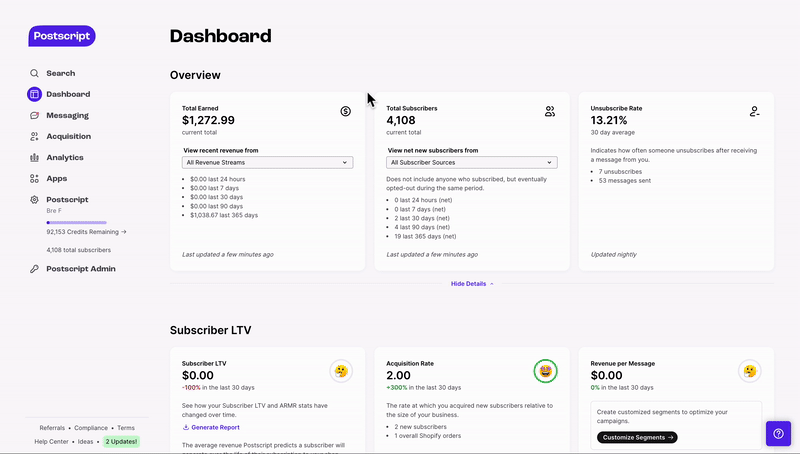 From your Postscript Dashboard, select Messaging. Then select Segments.
Select Create Segment in the upper-right corner.
Name your segment. Be sure to name your segment something that will allow you to easily identify this list in the future.
Select the dropdown and choose Subscriber Carrier. Choose a corresponding parameter (includes, does not include) and desired carrier you'd like to include or exclude.
To add additional carriers, select the + Add Rule action and repeat the previous step.
When you've completed building your segment, select Save Segment in the lower-right corner.
Get Support
---
Have questions? Please feel free to reach out to our wonderful Support team at support@postscript.io or via live chat. You can also submit a support request here!
Need ongoing channel strategy guidance? Please fill out this form and we'll connect you to one of our certified partners.