Who gets this?
This feature is currently in beta. If you'd like to enroll in spend notifications, please contact your Customer Success Manager or
our support team
.
Postscript allows you to set up text notifications when your usage bill has reached a specified threshold. This allows you to:
Stay on top of your spending even when you're away from the computer.
Get notified at multiples of your overall budget (i.e. if your budget is $600/mo, you can specify your SMS notifications to send at multiples of $100, $200, or $300).
Monitor your send activity throughout the month so you can better track your spend.
In this article, we'll discuss details about SMS spend notifications, then walk you through how to set it up.
About Spend Notifications
---
You can sign up for spend notifications to receive an SMS message when your usage reaches a specified dollar amount (the specified amount must be above $100) throughout a calendar month.
When your account usage (messaging fees + carrier fees) reaches or exceeds the amount you have specified in a single calendar month, you will receive a text message at the contact number listed in your account under Contact information. If you need to change the number you receive spend notifications from, you can do so in the Contact information section.
Additional alerts will be sent each time a multiple of the threshold is met throughout the month. However, if your spend notifications are configured to text you at multiples of $100 and you send a single campaign that costs $600, you will only receive one SMS notification (not six). 
Set Up Spend Notifications
---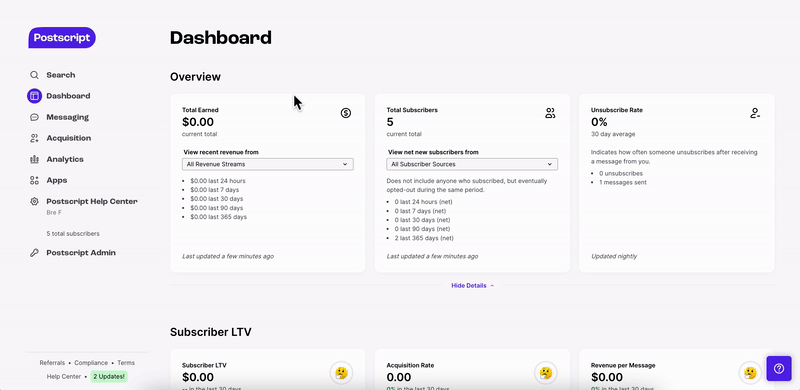 Select your Shop Name in the side menu of your Postscript dashboard, then select Settings.
Scroll to the Contact information section and confirm or enter the phone number you'd like to be notified at. Then select Save in the bottom-right corner.
Next, scroll down to Communication preferences. Check the checkbox that reads Text me every time my spend reaches a multiple of:**.

Note: You can choose if you'd like to also receive marketing messages from Postscript or just Spend Notifications. If you'd like to sign up for Spend Notifications only, be sure the checkbox that reads Text me news, product announcements, and other Postscript marketing content* is unchecked.

Enter the multiple that you'd like to be texted at. For example, if your SMS spend budget is $1000/mo, consider setting your multiple at $200 so you are texted at every $200 interval of usage.
Select the Save button in the lower right corner to save your changes.
You are now all set to receive SMS spend notifications!
Get Support
---
Have questions? Please feel free to reach out to our wonderful Support team at support@postscript.io or via live chat. You can also submit a support request here!
Need ongoing channel strategy guidance? Please fill out this form and we'll connect you to one of our certified partners.