Tip: Select any of the images or GIFs in this article for a closer look.
Recharge is now part of the Shopify checkout process. This means you simply need to have both Postscript and Recharge installed in your Shopify store to create and send Recharge automations.

About Recharge
---
Recharge is the leading subscriptions payments platform designed for merchants to set up and manage dynamic recurring billing across the web and mobile.
Why You Should Set Up Recharge
---
Quickly create a subscription program and integrate it with your top tools and payment processors.
Create a better subscription experience for your customers that increases lifetime value and overall engagement.
Avoid customer churn by allowing subscribers to skip or delay deliveries, as well as swap out products.
Gain insight into revenue, customers, and subscriptions with robust analytics.
Create Recharge Automations
---
There are a number of Recharge automations you can create in Postscript. We detail many of these automations here, and also break down the various automation triggers you have to choose from below.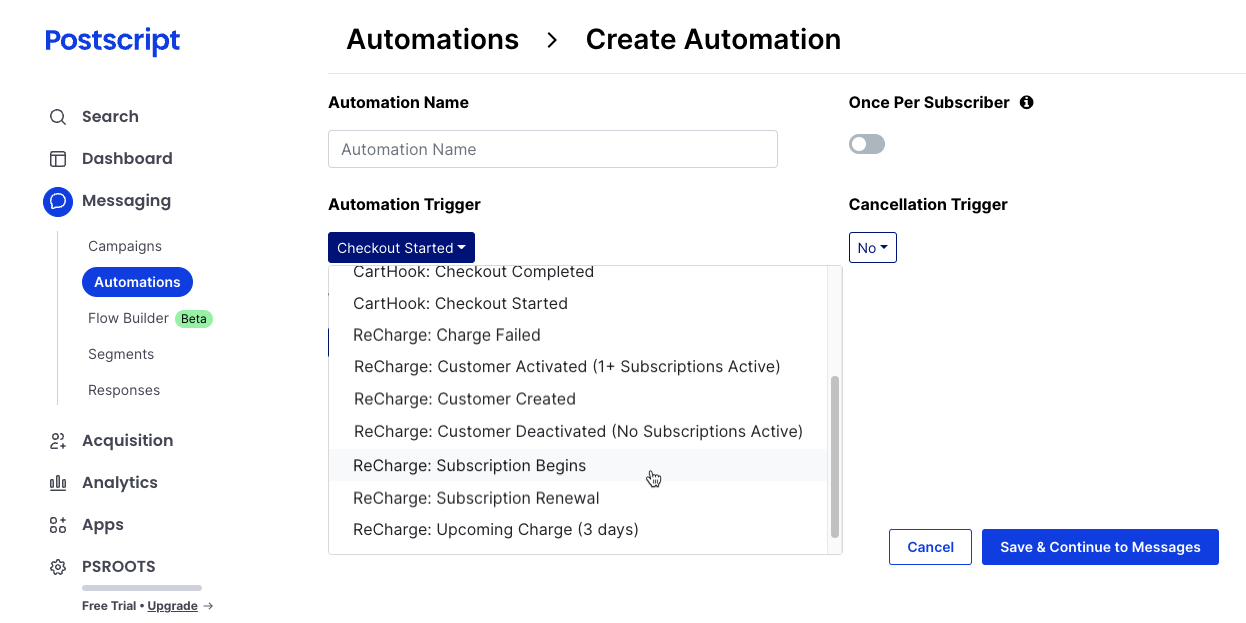 Select Messaging in the side menu of your Postscript dashboard, then select Automations.
Select Create Automation in the top-right corner of the page.
You can choose to create a Custom Automation or select Abandoned Cart to use a template.
Locate your Automation Trigger and select your desired trigger. We detail them below.
Under Cancellation Trigger, select Yes.
From the

 

Cancel automation if

 

drop-down, select

Order Created.
Continue with creating your automation.
Trigger Name
Definition
Checkout Started

Customer has started the checkout process

If you are using Recharge's legacy checkout, you'll select Recharge: Checkout Started

Order Created

Customer has created an order

If you are using Recharge's legacy checkout, you'll select Recharge: Order Created

Recharge: Charge Failed
Method of payment failed
Recharge: Customer Activated (1+ Subscriptions Active)

Customer has purchased before and has at least 1 monthly subscription currently active

ReCharge: Customer Created
Customer has made their first purchase
Recharge: Customer Deactivated (No Subscription Active)
Customer

 

has purchased before but has no monthly subscription currently active

Recharge: Subscription Begins
Customer has activated a subscription
Recharge: Subscription Renewal

Customer's confirmation of renewal

Recharge: Upcoming Charge (3 Days)
Reminder of upcoming charge for subscription
Get Support
---
Have questions? Please feel free to reach out to our wonderful Support team at support@postscript.io or via live chat. You can also submit a support request here!
Need ongoing channel strategy guidance? Please fill out this form and we'll connect you to one of our certified partners.