Tip: Select any of the images or GIFs in this article for a closer look.
Growing your subscriber list is an essential part of a strong SMS strategy, and Postscript offers several creative ways to add SMS list growth opportunities throughout your marketing efforts.
In this article, we are going to introduce growing your list using QR codes.
About QR Codes
---
QR codes offer a quick and interactive way to invite customers to opt-in to receiving SMS messages from your store. When a user opens their phone app and scans the code, their messaging app automatically launches and pre-fills a text with a message you create. The user simply needs to send the text to complete the opt-in process. 
Where You Can Use a QR Code
---
Add a QR code on printed mail inserts included with shipped orders.
Print QR codes on business cards, flyers, or brochures circulated at trade shows, festivals, and other events.
Include QR codes in email campaigns and other social marketing campaigns. 
Your QR Code Options
---
We walk through two ways to create a QR code in this article. Each works for particular situations where you may want to use a QR code while still ensuring you are compliant with TCPA standards.
These options include:
Create a QR code with Postscript. Ideal for materials where you have compliant language displayed with the QR code.
Create a QR Code with a QR code generator. Ideal for materials where space is limited. QR code links to a dedicated landing page you have created that contains a compliant opt-in form.
Create a QR Code with Postscript
---
As mentioned above, creating a QR code with Postscript is ideal when you have space to include the QR code and TCPA-compliant language. Examples would include packaging inserts, flyers, mailers, etc.
Why do you need opt-in language? When a user scans the code, it'll automatically launch the native messaging app with a pre-populated message you write during QR creation. All the user has to do is send. However, the user must know what they're signing up for (i.e., SMS marketing) before they scan the code, which is where the opt-in language comes in.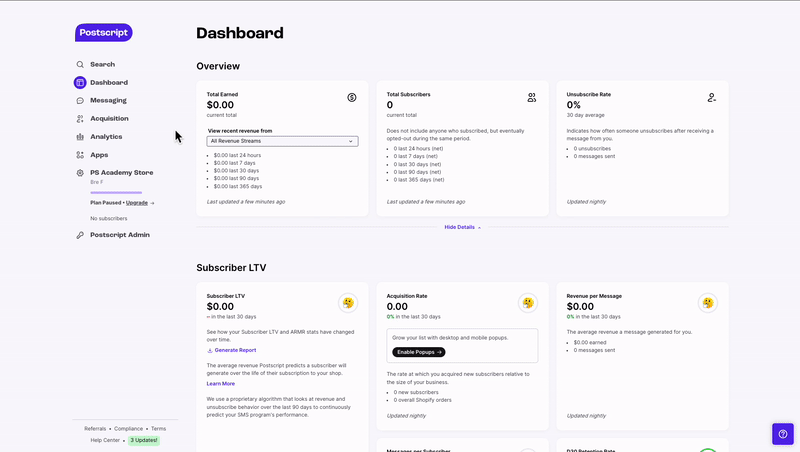 Select Acquisition in the side menu of your Postscript dashboard, then select List Growth Tools.
Locate the Opt in Customers with QR Codes and select Create QR Code to the far-right of the option.
Choose your desired keyword from the drop-down. Postscript will log users as opted-in with this keyword.

If offering a coupon with the QR code, ensure you choose a keyword that has a coupon associated with it.
When users send a message with this keyword, it will trigger a specific welcome series and send the corresponding coupon.

Edit your message, if desired. This is the message that will populate in the user's messaging app when they scan the QR code.

Remember that this message is an invitation for the user to subscribe to SMS texts.
You can write this message in your brand's voice, but avoid direct product marketing in this space.

When ready, select Generate QR Code.
Save your QR code. It'll save as an image file you can add to your marketing material designs.
Select the copy icon at the bottom of the page to copy the compliance language. Remember, this language must appear with the QR code on your materials.
Create a QR Code with a QR Code Generator
---
As mentioned above, creating a QR code with a QR code generator is ideal when you have limited space and only enough room for the QR code. For example, if you sell protein bars and want to include the QR code on your bar wrapper.
What about compliance language? With a QR code generator, you can link to a dedicated landing page you've created where you've embedded a compliant opt-in form. These forms include a call to action (i.e., Join our SMS club to stay in the loop of promotions and new products), a field where the user can enter their phone number, and TCPA compliant language beneath the form.
There are many QR code generators out there. We use QR Code Generator in our example below.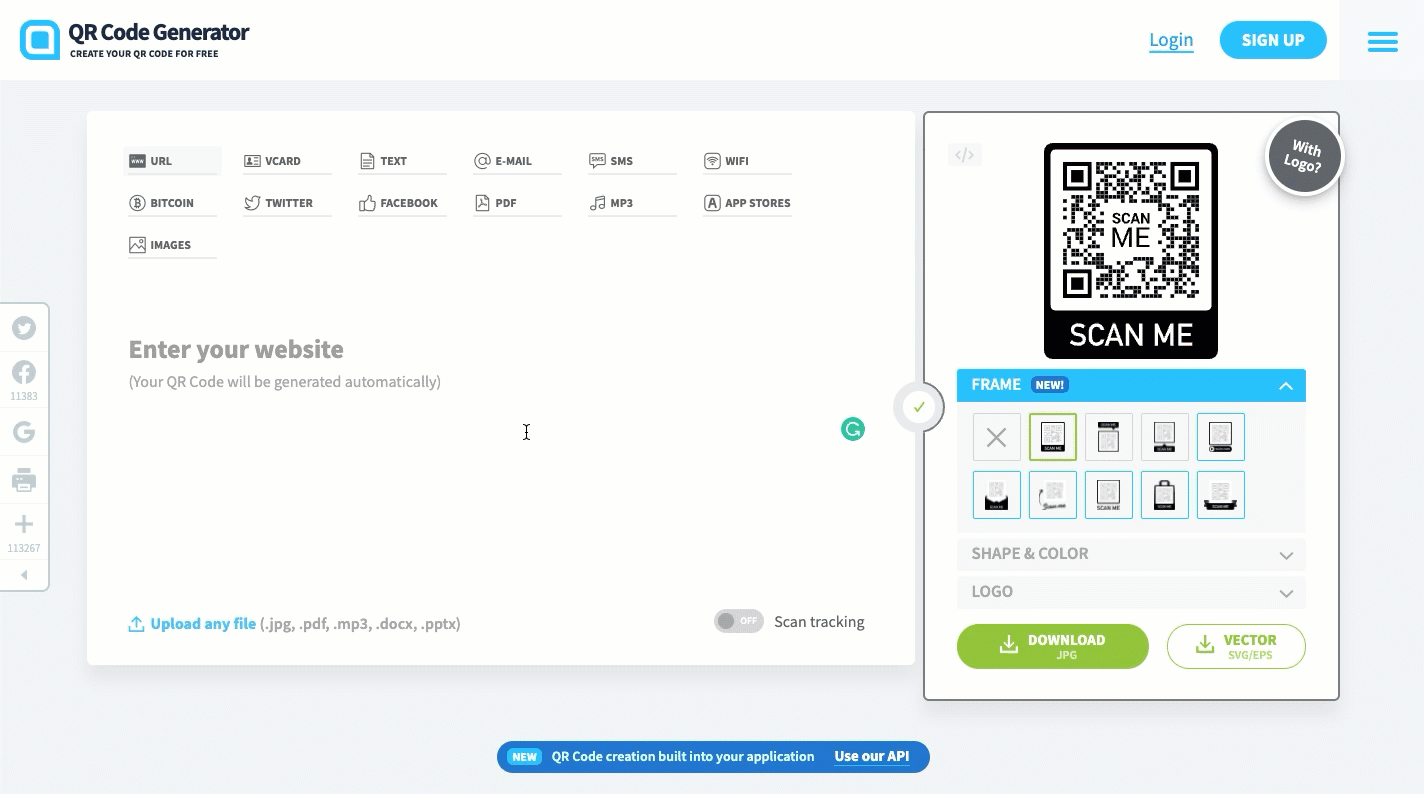 Select the option to create a QR code that links to a URL.
Enter the URL for your compliant opt-in form.
QR Code Generator automatically creates your code to the right. You can test it out on your phone if desired.
Select your QR code styling, if desired.
Select Vector in the bottom-right corner of the page to save your QR code as an SVG file.
Here's an example of the QR code to dedicated landing page flow: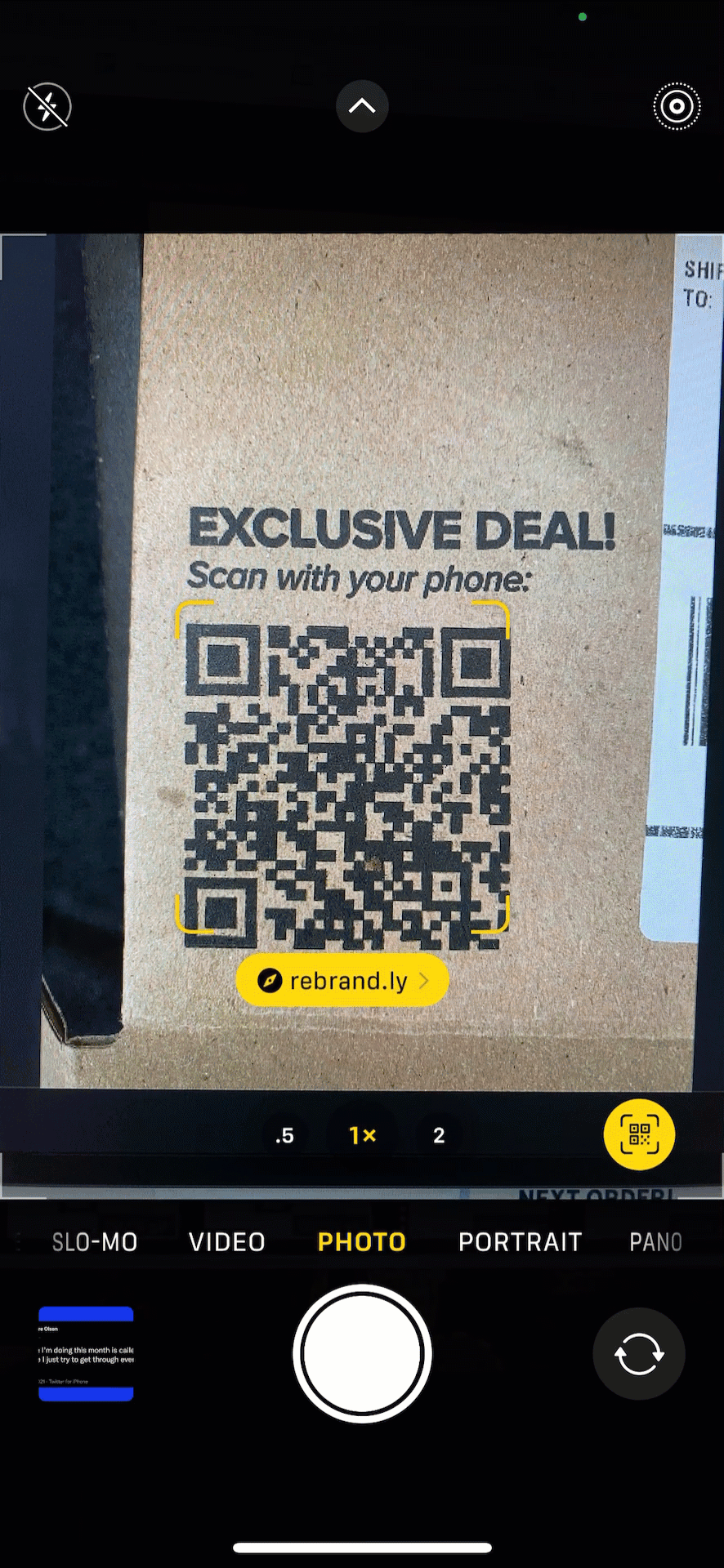 Compliance Language Requirements
---
When collecting subscribers, the TCPA requires you to include necessary compliance language that informs visitors that they are opting into SMS messaging from your store.
Compliance language needs to appear with the QR code in both print and digital content if you are creating a QR code with Postscript.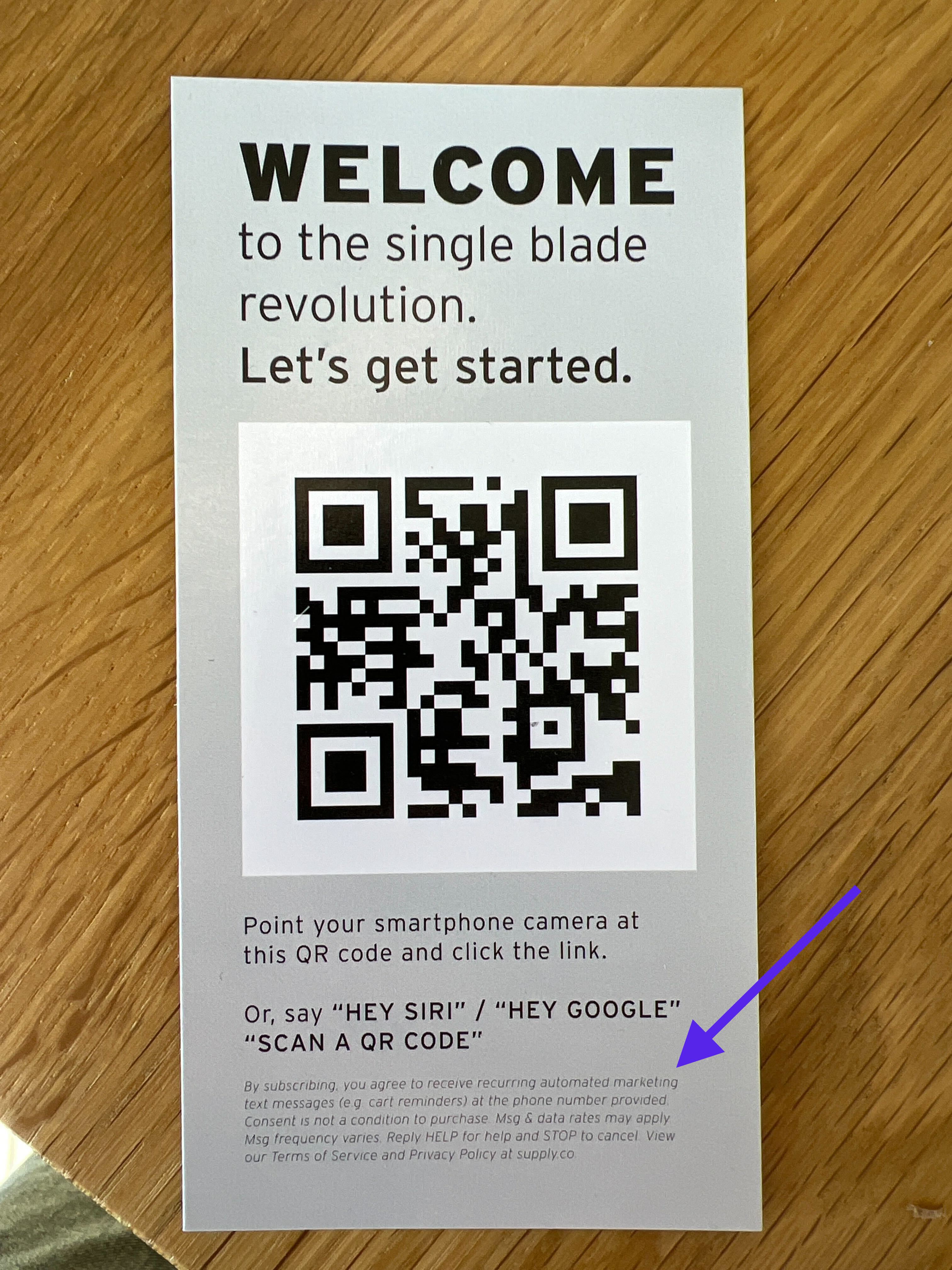 Here's the TCPA-approved compliance language:
*By providing your phone number, you agree to receive recurring automated marketing text messages (e.g. cart reminders) from this shop and third parties acting on its behalf. Consent is not a condition to obtain goods or services. Msg & data rates may apply. Msg frequency varies. Reply HELP for help and STOP to cancel. You also agree to the Terms of Service and Privacy Policy.
Note: In order to collect subscribers compliantly, your shop's Terms of Service and Privacy Policy need to be hyperlinked in the language shown above. If they cannot be hyperlinked, the full URLs of each need to be included so a viewer may search your terms or privacy policy if needed.
For example, "You also agree to the Terms of Service (https:/myshop.com/terms-of-service/) and Privacy Policy (https://myshop.com/privacy-policy/)."
Get Support
---
Have questions? Please feel free to reach out to our wonderful Support team at support@postscript.io or via live chat. You can also submit a support request here!
Need ongoing channel strategy guidance? Please fill out this form and we'll connect you to one of our certified partners.