Tip: Select any of the images in this article for a closer look.
Growing your subscriber list is an essential part of a strong SMS strategy, and Postscript offers several creative ways to add SMS list growth opportunities throughout your marketing efforts.
In this article, we are going to introduce growing your list using QR codes.
About QR Codes
---
QR codes offer a quick and interactive way to invite customers to opt-in to receiving SMS messages from your store. When a user opens their phone app and scans the code, their messaging app automatically launches and pre-fills a text with a message you create. The user simply needs to send the text to complete the opt-in process.
An added bonus of QR codes is that the codes don't have to remain virtual. Postscript allows you to download the image enabling you to print it on brochures, flyers, and/or mailers. Here are some popular examples:
Add a QR code on printed mail inserts included with shipped orders.
Print QR codes on business cards, flyers, or brochures circulated at trade shows, festivals, and other events.
Include QR codes in email campaigns, Instagram swipe-up stories, and other social marketing campaigns.
Create a QR Code
---
You can create a QR code by selecting Grow List on the side menu of your Postscript dashboard.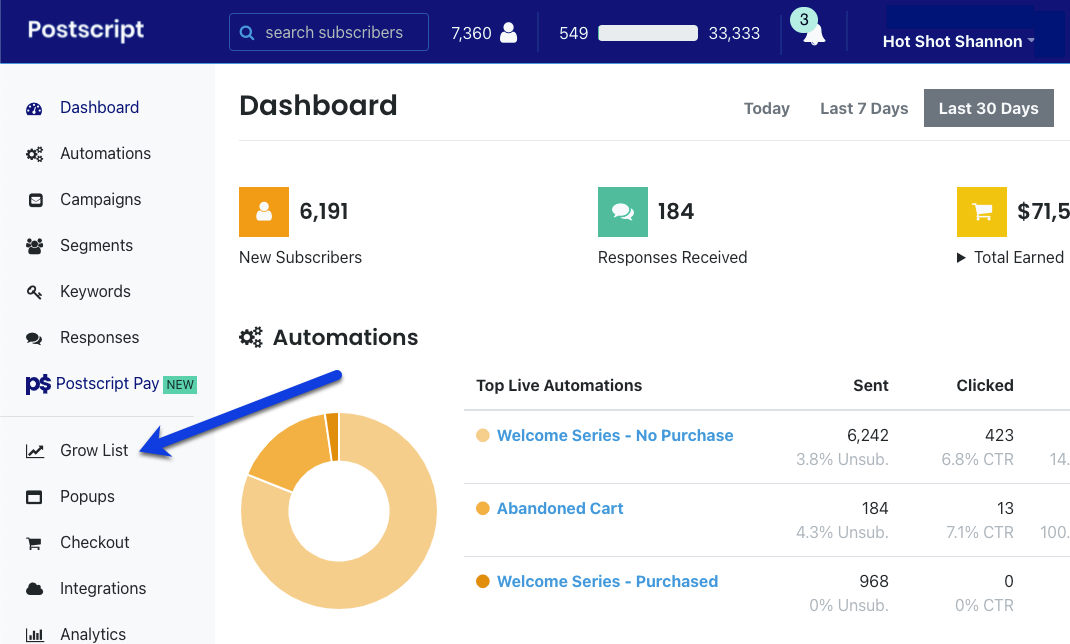 The Grow List page contains various additional methods for growing your list: text to opt-in, convert your email list, and opt-in via a short link. Each of these methods either direct potential subscribers to a landing page where they can opt-in to receive SMS messages from your store, or launch a pre-filled text in their messaging app.
Locate the Opt In Customer with QRCodes option and select Create QRCode to the right of the option.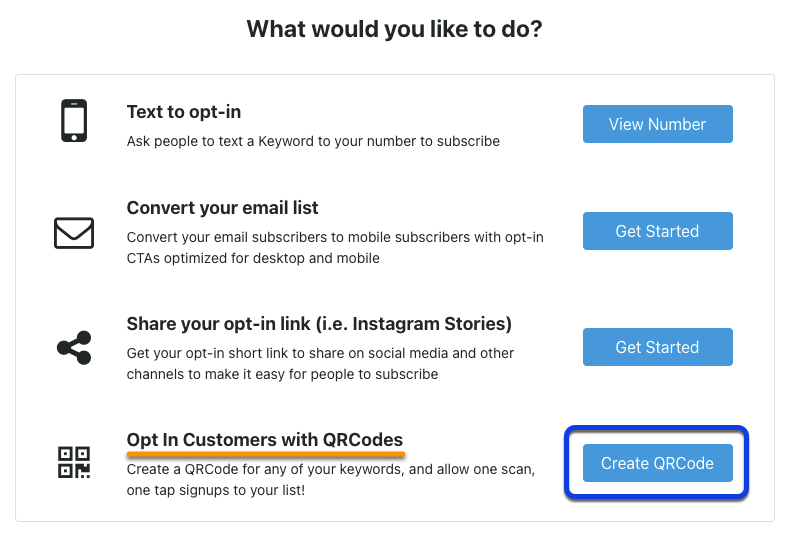 You can follow the prompts on the following page to create your QR code and your pre-filled text message.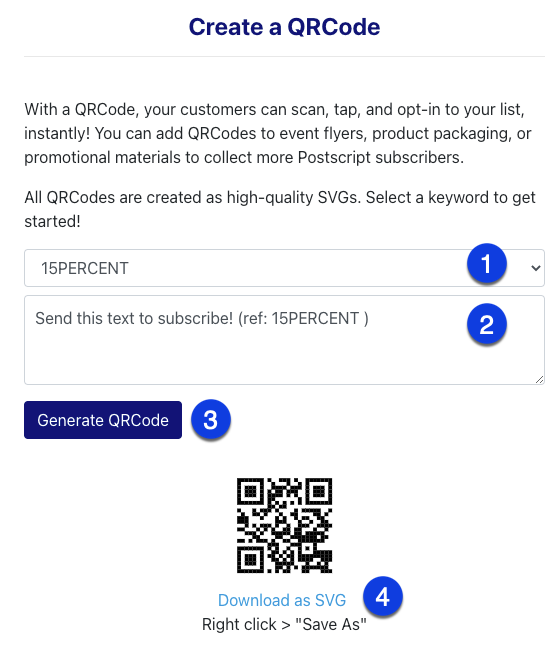 Choose a Keyword. We recommend you choose a keyword that has a coupon associated with it. When users send a message with this keyword, it will trigger a specific welcome series and send the corresponding coupon.
Write your pre-filled text. Remember that this message is an invitation for the user to subscribe to SMS texts. You can write this message in your brand's voice, but avoid direct product marketing in this space.
Generate QRCode. When you're ready, select Generate QRCode to display the QR code image.
Save your QR code. Right-click on the QR code and save the image as an SVG file. Now it's available for you to include in print and digital content.
Compliance Language Requirements
---
When collecting subscribers, the TCPA requires you to include necessary compliance language that informs visitors that they are opting into SMS messaging from your store. Compliance language needs to appear with the QR code in both print and digital content.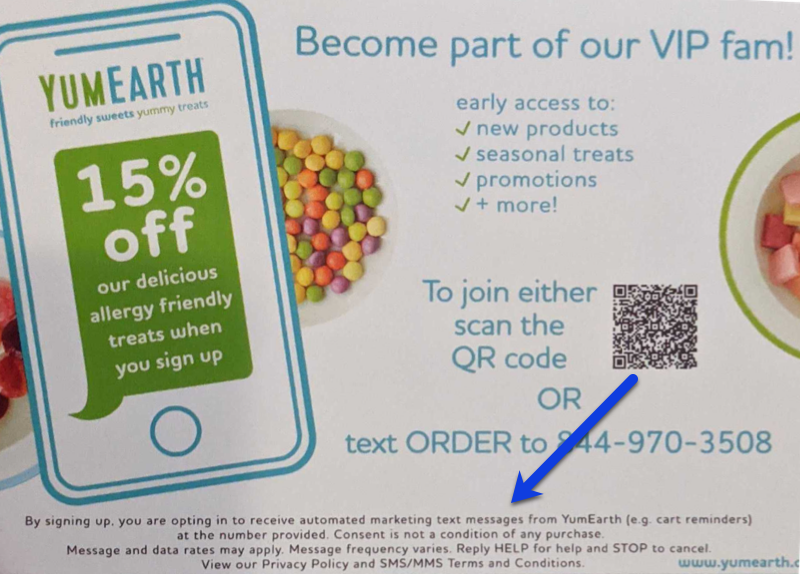 Here's the TCPA-approved compliance language:
*I agree to receive recurring automated marketing text messages (e.g. cart reminders) at the phone number provided. Consent is not a condition to purchase. Msg & data rates may apply. Msg frequency varies. Reply HELP for help and STOP to cancel. View our Terms of Service and Privacy Policy.
You're all set to begin using your QR code!
Between now and Cyber Monday, we're dropping monthly 🔥 resources to help you 
crush your Q4 marketing goals. Come check out our 2021 Holiday Hub.
Get Support
---
Have questions? Please feel free to reach out to our wonderful Support team at support@postscript.io or via live chat. You can also submit a support request here!
Need ongoing channel strategy guidance? Please fill out this form and we'll connect you to one of our certified partners.