Tip: Select any of the images or GIFs in this article for a closer look.
Note:
At this time, the Swym x Postscript integration is only available to brands on Swym's Back in Stock Alerts Pro Plan and up. Learn more about Swym plans
here
.
Postscript integrates with Swym, allowing you to share information between the two solutions.
About Swym
---
Swym is a shopper engagement platform equipped with back-in-stock and pre-order alerts, a full-featured wishlist, insights and analytics, and more.
Why You Should Set Up Swym
---
Send back-in-stock automations from Postscript using Swym-specific automation triggers

.

Seamlessly collect subscriber data from your Swym back-in-stock form.
Create a Postscript API Key
---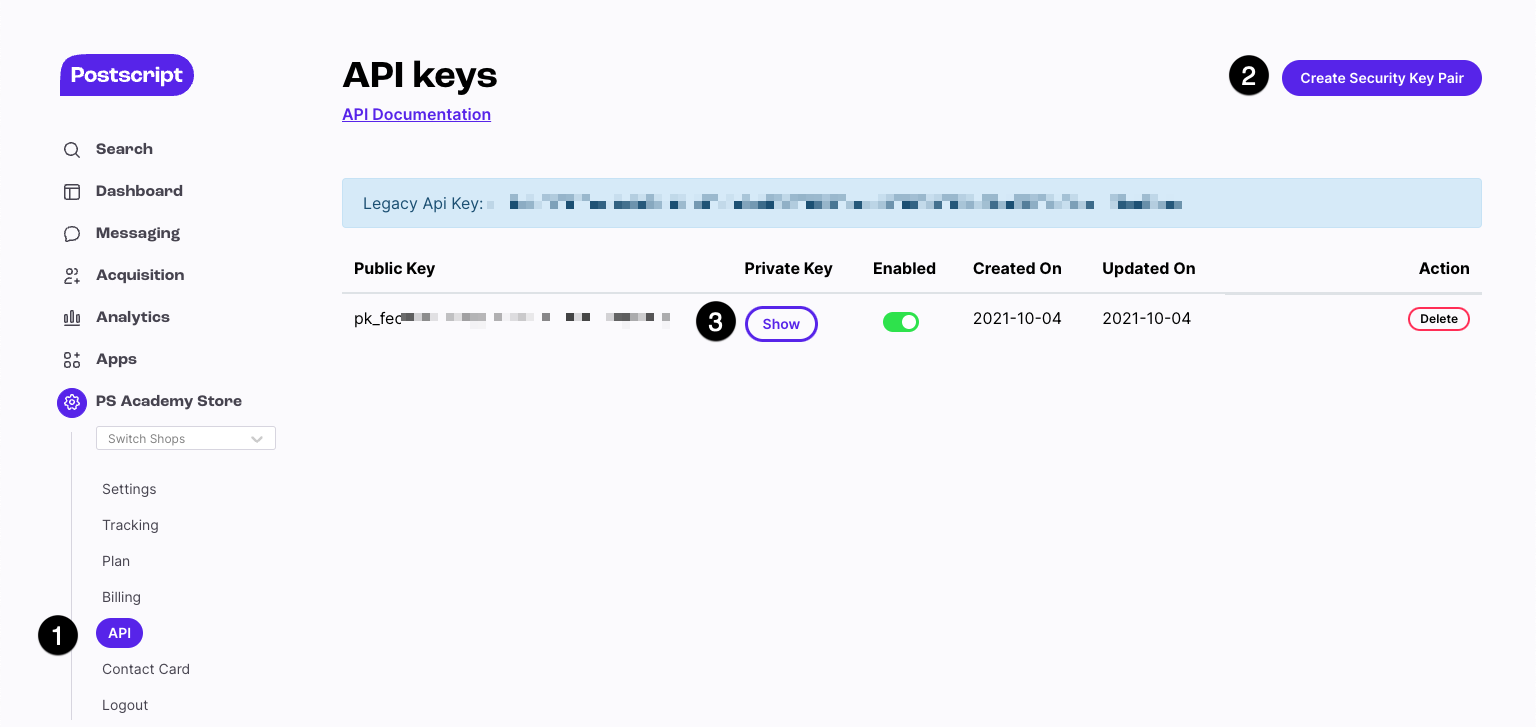 Select your Shop Name in the side menu of your Postscript dashboard, then select API.
Select Create Security Key Pair on the right side of the page, then confirm your action by selecting Yes.
Select Show in the Private Key column to reveal your API key. Copy this key or write it down—you'll need to enter it in Swym later.
Configure Postscript in Swym
---
1. Enable Back-in-Stock Alert Events by heading to your Swym Admin and selecting Configure next to Configure back-in-stock alerts.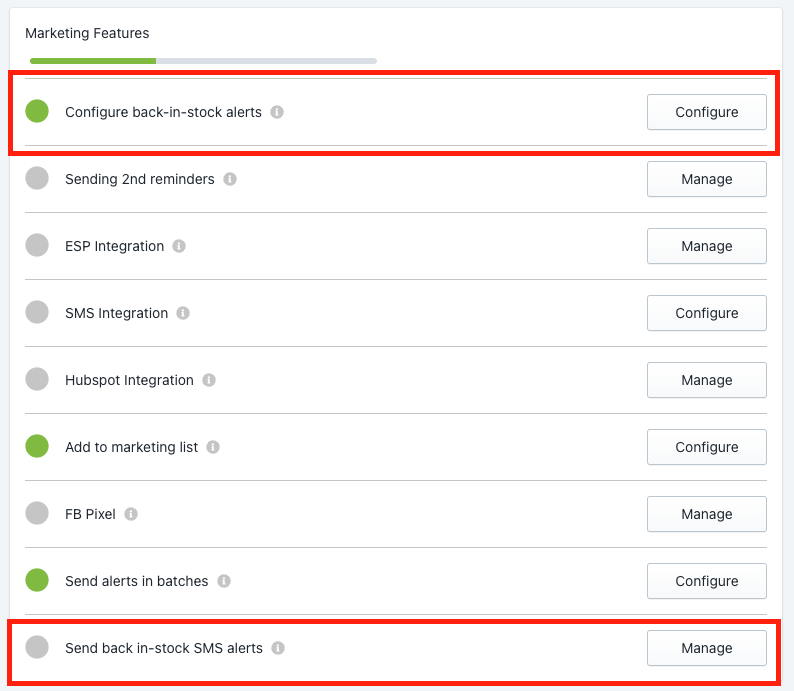 2. Next, select Manage next to Send back-in-stock SMS alerts.

3. Under Chose SMS Provider and configure, select Postscript. Then select Configure.

4. Enter the private API key you created eariler in Postscript. Select Save Configurations.

5. Add a Postscript keyword. The reply created for this keyword will be the reply subscribers receive upon opt-in. Tip: Create or use a keyword that's specific to your Swym acquisition efforts to easily track performance analytics on this source in the future. Select Save Configurations.

6. Scroll down to the Countries section and select the countries you want to market to. Select Save List.

7. Under the Events section, select the back-in-stock triggers you'd like to enable. Note: Only the triggers you enable in your Swym admin will show in Postscript.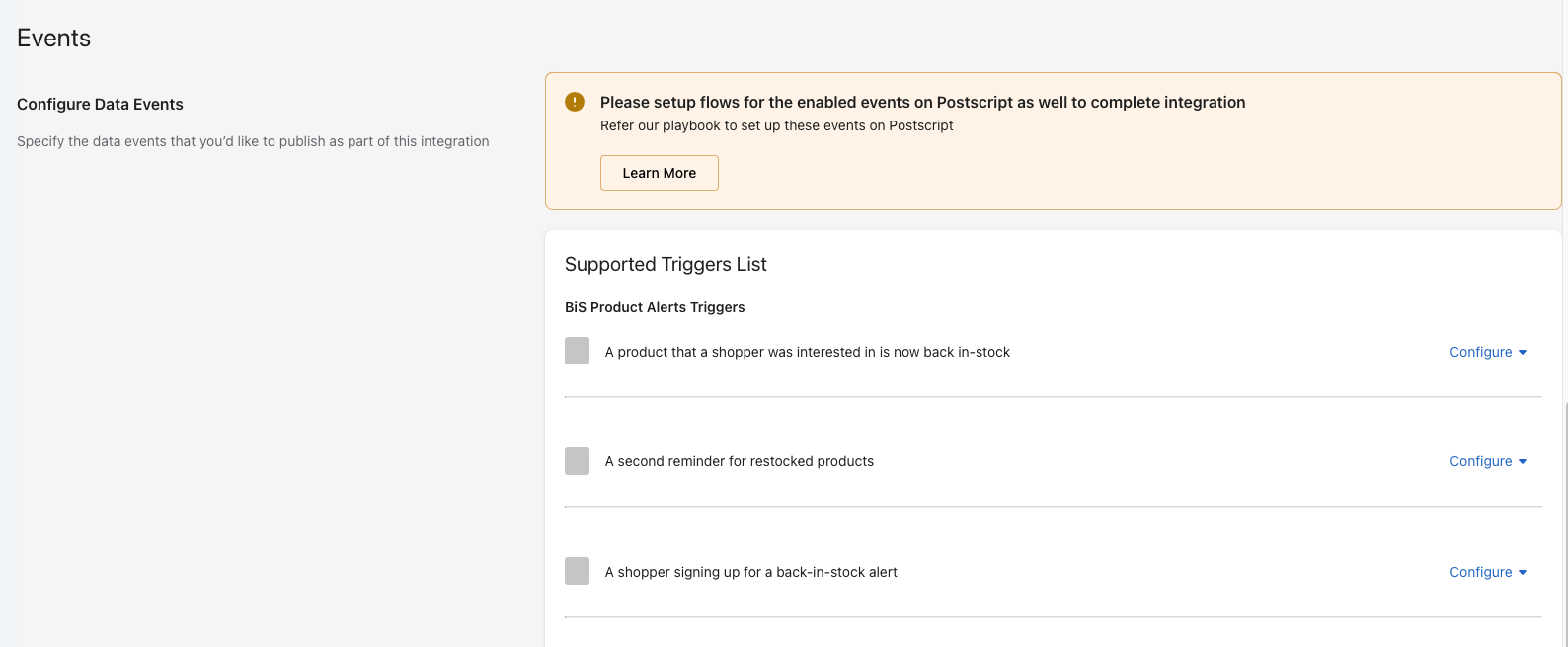 Swym-Specific Automation Triggers
---
Swym offers unique automation triggers that you can select when creating a legacy automation. Each trigger comes with dynamic message tags you can insert in your automation message. Learn more about event-level data elements included with each trigger here.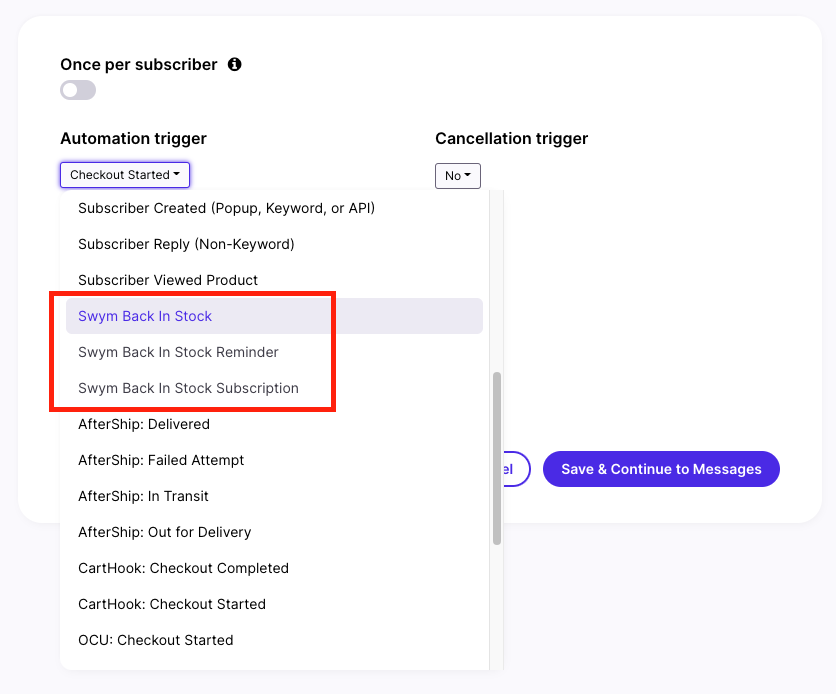 Note: When using Swym's Back In Stock trigger, add a message delay of at least 5 minutes. This allows Swym time to add any new subscribers sourced from the back-in-stock form to your Postscript account so that those subscribers are eligible to receive your back-in-stock messages.
Get Support
---
Have questions? Please feel free to reach out to our wonderful Support team at support@postscript.io or via live chat. You can also submit a support request here!
Need ongoing channel strategy guidance? Please fill out this form and we'll connect you to one of our certified partners.