If you are new to Postscript, you can upload a list of SMS subscribers you collected on another platform. In order to do so, you'll need to ensure and certify that you collected these subscribers in a TCPA-compliant manner. By uploading an existing subscriber list, you can:
Jumpstart your Postscript SMS marketing efforts with a solid subscriber base.
Start viewing the effectiveness of campaigns and automations as opposed to waiting for enough subscribers to measure effectiveness.
Create more curated SMS experiences for these users than previously available (i.e., engaging welcome series automations).
In this article, we'll walk you through how to upload your subscriber list and recall a list upload via segment creation.
Upload Your Subscriber List
---
You can access the form for uploading your existing SMS subscriber list here.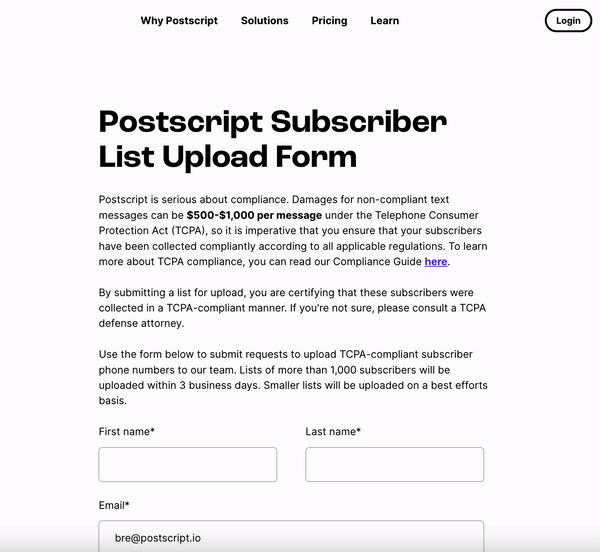 Enter your basic contact and shop details.
Specify which Application you used to collect these subscribers.
Select which Collection Methods were used to collect these subscribers.
Enter the Number of Subscribers included in your .csv file.

Uploading more than 1,000 subscribers ends your Postscript free trial. If applicable, acknowledge that you understand. 

Indicate if your list includes unsubscribed phone numbers. If your list has unsubscribed numbers that are clearly marked, select the first option. If your list has unsubscribed numbers and they are not clearly marked, please upload a list that has unsubscribed phone numbers clearly marked, or entirely excluded.
Enter any tag you would like applied to subscribers in this list. Tags help with segmentation and allow you to target subscribers in a specific list upload. We discuss this more below.

Note: Tags are case and character-sensitive. How you enter it in the form is how the Postscript team will tag it in the app (e.g., facebook vs. Facebook, Oct_Giveaway vs. Oct Giveaway).

Attach your Subscriber List. Files must be in .csv format.
Certify that you collected these subscribers in a TCPA-compliant manner.
Select Submit.
   Note: Please note that by submitting a list for upload, you certify you collected subscribers in a TCPA-compliant manner. If you're not sure, please consult a TCPA defense attorney.
List Upload Compliance
---
Postscript is serious about compliance. Damages for non-compliant text messages can be $500-$1,500 per message under the TCPA, so it is imperative that you ensure you collected your subscribers compliantly according to all applicable regulations.
To learn more about TCPA compliance, you can read our Compliance Guide.
What's Next?
---
Our team uploads and tags subscriber lists in 3 business days. You'll receive an email notification once a team member starts the process, and you will see a popup notification within your Postscript dashboard once this process completes. 
Please ensure that subscribers' statuses are clearly marked. If they are not clearly marked as either opted in or opted out, expect delays in processing time while we work with you to confirm each subscriber's opt-in status. 
Once you've got your imported subscribers into Postscript, consider sending out a welcome message via a campaign that lets them know about your new number.
Create a Segment for a Tagged Uploaded List
---
Once the Postscript team has uploaded a subscriber list, you can create a customer segment using the tag(s) that will allow you to reach out to the subscribers that were included in that particular list upload. You may consider creating a segment of recently uploaded subscribers to introduce these subscribers to your new toll-free number or short code or send them a personalized welcome series campaign.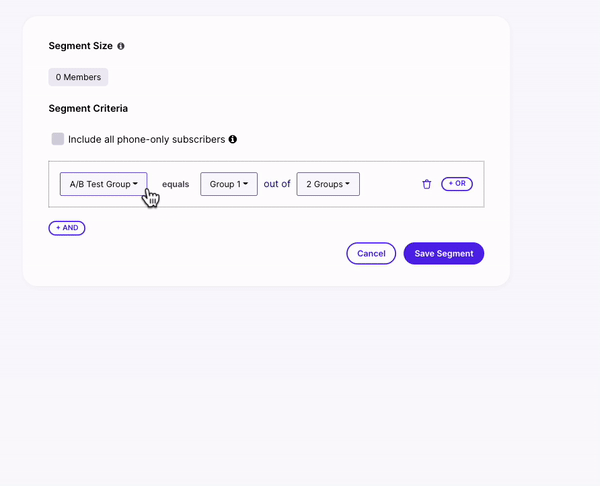 Select Messaging in the side menu of your Postscript dashboard, then select Segments.
Select Create Segment in the top-right corner of the page.
Name your segment. It might help to include List Upload and your tag name so you can easily identify it when selecting it for a campaign.
Select Subscriber Tags from the Segment Criteria drop-down.
In the Value field, enter the name of your tag.

Note: Tags are case and character-sensitive. You will need to enter the tag exactly how the Postscript team tagged it in the app. Once entered, the number of members in your segment should refresh.

Select Save Segment in the bottom-right corner of the page.
Additional Resources
---
Get Support
---
Have questions? Please feel free to reach out to our wonderful Support team at support@postscript.io or via live chat. You can also submit a support request here!
Need ongoing channel strategy guidance? Please fill out this form and we'll connect you to one of our certified partners.