Postscript brands on the Professional and Enterprise brands can be billed through US Automated Clearing House (ACH). In order to set up ACH payments, your brand must be on Usage Billing, billed directly through Postscript, and have a bank that accepts US ACH debits.
In this article, we'll guide you through how to set up your account to be billed via ACH.
Set Up ACH Payments
---
Select your shop name in the side menu of the Postscript dashboard, then select Billing.
Under the Overview tab, locate the Payment method table then select Manage Payment Methods.
Select Add Payment Method, then Bank Account.
Enter account holder details then select Continue.
After you select Continue, you will see a Stripe popup. Postscript uses Stripe to manage direct billing. To authorize ACH payments via Stripe, select Agree at the bottom of the popup.
Once you click Agree, you will be prompted to select and sign into your bank account to complete the process.
Verification Process
---
If you would like to manually enter your routing and account number, a micro-deposit will be attempted to ensure that the details are valid.
Your payment method may show as Needs Verification until the micro-deposit is completed. Once the micro-deposit posts to your account, you will receive an email (the email associated with your Postscript account. You can find yours here under Contact information) promoting you to verify the deposit and finish the set up.
When your ACH setup is complete and your account is verified, your payment methods will display in-app like the image below.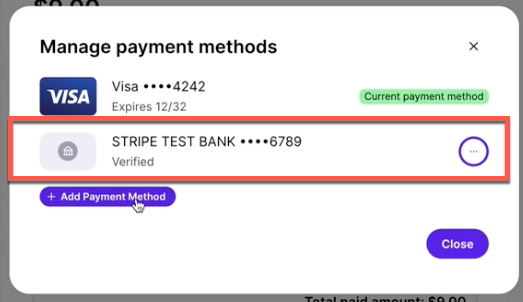 After the payment method shows as Verified, you can select the three dots to the right of your listed bank account and choose this method as your Current payment method. 
Additional Resources
---
Did you know special characters and emojis impact character count? Learn more

 

about the impact these have on character count, and ultimately, your bill.
Interested in learning more about your Postscript Bill and Charges? We've got you covered with

 

this guide.
Need to brush up on what your Postscript Plan includes? Check out

 

this article

 

for an overview of what's included with each Postscript plan.
Get Support
---
Have questions? Please feel free to reach out to our wonderful Support team at support@postscript.io or via live chat. You can also submit a support request here!
Need ongoing channel strategy guidance? Please fill out this form and we'll connect you to one of our certified partners.