Our Back in Stock automation and list growth tool allows you to grow your subscriber list with high-intent users as well as reclaim potentially lost revenue. By running a Back in Stock report, you can:
Get immediate insight into which products your subscribers are requesting--at both the product and the variant level.
Use the detailed report to make more informed decisions about which products to restock and when.
In this article, we'll walk you through how to run a Back in Stock report and detail specific metrics included in the report. Finally, we'll share some additional resources related to both Back in Stock and general reporting.
Export Back in Stock Details
---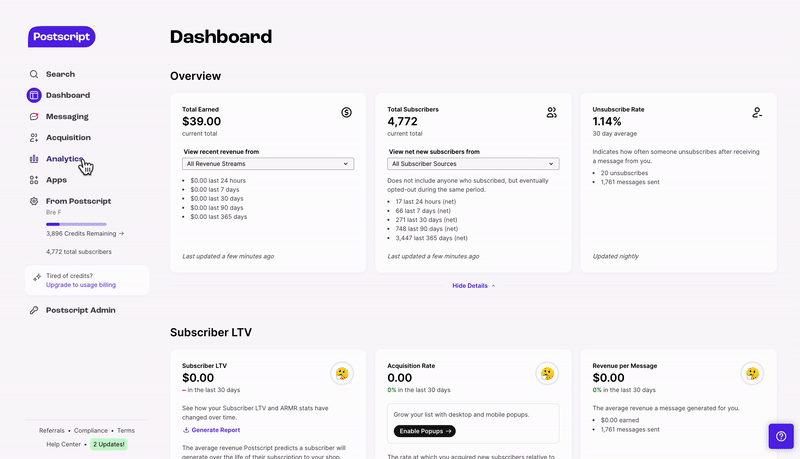 Select Analytics in the side menu of your Postscript dashboard, then select Reports.
Select the Generate Report drop-down menu in the top-right corner of the page.
Select Back in Stock Details. Then select Refresh Reports within the popup window.
Depending on the size of the report, it may take some time to generate. If you do not see your report after a few moments, please refresh your page.
Postscript will notify you when your report is available with a blue banner at the bottom of the screen. You can then select the Download link to download the report.
Before You Go
---
The Back in Stock report contains several different data points. We've got two that we want to call out specifically and do so below the image.

Product ID/Title. View the most requested/in-demand products by their product ID and/or product title in Shopify.
Variant ID/Title. Get specific with a breakdown at the variant level. View products by their requested variant ID and/or variant title in Shopify.
Additional Resources
---
Interested in doing a deep dive of our Back in Stock tool? We've got you covered with this guide.
Need a refresher on popup analytics? Check out

 

this article!
Curious to learn more about overall subscriber analytics?

 

Take a look at

 

our subscriber analytics guide.
Get Support
---
Have questions? Please feel free to reach out to our wonderful Support team at support@postscript.io or via live chat. You can also submit a support request here!
Need ongoing channel strategy guidance? Please fill out this form and we'll connect you to one of our certified partners.